Xbox Series X and S mid-gen refreshes Brooklin and Ellewood expected next year
Internal documents also show Bethesda line-up, including Dishonored 3 plus remasters for Oblivion and Fallout 3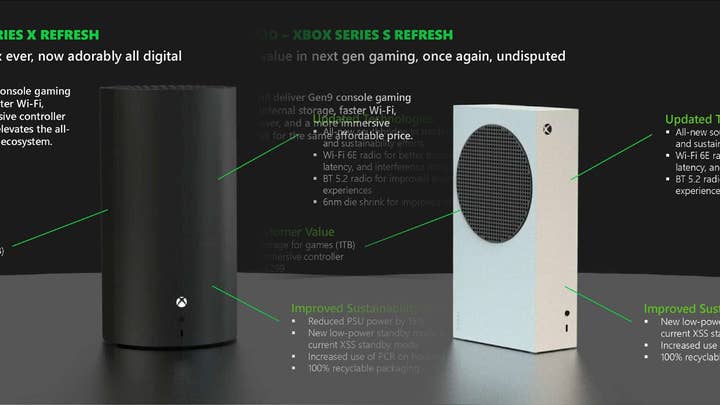 Sign up for the GI Daily here to get the biggest news straight to your inbox
Microsoft is reportedly planning to release refreshed versions of its Xbox Series consoles in 2024.
Eurogamer found the details in court documents released after the Xbox firm's recent legal battle against the FTC.
The refresh for Xbox Series X, the higher-end model, is shown to have a cylindrical design and – unlike its forebear – will not have a disc drive.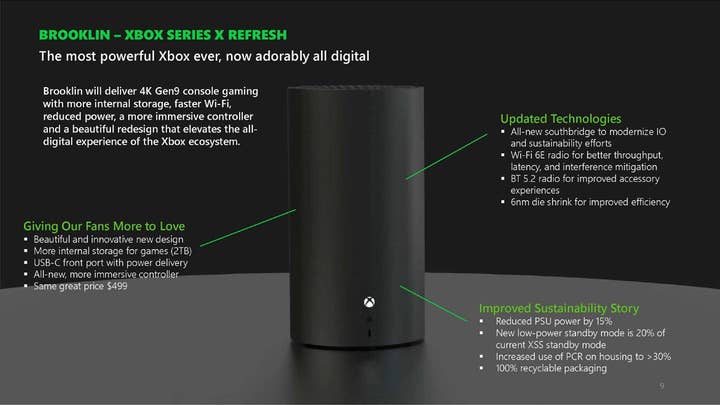 Codenamed 'Brooklin', the device's internal storage will be expanded to 2TB, with faster wi-fi and reduced power. It's expected to launch in October 2024 for $499, the same price as the Xbox Series X.
Meanwhile, the Xbox Series S refresh – codenamed 'Ellewood' – will have the same form factor as Microsoft's lower-priced console, with faster wi-fi, reduced power and 1TB of internal storage (same as the Carbon Black version of the console that launched just ahead of Starfield).
It is due in August 2024 for $299.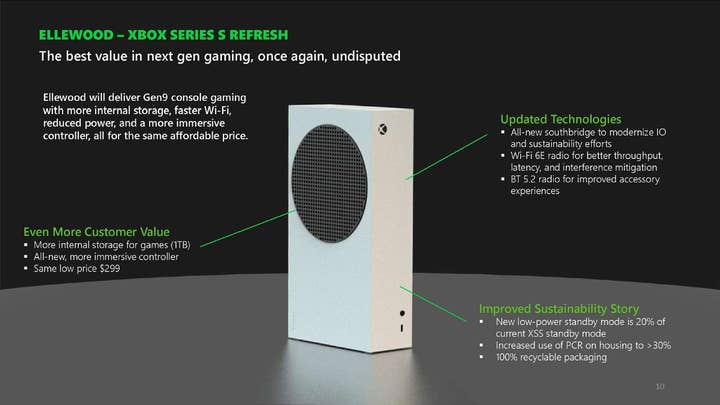 A 2024 release date for these devices would put them midway between the Xbox Series X and S launch in 2020 and reports that Microsoft's next console will launch in 2028.
Both consoles will be packaged with an "all-new, more immersive controller," which has also been revealed in these internal documents.
Codenamed Sebile and formerly known as the Xbox Universal Controller, it will have a swappable, rechargeable battery, and will be constructed from recycled materials to reduce waste, Eurogamer reports.
Other new features include haptic feedback, an accelerometer, modular thumbsticks, and a sleep mode that lets users turn it on simply by picking it up.
It is expected to release in May 2024, although there is no estimate on the price.
Elsewhere, another document revealed the planned future releases for Bethesda's various studios. Some are untitled or given codenames such as Project Hibiki and Project Platinum, but there are some familiar names on the horizon.
The full table, also shared by Eurogamer, was put together in July 2020, so the release dates are unlikely to be accurate (we already know, for example, that both Starfield and Redfall were delayed out of FY21, which covers April 2021 to March 2022, into the calendar year 2023).
Previously unknown titles listed include, Dishonored 3, Elder Scrols 4: Oblivion remaster, Fallout 3 remaster, and a Ghostwire: Tokyo sequel.
There is also additional DLC and expansions listed for Doom, The Elder Scrolls Online, and Starfield, plus an unannounced game based on a licensed IP (originally due in FY24).
While the majority of the list was for console and PC, there were nine free-to-play and mobile titles listed, although only Fallout Shelter Online was named.
Other revelations from the court documents released include Microsoft's ambition to acquire Nintendo and facts and figures about Xbox Game Pass
Sign up for the GI Daily here to get the biggest news straight to your inbox