World of Tanks and the Free-to-Play Console War
Victor Kislyi prepares to show the console dinosaurs how free-to-play really works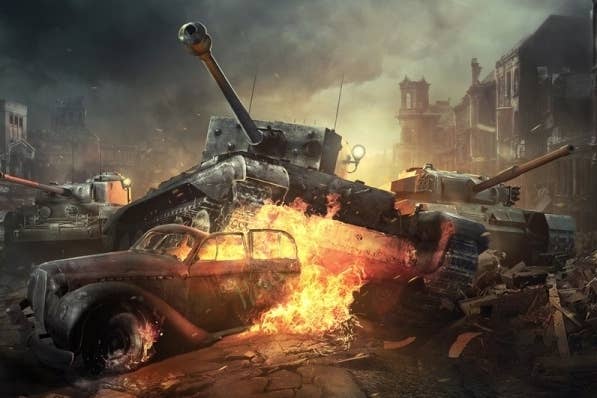 It takes a few minutes for Wargaming's CEO Victor Kislyi to warm up, but once he gets into the flow of the interview - today we're discussing free-to-play World of Tanks for the Xbox 360 - he has to check himself on numerous occasions. The ink is just drying on a deal announced a couple of weeks ago, but it's clear from talking to Kislyi that Wargaming is taking the lead with this and will be giving Microsoft a crash course in the free-to-play business. Subtlety goes out of the window in a bid to get straight to the point.
"We have to tolerate [Xbox Live Gold Subscriptions], which I am not happy about. I would rather add another 30-40 million non-golden members and they will monetise occasionally"
"With Microsoft, unfortunately it's not 100 per cent free-to-play because it requires the Gold subscription to Xbox Live membership," explains Kislyi. "But that's a Microsoft requirement which is valid for us and for Activision and for EA and all other partners. They cannot drop it for us because they would have to drop it for everyone and it would be a total mess for them.
"This we have to tolerate, which I am not happy about. I would rather add another 30-40 million non-golden members and they will monetise occasionally," he says.
Wargaming moves very fast. Over the past 18 months it has more than doubled its size to 1600 members of staff. In August last year it bought engine maker BigWorld so it didn't have to wait around in a queue with the rest of the middleware clients. The company sets a target, puts its foot down and rolls forward on heavy tracks. But this move to console, and the barriers enforced by Microsoft, could put the brakes on Wargaming's console ambitions. Or at least slow it down enough to frustrate its vocal and animated CEO.
"Microsoft announced for Xbox One - thank God - they are moving to real currency. We will teach - excuse me - we will advise them on how to embrace, sometime in the future, different payment methods like SMS. Right now, it's only credit cards used to buy Microsoft Points which we know is suicide in free-to-play."
So Wargaming is already compromising its vision for World of Tanks, the free-to-play phenomenon that has so far amassed 60 million registered users across the globe. As we sit and discuss the future of the game in Victor's mock War Room at E3, I ask if taking the game to consoles is an admission that it's struggling to find an audience on PC in the US and parts of Europe where consoles dominate the gaming landscape.
"We've been in the industry for fifteen years. Different territories have different tastes," he shrugs. "China, Korea, Russia, they have no consoles at all. Obviously in North America, UK, Europe, they are heavily console markets. We are an entertainment company and we have to cater to our players whatever they use. If you want to play World of Tanks on console, we have to make is possible for you.
"People have been playing with their console for seven years so we shouldn't be trying to make them suddenly play on PC. We take the game to them. These people won't spend $1500 on a cool gaming PC for World of Tanks."
The idea of a free-to-play game on consoles sounds like a win-win for publisher and consumer, but in reality it's a lot harder to pull off than on PC. Console manufacturers are gatekeepers to their content and they are notoriously slow at adapting to the new business ideas and services that have revitalised the PC and mobile gaming markets.
"We're working hard as a team to build this and to break a couple of rules inside Microsoft"
"Everybody knows Sony, Microsoft and Nintendo are traditional console companies which are huge in their own merit. They have lots of divisions, lots of departments, lots of regulations. We respect that, and whining and complaining about that structure does not help," says Kislyi. "We're now working hard with Microsoft's people as a team to build this and to break a couple of rules inside Microsoft."
Rule breaking - or at least rule bending - has to happen, according to Kislyi. Perhaps the second biggest barrier to free-to-play games on Xbox (after that fact you're paying for a free-to-play game through a service subscription to Xbox Live) is the need to push constant updates to the player. On PC that's a relatively easy process, but on consoles that notoriously charge developers for updates, it's never going to be viable.
"We as a company are definitely insisting on breaking all the rules. That's the definition of free-to-play. Free-to-play has to be transparent, right? And Microsoft traditionally, as a retail boxed business model, has a lot of restrictions - technological, legal, and whatnot. For them and for us this is a big move forward and it's quite risky," offers Kislyi.
Kislyi won't say if Microsoft is dropping fees for updates to World of Tanks, or exactly how the certification rules are being bent. "Nobody tells you officially of course, but we have the feeling that they have the feeling..." He trails off and tries different phrasing. "If console companies don't adapt to the new realities of the entertainment industry they will have hard times." But then Microsoft has been thinking differently, and more relaxed policies have clearly been to its benefit - evidenced by its success with 4J's Minecraft on console.
"With free-to-play on PC you release updates instantly if you need to for bug fixes and if the community demands something. With console and the certification process it takes time. But just relying on that retail $60 box - it's obvious that's not going to work," adds Kislyi. "You see other publishers having huge trouble trying to keep with the boxed business or trying to do subscription MMOs. Many of them are not able to do it very well."
There are other risks. The Xbox 360 now has a high enough installed base for Wargaming to pay the console significant attention. But console players are different from PC players, so who exactly is the target audience for the Xbox 360 version of World of Tanks, and does such a game appeal to the console gaming mindset?
"Some big companies do not have the guts to embrace free-to-play even now"
"In the games industry, after fifteen years, I know that challenges can come from any direction," admits Kislyi. "In this particular case, what are the tastes of these people? Will the Call of Duty kids turn into this? Will people return to a console after not playing for a couple of years?
"For free-to-play you do have to have critical mass. We have thought about releasing on Xbox One but let's let them release it and get their first ten million players online first. One million is not a good install base for a free-to-play game."
Call of Duty is an interesting point of comparison, but as World Of Tanks outside of consoles edges towards e-sports with the introduction of 'free to win', Wargaming is clearly positioning it as a competitive experience as well as online and social.
"Four years ago we were one of the few companies which pioneered free-to-play in the West. And we were evangelising this not only for World of Tanks but for the gaming industry in general. Now we're proud and happy to jump to the next level with 'free to win'. With World of Tanks it takes guts. Some big companies do not have the guts to embrace free-to-play even now. We're moving as a company even further."
Previously, players could only buy golden consumables in World of Tanks using real money, but now it's possible to earn them through gameplay grind. Kislyi would argue that golden consumables only ever slightly affected the gameplay, but players will dispute that, especially when they've been on the receiving end of a barrage of premium high-explosive shells. It's a significant move because Wargaming is transitioning World of Tanks towards e-sports, which elicits a second, more interesting comparison from Kislyi.
"I understand we can afford this only because we have this huge critical mass. The game is becoming more and more fair, it's becoming more like a cyber sport already. We're building the next football, like FIFA."
"The game is becoming more and more fair, it's becoming more like a cyber sport already. We're building the next football, like FIFA"
But e-sports are a long way off on consoles. The console companies are only just getting their heads around the whole concept of free-to-play. With all this work and all these obstacles - the gold subscription barrier, the updates, finding the audience - wouldn't it have just been easier to release a cheap version of World of Tanks for $15? After all, console gamers are used to paying for their games upfront, and a cheap version of one of the world's most successful multiplayer games could easily work on a home console, couldn't it?
"No freaking way. No. No. No," says Kislyi.
There may be some compromise taking World of Tanks to consoles, but not so much that it has any effect on the long-term goals of a determined company and its CEO.
"We are a company that has people, technology, offices and marketing. You have to have values and you have to have a mission. You have to have a vision. Our vision as of now and for the foreseeable future says we stand by free-to-play."