Wargaming focuses on "free-to-win"
World Of Tanks creator removes paid advantages from all games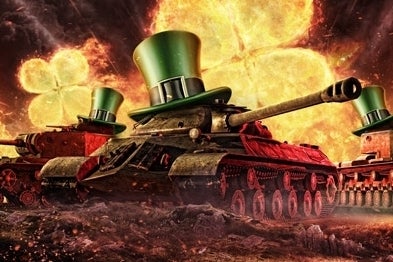 Wargaming is evolving its free-to-play model for all the games in its portfolio, making them "free-to-win" by preventing players from buying in-game advantages.
"Wargaming is a company delivering free-to-play online games, and we strongly believe that you can't provide a truly triple-A free-to-play experience without absolutely making sure all combat options are free of charge to all players," Andrei Yarantsau, VP of publishing told Gamasutra.
"We don't want to nickel and dime our players -- we want to deliver gaming experiences and services that are based on the fair treatment of our players, whether they spend money in-game or not."
The important part of the new strategy is that there'll be no way for players to buy an advantage over others, no better guns or upgrades that could affect their performance on the battlefield. Instead they can spend their money on customisation options and better vehicles, items that won't have an affect on their chances of victory.
Wargaming has been testing free-to-win since last year, and does not foresee a negative impact on its revenue as a result of the changes.
"The free-to-win concept is sure to enhance customer loyalty and attract new players to the game. As for the company's economic efficiency, we expect no decline in profits," Yarantsau continued.
"If anything, the introduction of our free-to-win features will likely cause a decrease in the purchase of premium ammunition. At the same time, however, players will use gold to buy credits, pay for premium account status, or purchase premium vehicles. In the end we project that it will all balance out."
The move will also help Wargaming's move into the eSports arena, which Yarantsau called an "integral" part of the company's marketing strategy. It currently has a Wargaming.net League.
"We don't want World of Tanks players to feel like it's an experience that only a select few can afford. Quite contrary, we want the game to embody accessibility and fairness to all players, paying or not."