US Hearthstone players banned for Hong Kong protest
Team that held up a "Free Hong Kong, Boycott Blizz" sign punished "for engaging in behavior disruptive to" tournament broadcast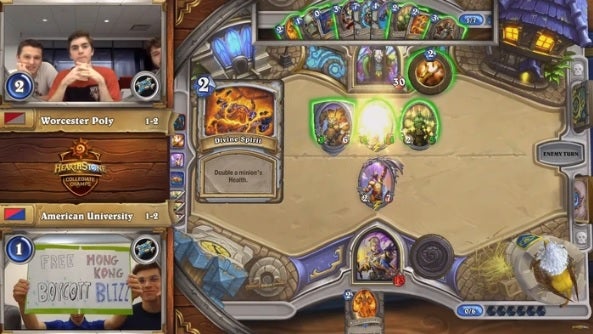 Blizzard has issued a six-month ban to a trio of American University students who held up a sign saying "Free Hong Kong, Boycott Blizz" during the Hearthstone Collegiate Championships last week.
In a post on the rulings page of the official Hearthstone site, Blizzard explained the ban, saying the players "GiantDwarf, TJammer and Xcelsior were in violation of section 7.1.B of the Hearthstone Collegiate Championship rules for engaging in behavior disruptive to the official esports broadcast."
According to the site of tournament organizer Tespa, section 7.1.B reads as follows: "Participants shall treat all individuals watching or participating in a Tespa event with respect. Participants may not take any action or perform any gesture directed at another Participant, Tespa Admin, or any other party or incite others to do the same which is abusive, insulting, mocking, or disruptive. Players may not use obscene gestures or profanity in their account names, player handles, team names, game chat, lobby chat or live interviews. This includes abbreviations and/or obscure references."
A video of the match shows the American University team held up the sign at the match's conclusion without additional comment.
The three players held up the sign to protest Blizzard's punishment for another Hearthstone player, Chung 'Blitzchung' Ng Wai, who was banned for a year for supporting Hong Kong protesters in a post-match interview at the Hearthstone Grandmasters tournament.
After much criticism and numerous protests like that of the American University team, Blizzard reduced Ng Wai's ban to six months in a statement released Friday evening. In the same statement, Blizzard president J. Allen Brack insisted the company's business interests in China had no impact on how it handled the matter, saying "we will continue to apply tournament rules to ensure our official broadcasts remain focused on the game and are not a platform for divisive social or political views."
The ban on the American University players comes after a longer wait than they had expected. In the days after their protest, they said there had been no word from Blizzard or the Hearthstone Collegiate Championship organizer, and they had even been scheduled for their next match in the competition.
"We feel it's hypocritical for Blizzard to punish Blitzchung but not us," the team said. "The response from Blizzard shows that as soon as the messaging is out of the view of China they don't care about 'political' messaging."