Blizzard "assessing the situation" surrounding blitzchung's ban as more protests mount
Collegiate Hearthstone players, professional casters distance themselves in support of player banned for Hong Kong protest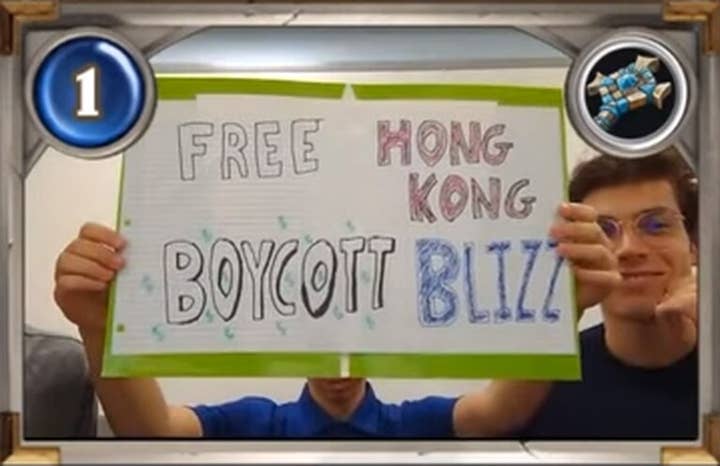 Activision-Blizzard is "assessing the situation for now" in response to growing criticism of its ban of a professional Hearthstone player who expressed support for Hong Kong protests in a live broadcast this week.
This statement, given to Engadget, is the latest in a handful of official remarks on the subject given throughout the week. The first, an official blog post, announced the ruling that removed pro Hearthstone player Chung 'blitzchung' Ng Wai from the Hearthstone Grandmasters after he shouted, "Liberate Hong Kong, revolution of our age!" in a post-match interview.
The company also revoked Ng Wai's prize money and banned him from professional Hearthstone competitions for 12 months, citing a section of the competition rules preventing players from "engaging in any act that, in Blizzard's sole discretion, brings you into public disrepute, offends a portion or group of the public, or otherwise damages Blizzard image." Blizzard additionally parted ways with the two interviewers on camera during the incident.
Blizzard's Chinese-specific messaging represented a far sharper strance. IGN confirmed a translation of Blizzard's official statement on Chinese social media platform Weibo to read as follows:
"We express our strong indignation [or resentment] and condemnation of the events that occurred in the Hearthstone Asia Pacific competition last weekend and absolutely oppose the dissemination of personal political ideas during any events [or games]. The players involved will be banned, and the commentators involved will be immediately terminated from any official business. Also, we will protect [or safeguard] our national dignity [or honor]."
These actions and subsequent statements have been met with wide criticism across the Blizzard, gaming, and international communities over the last week. Backlash has come from sources including US senators, Blizzard-focused subreddits, Twitter communities, and even Blizzard's own employees.
Further recent developments in the latter half of the week include the departure of two casters from the Hearthstone Grandmasters. Earlier this week, caster Brian Kibler announced he would not be participating in the Hearthstone Grandmasters final at Blizzcon, saying he would "not be a smiling face on camera that tacitly endorses this decision."
Today a second caster, Nathan 'Admirable' Zamora additionally announced his departure on Twitter yesterday.
"Blitzchung's actions to support Hong Kong speak to me far more than I could have imagined. It takes courage to stand up for what you believe in, and to make sacrifices in the process. His actions are inspiring to me, and I support him wholeheartedly.
"Brian Kibler released a statement that pretty much hits the nail on the head. It's hard to add much more to this, and I agree with Brian's stance on this matter."
Hearthstone casters aren't the only professionals taking a stand. GamesIndustry.biz sister-site USGamer reports that earlier this week, American University's collegiate Hearthstone team held up a sign saying "Free Hong Kong, Boycott Blizzard" during a livestream of a competitive series.
Several days later, players told USGamer that Blizzard has not taken action against their team, and that they in fact have moved on to their next scheduled match. However, the team said it will forfeit in solidarity with Ng Wai.
"We feel it's hypocritical for Blizzard to punish Blitzchung but not us," they said. "The response from Blizzard shows that as soon as the messaging is out of the view of China they don't care about 'political' messaging."
Another growing protest, also reported on by USGamer, involves Overwatch. A movement apparently stemming from the /r/HongKong subreddit is focused on creating fanart of Overwatch character Mei (who is Chinese) dressed with, carrying symbols of, and with messaging supportive of the Hong Kong protests. The goal appears to be to overwhelmingly associate Mei with Hong Kong protests in an attempt to get Overwatch banned in China.
Finally, Gods Unchained developer Immutable is offering to donate up to $100,000 to online civil liberties nonprofit Electronic Frontier Foundation as a response to the situation -- $1 for each average viewer watching Gods Unchained on Twitch. The organization has previously offered reimburse Ng Wai's lost prize money.
The Hong Kong protests began earlier this year in response to a proposed bill that would allow Hong Kong's government to extradite its citizens to mainland China. Though the bill is currently planned to be withdrawn, a long history of tension with China and suspicion of China's involvement in Hong Kong affairs led to a longer list of demands that have not yet been met, with protests ongoing ever since.