Unreal at GDC 2017: Star Wars, Andy Serkis, Borderlands 3 and Oculus price drop
CEO Tim Sweeney also praises "new renaissance" in PC games industry, new VR editor features available now
Epic Games once again packed a ton of new announcements, features and partnerships in its annual GDC keynote.
The engine provider's CEO Tim Sweeney opened proceedings with a few updated stats on Unreal's dominance over certain sectors of the market, reporting that while 2015 was a record year for the tech, 2016 more than doubled it.
Across all platforms, Unreal Engine's share as measured by revenue was more than double its nearest competitor, with developers using the tech making more than $10bn throughout the year. In the Steam Top 100, more games are powered by Unreal Engine than all other licensable engines combined and their revenue is more than double.
"In 2016, ten Unreal games have hit No.1 on Steam, and two in the premium mobile market," he said. "Even beyond the games industry, our partners are achieving incredible success."
This prompted half an hour of presentations that centred around the various companies using Unreal Engine outside the games industry, including BMW, MacLaren and more. But by far the biggest reveal came when ILM's John Knoll and Naty Hoffman took to the stage.
The duo detailed how their team has been extending Unreal Engine to make it compatible with Industrial Light & Magic's rendering tools. Most impressively, this led to them using to tech to help render K-2SO in last year's blockbuster hit Rogue One: A Star Wars Story.
"We want these renders to be as fast as they can be, but if they don't look good enough for John, they're not in the film," Hoffman said. "One of the strengths of the Unreal Engine is that with access to the source code, we could extend its capabilities to meet our exacting requirements."
Another famous face this morning was performance capture pioneer Andy Serkis, who appeared via a short video to talk about how he is using Unreal Engine to "deliver engaging characters and narratives for our own productions as well as some of our best known brands".
He teased that independent studio Imaginati Games is using the engine to develop a narrative game based around performance capture. He also praised Epic's support of emerging platforms, enabling his team to experiment quickly with VR, while also nodding to the work he and his team did with the Royal Shakespeare Company to create a digital character that mimicked a real-time performance during a production of The Tempest.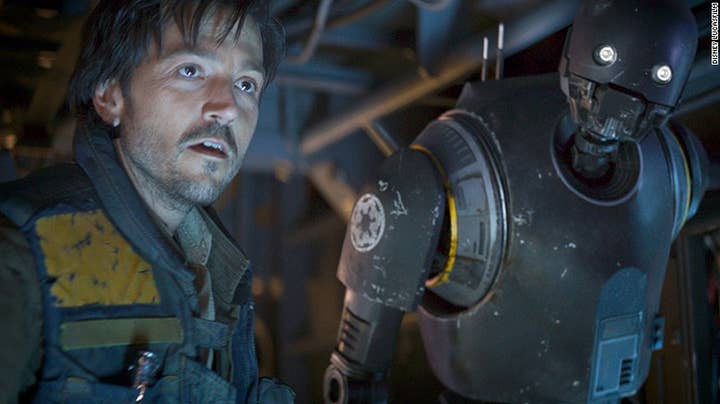 Epic Games also revealed a new partnership with Chevrolet and post-production firm The Mill that enables car manufactures to preview photorealistic cars in real-time.
To the right of the stage sat the Blackbird Testing Car, an adaptable vehicle covered in QR-style tracking markers that automotive firms use to film commercials of cars still in production, compositing the final model in with pre-rendered graphics at a later date. Using Unreal, they can now see how a new car will look by viewing the Blackbird through a camera and the engine renders the vehicle in real-time.
The three companies worked together on a short film, The Human Race, in which a driver races against an AI car. The vehicle he drives, a 2017 Camaro ZL1, was rendered entirely with Unreal Engine and as Chevrolet's global CMO Sam Russell selected new colours and decals on a Google Tango phablet, the film on the screen instantly updated to show his customisations in the final footage.
"This is the future of augmented and mixed reality," said Sweeney. "The real challenge is combining real graphics and computer-generated graphics together in a completely seamless and convincing way. Only the Unreal Engine provides photo-real final pixels in real-time.
"This is changing the economics of entire industries, the way that companies design, test and market their products. It's laying the foundation for a digital content industry that spans games, films and [manufacturing]."
It wasn't all non-games partnerships, of course. Sweeney promised that Epic would ship long-absent cartoon strategy title Fortnite this year, along with two mobile games, and reiterated the firm's support for the newest console.
"PS4 Pro and Xbox Scorpio are bringing awesome new graphical upgrades and Unreal Engine is taking advantage of this new hardware," he said, before introducing a video of Nintendo of America president Reggie Fils-Aime, who said he was "genuinely thrilled" that UE4 will support Nintendo Switch.
Netmarble's Lineage II Revolution was rolled out as a demonstration of how Unreal Engine is enabling AAA-style games on mobile, with US CEO Simon Sim telling attendees that the tech enabled the title to support 200 simultaneous players in massive open worlds and with console-quality graphics.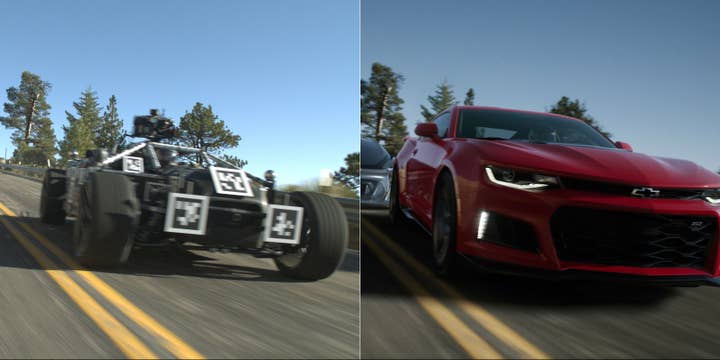 Sweeney described games like this as "a way out of the mobile industry's race to the bottom with overly aggressive ads and monetisation that detract from the overall experience". Turning to PC, he said the market is booming again thanks to Windows 10, new GPUs from Nvidia and AMD and "great new gaming PCs" available to consumers.
"We're seeing a new renaissance where companies are investing in PC again," he said. "To move this for, Epic is working with other companies on cross-platform industry standards like Vulkan graphics. There's now efforts to define a new API graphics standard for AR and VR called OpenXR. All the industry's best companies are working together on this: Unity and Epic, Oculus and Valve, Nvidia and AMD.
"We're all working to define industry standards and to keep the platforms open. If we all work together, we can keep the PC platform open and overcome all threats to that," he added, prompting a laugh from the audience. "You might have heard me talking about this. It's something we feel very passionate about."
Sweeney was, of course, referring to his long-running debate about Microsoft's strategy with the Universal Windows Platform, something he has in the past suggested could allow the firm to sabotage Steam and seize control of the PC market.
The moment passed as Astroneer creator System Era was welcomed to the stage as an example of indies thriving on Unreal Engine, with co-founder Adam Bromell describing the toolset as "the definition of out-of-the-box" and praising the speed at which developers can implement and iterating, adding that his team could make new ideas fully testable within a day.
"The engine really is just the paintbrush," said Sweeney, referring to the different visual styles demonstrated by games made in Unreal, which rather nicely cued Gearbox Software's Randy Pitchford present his team's latest work.
Stressing that this was a technology demo and not necessarily content from Borderlands 3 - even though he noted the character's shoulder pad was strategically placed to cover her face - Pitchford described some of the work Gearbox has been doing to advance the distinct visual style of the popular RPG-shooter series.
Using Unreal Engine 4, the Borderlands devs are able to build on the seemingly hand-drawn, line-heavy style of the games' environments, characters and assets, introducing physically-based rendering and rays of light - or 'god rays' - that could pass through materials such as tarpaulin and even to an extent human skin in a realistic way (while still fitting the cartoon overtones of Borderlands).
Pitchford also hinted that scenes can take on different physics and lighting properties if a game were to be set across multiple planets, perhaps suggesting a broader direction for Borderlands 3. He also stressed that "some or all" of the graphical enhancements his team were experimenting with would not only be used for the next Borderlands but in other Gearbox games.
As Pitchford cheekily mentioned that his studio was still hiring, Sweeney observed that with Gearbox, ILM and General Motors "it feels like everyone is hiring Unreal Engine developers right now".
"High quality games development is growing rapidly, and the jobs for developers with Unreal experience are among the best-paying jobs at the best companies in the industry," he said. "The skills you're building today are valuable. These fast-growing teams are not only hiring veterans but also indies and promising folks from the community."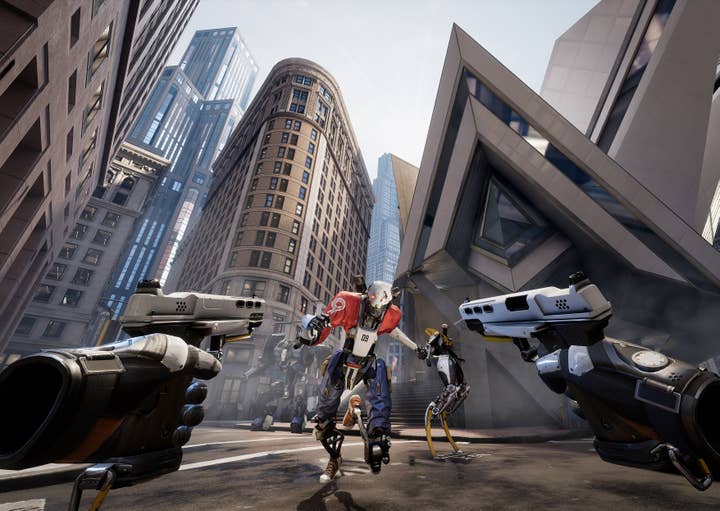 The conversation shifted towards VR, with two Epic employees showing off the latest advancements in its VR editor. The interface has been redesigned with a new quick radial menu that offers faster access to the editor's most important tools, and it's easy to switch from editing to the in-game style simulate mode so developers can place objects into the world in a way that takes physics into account.
Cinematics tool Sequencer is also available via the radial menu, and Epic has developed tools that allow users to build, shape and manipulate new 3D objects from scratch in virtual reality - as demonstrated by the construction of a lighthouse in a beach scene. There are also new mesh editing tools, available in both the VR and desktop editors. All new features for the VR editor are now available via GitHub.
The scene used to demonstrate these advancements was a tropical beach, complete with surfboards painted by the eight-year-old daughter of principal technical artist Ryan Brucks. The artist added that UE4 is designed to be "powerful enough for professionals to use, but anyone can jump in and have fun with it".
The demo ended with an underwater scene built with assets from Pixar's Finding Dory, which the company used to announce UE4 now supports the Hollywood studio's universal scene description format.
The presentation turned to Robo Recall, the game based on Epic's Bullet Train demo for Oculus. After showing off updated gameplay, the firm announced the game is now available to Oculus users for free, and that it fully supports mods. The source code for Robo Recall is also freely available, something Tim Sweeney believes will help new users and aspiring VR devs learn to build games for Oculus.
Finally, Oculus co-founder Brendan Iribe took to the stage to thank Epic for its ongoing support and announce a surprise $200 price drop for the Oculus Rift and its Touch controllers.