THQ earnings call highlights: We're ''dramatically different'' from six months ago
Brian Farrell talks about his company's ongoing transformation and growth in digital from franchises like Saints Row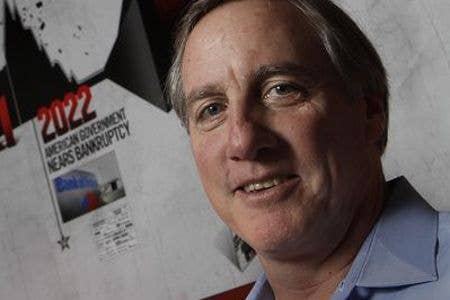 THQ has had a very difficult year, losing $240 million, but on the bright side, digital revenue is growing and CEO Brian Farrell outlined on the earnings call why THQ will be able to bounce back.
"THQ is dramatically different from what it was just six months ago; we're now a company completely focused on building high quality, high demand core franchises that are connected with our consumers in multiple channels and designed to deliver a significant portion of revenues through digital streams," Farrell noted. "We'll also continue to build online communities around our games, increasing customer engagement, retention and monetization."
THQ is thinking very, very carefully about its product portfolio as evidenced by the sudden abandonment of Devil's Third. Farrell said that the company is investing further in "a robust toolset to improve product positioning, quality and predictability - these include increased usage of our internal usability laboratory and consumer metric tools to more accurately measure demand for our products."
Consumer metrics on a title like Darksiders II, for instance, are very high. Farrell said that pre-orders are more than five times what they were for Darksiders at the same time prior to release, and THQ believes that the new August release timing should be more favorable for Darksiders II. Farrell said the game already has double the content of the original and it will be supported by double the marketing spend.
"A key part of our strategy is to build franchises for the next generation of consoles at or shortly after they are launched"

Brian Farrell
Saints Row is perhaps the blueprint for what THQ would like to do with all its future titles. The game has been seeing tremendously strong digital sales. In fact, Saints Row The Third produced in excess of $10 million digital revenues, which is the highest digital revenue of any console title in THQ history.
The upcoming Company of Heroes should produce even better digital results. Farrell expects a significant portion of the game's revenues to come from digital. "We intend to release it on Steam and other digital channels - the game probably has the most ambitious post-launch digital strategy over the next several years," he said.
And similar to how Activision has managed to keep interest high in its IP like Call of Duty with tons of digital content between full releases, we can expect THQ to start increasing its DLC too. Saints Row: Enter The Dominatrix is an example of that; it's a key way to sustain momentum between the third and fourth games, Farrell noted.
Metro Last Light is also set for "significant digital revenue" from both direct PC digital download sales and a "robust post-launch digital content strategy."
All in all, Farrell remains very optimistic and excited about his company's prospects because of games in the pipeline like the South Park RPG from Obsidian (which will leverage the entire South Park TV fan base, Farrell claims), the Patrice Desilets game, Guillermo del Toro game, WWE, Homefront 2 from Crytek and more.
"As we reshape THQ, our objective was to retain and build a solid portfolio of owned intellectual properties for the future - an objective we believe we have achieved. A key part of our strategy is to build franchises for the next generation of consoles at or shortly after they are launched; we have promising new games that are positioned well for introduction early in the next cycle. We also have several franchises that we can continue to build from the current to the next generation. In closing we are encouraged by the significant strides we've made thus far in transforming THQ," Farrell commented.
Finally, it's also worth noting that Farrell did say skipping an E3 and Gamescom booth will "save us a substantial amount of money."