THQ files suit against EA over UFC licence
Now defunct publisher accuses EA of passing confidential information to UFC parent company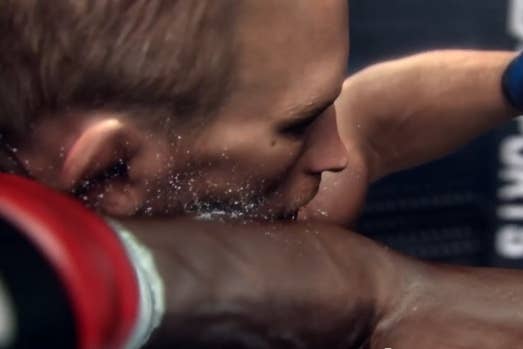 THQ has filed a legal complaint against Electronic Arts and Zuffa, the parent company for the Ultimate Fighting Championship.
According to documents submitted to the Delaware District Court, THQ believes that it lost the UFC licence only after EA submitted confidential information to Zuffa, which is the leading company in the emerging sport of Mixed Martial Arts.
EA made an initial bid for the UFC licence in 2006. However, it was prior to the explosion of interest in MMA, and Zuffa considered EA's offer to be, "insultingly low." Zuffa entered into an agreement with THQ in January 2007, which was accompanied by the announcement of UFC: Undisputed 2009. The game was released in May 2009 to strong reviews, and went on to sell more than 3.5 million units.
EA announced its own game - which had the generic title "EA Sports MMA" - the following month, and released it in October 2010. The game featured a hidden mode that allowed players to recreate the likenesses of top UFC fighters. It was removed following a complaint from Zuffa.
Ultimately, THQ's well-documented financial problems threw the company's entire portfolio into jeopardy. Seeking a buyer for the company, THQ approached EA in December 2011, submitting detailed figures and projections for its various products - including sales and marketing information for UFC: Undisputed 2009.
EA promptly withdrew its interest in buying THQ and, two weeks later, on December 30, THQ received a letter from Zuffa criticising its handling of the UFC license. The letter cited detailed, confidential information, including the $2 million marketing spend for UFC: Undisputed, which was given to EA as part of the separate takeover discussions.
"On information and belief, EA communicated THQ's internal financial information and projections to Zuffa," the complaint states, accusing both EA and Zuffa of collaborating to find a way out of the existing license agreement - Zuffa to obtain better terms for the increasingly popular UFC brand, EA to acquire the most desirable part of a failing company.
At that time, THQ estimates the UFC license was worth around $20 million, though it was forced to accept a $10 million settlement fee from Zuffa. THQ was also contractually obliged to issue a press release congratulating EA on securing the licence.