The SpongeBob SquarePants effect: Why THQ Nordic is doubling down on licenses
CEO Klemens Kreuzer discusses the Purple Lamp acquisition and being part of the ever-expanding Embracer empire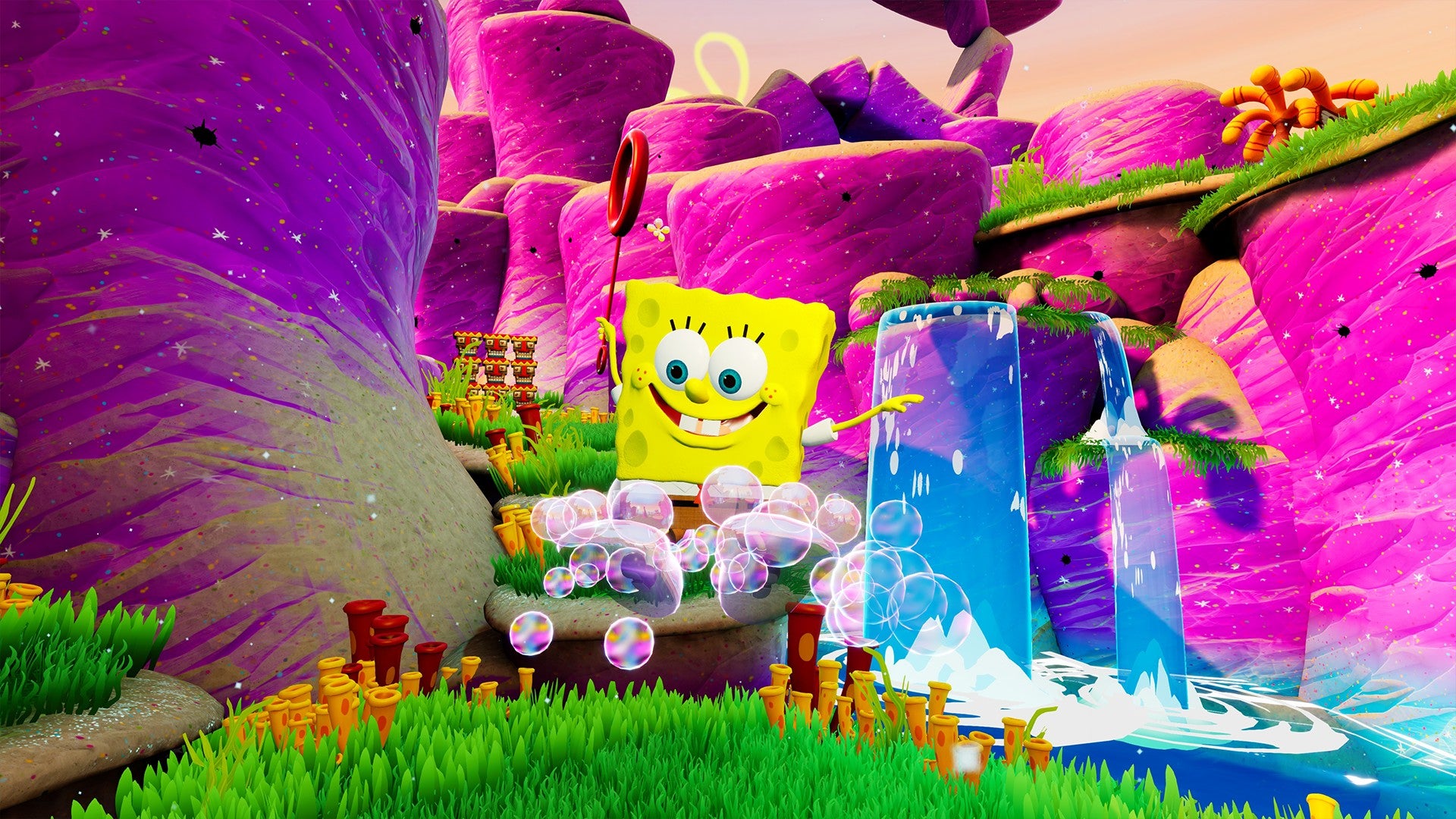 The Embracer Group spent the best part of the last decade buying up a wide variety of development studios and games IP, culminating in November's announcement that it had purchased 13 companies -- the firm's biggest wave of acquisitions to date.
Among them was Purple Lamp Studios, the Vienna-based developer behind one of the group's bigger hits of 2020: SpongeBob SquarePants: Battle for Bikini Bottom - Rehydrated, which launched in June. The team of 38 is now 100% owned by the game's publisher, THQ Nordic.
Given that Purple Lamp only began working with THQ Nordic in January 2018, it's clear the studio made quite the impression on its new owner, not only bringing the beloved SpongeBob game back to market but also assisting with the Early Access development of The Guild 3.
For THQ Nordic CEO Klemens Kreuzer, Purple Lamp's performance with the SpongeBob project made it an essential purchase.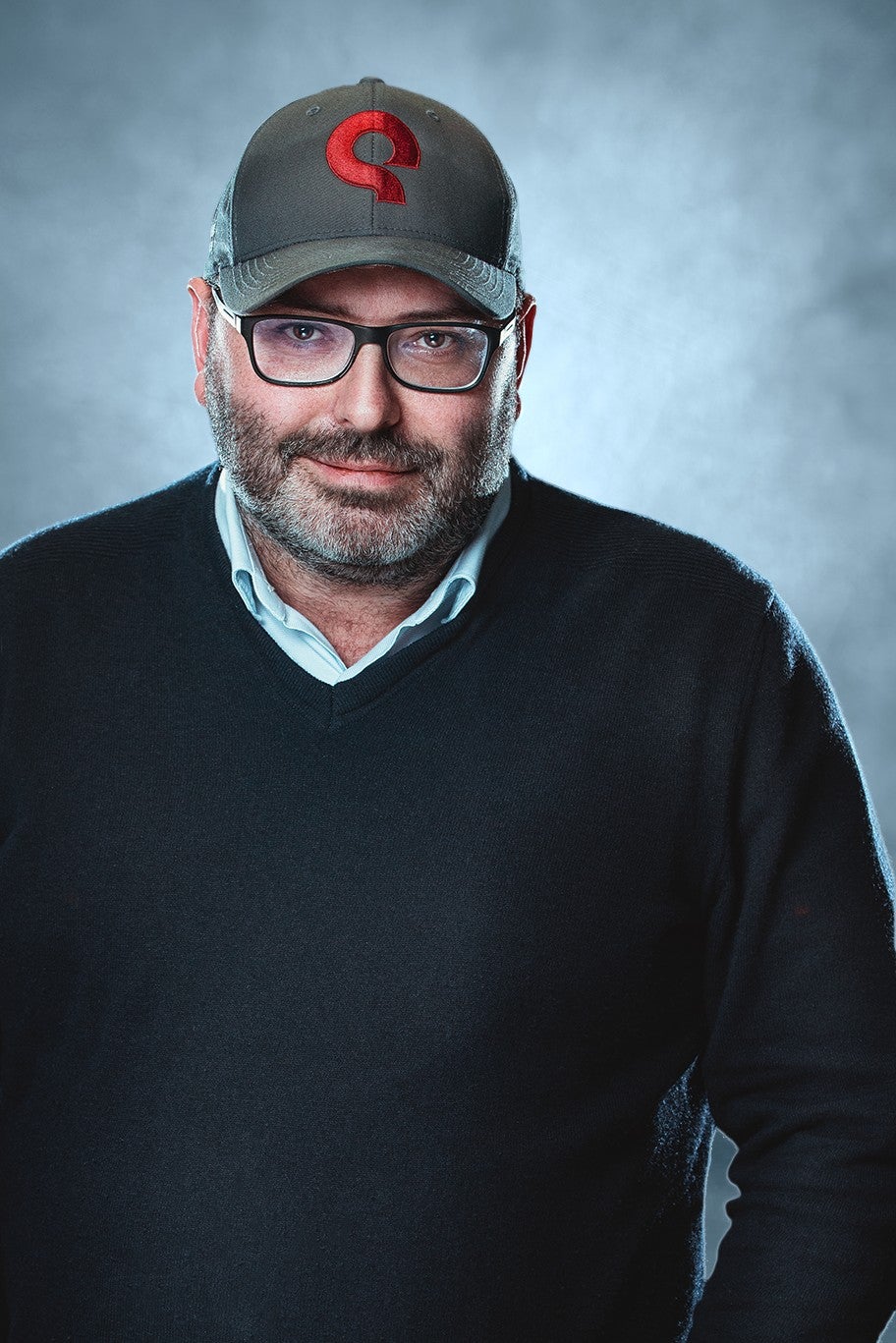 "The team was familiar with working with these big licensor companies, and they showed it once again when we collaborated on SpongeBob, where you have Viacom and Nickelodeon people in the background," he says.
"What we liked about Purple Lamp is they have the passion to work on big licences and they're able to deal with those companies -- as you can imagine, some companies can be a bit picky because the IP is one of their major assets. They did the perfect job."
Kreuzer adds the deal was a "no brainer" because the opportunity arose at a time when THQ Nordic had decided to ramp up its efforts in developing and releasing licensed games, for which it needed a team with certain expertise.
"We could either make an offer to the Purple Lamp founders, or start a whole new studio, which takes time to set up and you need to be patient," he says. "Luckily, the team was fired up about joining us so we made the deal in a couple of weeks."
No figure for the acquisition has been disclosed, but Kreuzer describes it as "a good deal for the previous owners and a good deal for us." Purple Lamp is now hard at work on three projects: the ongoing development of The Guild 3, plus two unannounced licensed games.
The landscape for licensed video games was very different when Battle For Bikini Bottom first released in 2003. Tie-ins and adaptations were rife, with much of the biggest IP from the worlds of animation, TV and film appearing in video games on an annual basis.
"We're not going for super AAA where we need millions to be successful. That's why we think we can recreate the success we've had with SpongeBob"
This has changed a great deal in the last two decades -- as we covered with one prominent example last year -- as IP holders became more guarded with their franchises or turned to the more lucrative free-to-play market on mobile. Those that were still interested in traditional video games have also shifted towards longer projects with higher budgets, resulting in the likes of Insomniac's Spider-Man titles.
But THQ Nordic's current output harks back more to the early 2000s, and Kreuzer believes the reception to SpongeBob's remake proves there is demand for such titles.
"It was a fantastic success for us, with sales of more than one million units -- and I wouldn't be surprised if it reached two million one day," he says. "I think there's a market for those kind of games. The community was so full of joy.
"I think maybe in the licence business there has been a bit too much emphasis on free-to-play and the premium model was not so popular in the last five to ten years. But at THQ Nordic, we're not going for the super AAA stuff where we need millions and millions to be successful. We can do that with relatively low volumes, so that's why we think we can recreate the success we've had with SpongeBob with other licences in future. We're working on some of those right now."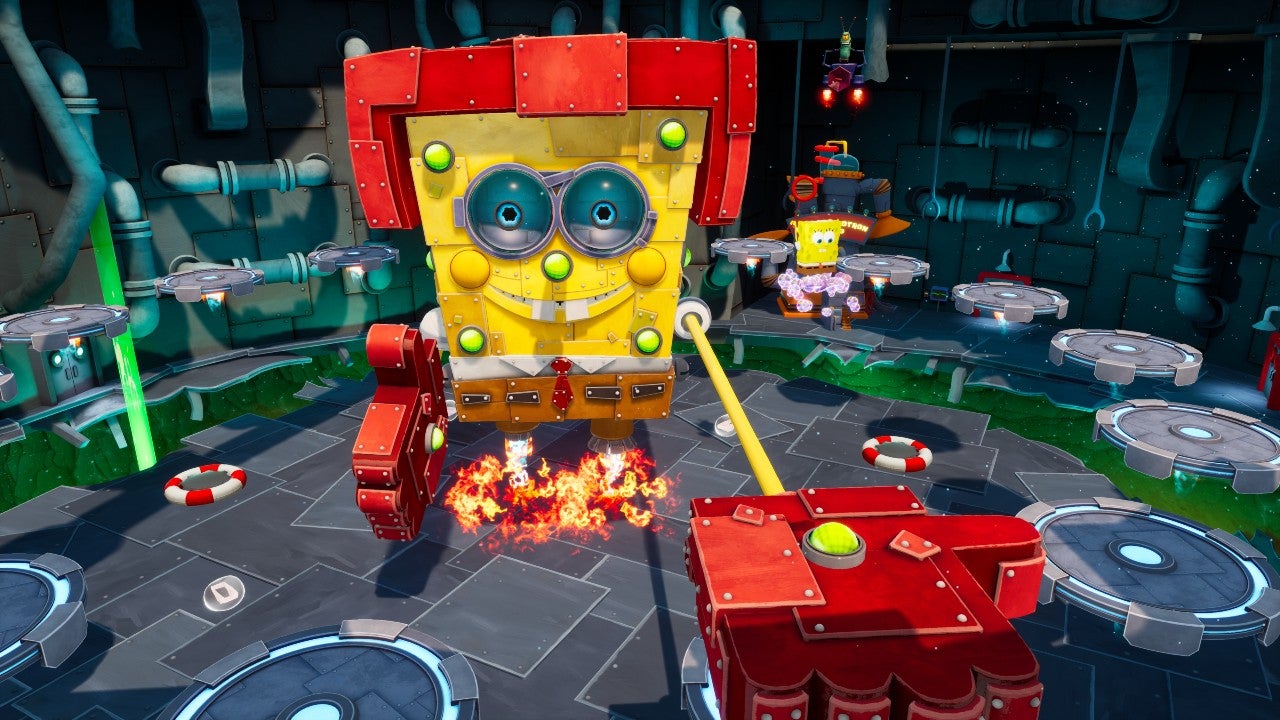 It's not just the licence that drove the success of Battle For Bikini Bottom - Rehydrated, but also the nostalgia it taps into. There is demand for games that hark back to a certain demographic's childhood, as has already been proven with the huge success of the Crash Bandicoot N Sane Trilogy and the ongoing popularity of Super Mario 3D All-Stars. Kreuzer reports this was a significant factor in SpongeBob's appeal, something that was clear to the publisher since the remake's announcement.
"You can see how emotional people are about these games, that they have good memories from their childhood and they really enjoy coming back to those places," he says.
"I think the 3D action-adventure platformer genre has an endless life. They're some of the most enjoyable games you can have just sitting at home on your couch"
But, he emphasises, THQ Nordic did not purchase Purple Lamp solely to develop remakes and remasters. While there are no details on the two licensed projects it's currently working on, Kreuzer indicates the team will be creating new games in the style of much older ones.
"Remakes will be part of their future projects, but they will also go for sequels based on licenses," he says. "I think the 3D action-adventure platformer genre has an endless life. It may not have been the focus for the past few years, but they're some of the most enjoyable games you can have just sitting at home on your couch, playing for 20 minutes or two hours. It's instant access, and it's fun. That's what gaming is about, entertaining people."
While THQ Nordic is now focusing more on licensed titles, it's certainly not neglecting original IP. One of the publisher's biggest upcoming titles, Biomutant, is due in 2021 and is described by Kreuzer as "a release of great importance." The open-world adventure is dubbed a "post-apocalyptic Kung Fu fable," set in a world populated by anthropomorphic animals, and has been met with intrigue and anticipation since its announcement.
The game is one of 61 projects currently in development at THQ Nordic, of which only 21 have been announced so far. Kreuzer tells us the current pipeline takes the company up to Summer 2024, and is a mix of licensed, established and original IP.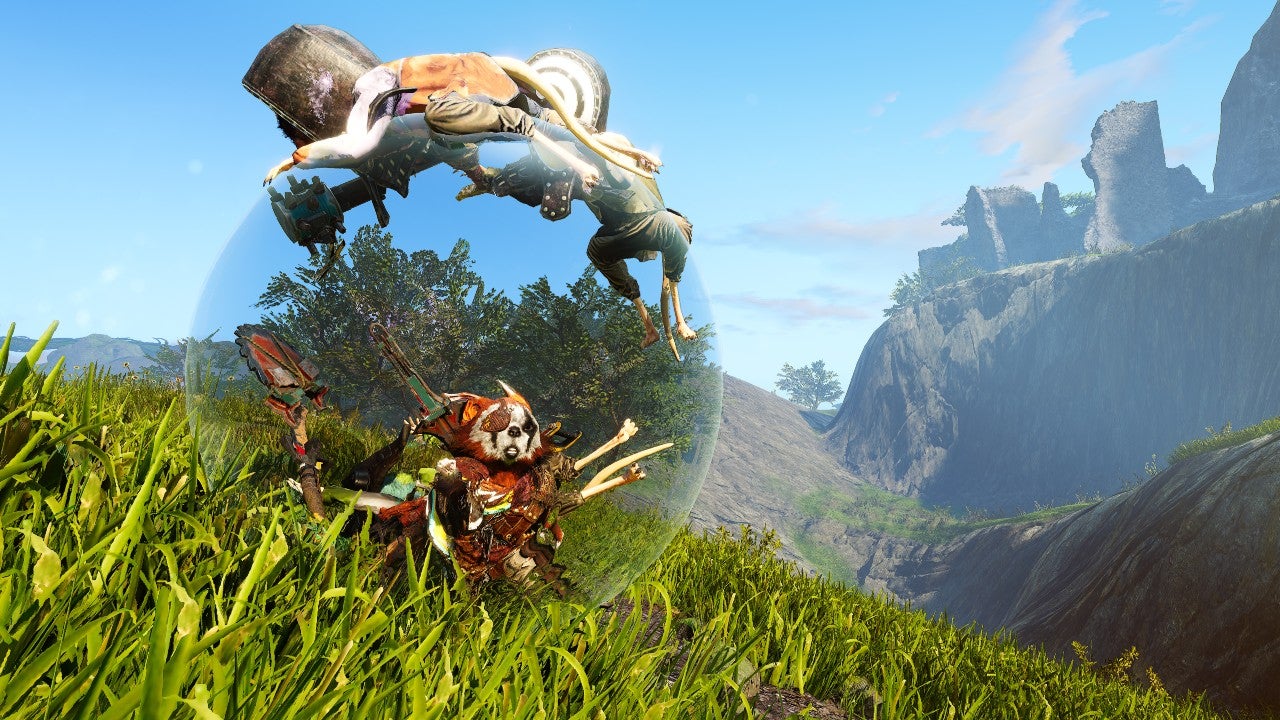 Of the latest cohort of studios to be brought into the Embracer Group, Purple Lamp is the only one that falls under the ownership and responsibility of THQ Nordic. Most were either purchased by or now positioned under sister company Saber Interactive -- although Kreuzer notes this is only indicative of which opportunities each Embracer firm took rather than the signs of some grand strategy by the group.
"I wouldn't exclude [the possibility] that maybe one day we'll make a deal where a publishing entity out there would be a good fit for our THQ Nordic family"
"No pillar of the business is pushed into acquiring other businesses," he says. "It's up to us. I said to the Saber guys that they're M&A monsters because they're making so many acquisitions -- it's impressive.
"At THQ Nordic, we've done 42 acquisitions since 2011 -- a mix of assets, companies and deals where we just bought the IP. But in this case, it was suitable for us to only acquire this one target: Purple Lamp. We take things step-by-step. Whereas the Saber guys had a lot of opportunities, which they took."
THQ Nordic is, of course, on the lookout for other potential acquisitions -- "we have a few in mind that we'll start talking to," says Kreuzer -- although there's no specific type of company the publisher is hunting for at the moment. Most of its teams are dedicated to development -- 16 of the 20 business that come under THQ Nordic -- but the CEO is open to branching out.
"I wouldn't exclude [the possibility] that maybe one day we'll make a deal where a publishing entity out there would be a good fit for our THQ Nordic family," he says.
The success of SpongeBob SquarePants, plus its vast back catalogue, actually made THQ Nordic the biggest part of Embracer Group in the organisation's most recent financial results. Through July to September, the publisher made $69.5 million -- over $7 million more than Deep Silver, the usual leader.
THQ Nordic is usually outperformed by Deep Silver and its parent Koch Media, in part due to the higher profile AAA IP the former holds and the broader businesses operated by the latter, such as film distribution. Nevertheless, THQ Nordic remains a major pillar in the Embracer Group -- it is, after all, intrinsic to how the organisation started, with the group also originally called THQ Nordic.
You would be forgiven for thinking this places additional pressure on THQ Nordic -- and Deep Silver, by extension -- to continue delivering million-selling hits in order to drive growth for the whole group. But Kreuzer instead reports the group's structure gives each entity more freedom to organise its line-ups in a way that will most benefit Embracer as a whole.
"We were in the lucky position this time because we had a fantastic line-up in the first and second quarters with SpongeBob, Desperados, Destroy All Humans and Kingdom of Amalur: Re-Reckoning," he explains.
"Next year, it could be different. It could be that Deep Silver or Saber has a super line-up and they take the lead in terms of revenue. We're lucky to be part of a group where one entity or another takes the lead each quarter -- that relieves the pressure, because I can see Deep Silver or Saber has a good line-up so it means I can act a bit cooler regarding our releases and time them a bit better.
"We try to be in the top tier and we're working hard to be there -- not just once, like in the recent quarter, but in the year to come and the year after that."
For the record, this article previously stated Biomutant is due for release in Q1 2021. THQ Nordic has reached out and clarified that the game is actually slated for 2021.