State of Games: COVID lockdown swung 2020 from "significantly lower" spending than 2019
B2Boost detailed the remarkable impact of the COVID-19 pandemic on consumer games spending in Europe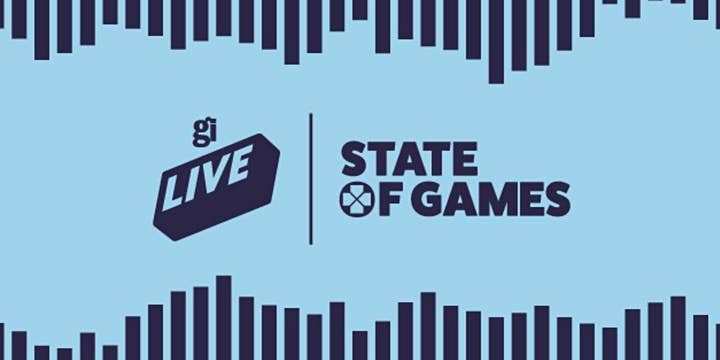 The COVID-19 lockdown turned 2020 from a year of decline to one of growth for the European games market, according to data presented by B2Boost at last week's GI Live: State of Games event.
B2Boost gave the opening presentation at the first ever State of Games, which brought together data specialists to offer a complete picture of the video games business in 2020.
The impact of the COVID-19 lockdown was a recurrent theme throughout the schedule of talks, and B2Boost started with a detailed breakdown of video game spending in 15 European countries during that period -- specifically, the 11 weeks leading up to March 15, and the 11 weeks directly afterwards, giving approximate pre-lockdown and lockdown periods. Those results were then compared against the same 22 week sales period in 2019.
"For the majority of pre-lockdown... 2020 performance actually performed significantly lower than 2019 performance," B2Boost senior analyst Aidan Sakiris noted.
In fact, spending across all GSD categories was down 16% in the 11 week pre-lockdown period, when compared to the same 11 weeks from 2019.
"Throughout the lockdown period we did see a lot of consumers start purchasing new consoles, specifically hardware leading up to the lockdown period," Sakiris continued.
"Sentiment was uncertain, and a lot of consumers weren't sure how long they'd be in lockdown... Spend started to increase for video games, and we see a major spike in week 12."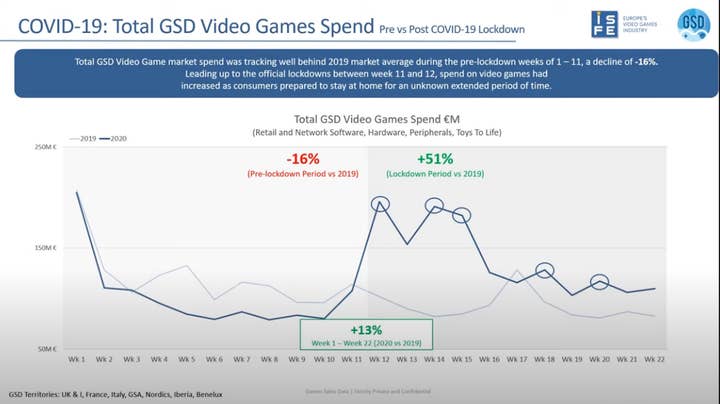 The effect of the lockdown is clear from the graph above, with a sharp rise between Week 10 and Week 12 as consumers anticipated the need for entertainment during lockdown and spent their money accordingly. As Sakiris said, they were "going out and preparing for a lockdown period."
This was amplified by a comparatively busy software release schedule in the weeks around March 15; Final Fantasy VII Remake, Doom Eternal and Animal Crossing were all released in that period, with Nintendo's Switch exclusive seeing huge success in its early weeks on the market.
As a result, total spending during the 11 week lockdown period was up 51% over the same period in 2019. This dramatic increase more than balanced the lower performance of pre-lockdown, resulting in a 13% increase in spending across the 22 week period overall.
GSD covers four product categories, all of which were down over 2019 to some extent during the pre-lockdown period: hardware spending declined 21%, physical software fell 20%, network software was down 10%, and peripherals was down 8%.
During the lockdown, every single category was up, and every category but peripherals was up by a higher margin than it was down prior to March 15. Network software had the biggest swing, up 127% as more and more people turned to digital products due to physical shops being closed. The other major gain was made by hardware, which rose 55% compared to the same period in 2019.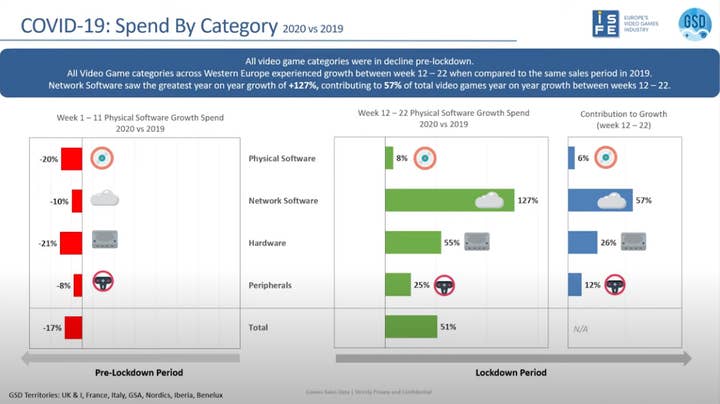 Within hardware, the platform that saw the largest swing in unit sales was the Switch. Unit sales of Nintendo's hybrid platform were actually 5% higher than 2019 during the pre-lockdown period, but it was 106% higher in the 11 weeks after March 15 -- partly driven by the strong performance of Animal Crossing: New Horizons.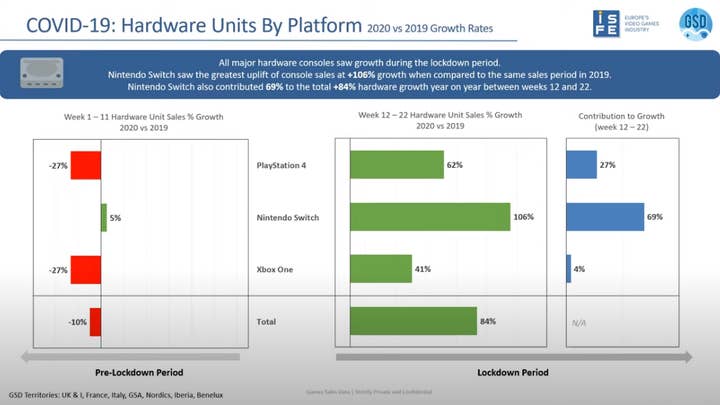 B2Boost examined hardware and software trends across that 22 week period in much greater detail in the full talk, which you can watch in the video embedded below.
You can still watch all of the talks from State of Games through the GI Live website, or on the official GamesIndustry.biz YouTube page.
State of Games was the first in a series of online events this year, all of which fall under the GI Live banner. The next event is Changing Channels, a day-long conference and networking event that unites the worlds of TV, film, books and video games -- it takes place on August 13.
You can read more about Changing Channels and the other GI Live events here.