Starbound prospers from Early Access, but others fall short
Chucklefish could work for years on upfront revenue, but Early Access and Kickstarter disappointments are piling up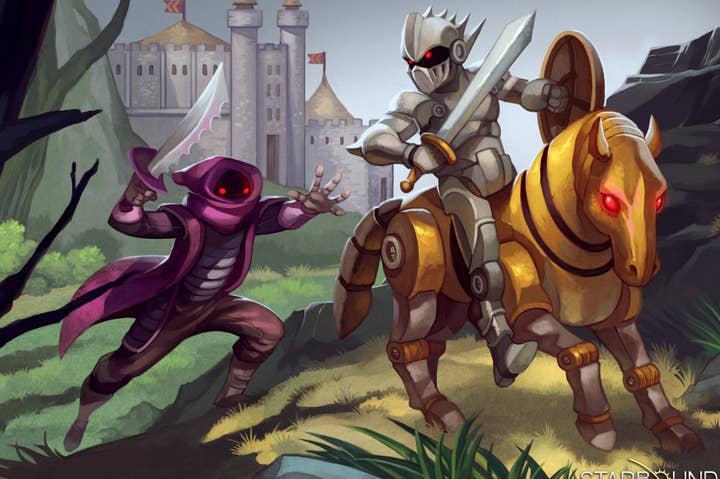 Starbound has earned enough revenue from its Early Access release to fund its development for almost a decade.
That stands in contrast to some very public failures and disappointments for projects funded by pre-release revenue models - specifically Early Access and Kickstarter. Indeed, that's exactly why Finn Brice, director of Starbound developer Chucklefish Games, decided to disclose the details of its success.
"It's not the best time to be a part of the early access party and it's easy to see why people are worried about the health of the Starbound project," he said, posting under the pseudonym "Tiy" on the Chucklefish website. "I wanted in no uncertain terms to assure everyone that there's no chance of Starbound going that way.
"Chucklefish could fund the development of Starbound for another nine years at least. Even if we didn't make another penny in that time"
"Not only is the development of Starbound extremely healthy. (More so than it's ever been in fact, with more team members than ever and all of us in the same location). But Chucklefish could fund the development of Starbound for another nine years at least. Even if we didn't make another penny in that time. This includes all our office costs, salaries and every other kind of company expenditure."
The bloom is now very much off the rose when it comes to these new funding models. The examples of Kickstarter campaigns and Early Access products that either never launch or fail to deliver in some way are now a common occurrence.
Last week, the Neal Stephenson-backed Clang! was officially terminated despite raising and spending $500,000 through Kickstarter. At the start of the month, the ambitious multiplayer title The Stomping Land was removed from Steam after months of silence from its developer, SuperCrit. The Stomping Land was backed by almost $120,000 in Kickstarter money, and it had been on sale through Early Access since May.
Even a highly experienced developer like Double Fine has been criticised for its somewhat cavalier approach to Early Access. Last week, Tim Schafer's much-loved studio announced that Spacebase DF-9 would leave Early Access and receive a full release.
However, members of the game's Steam community - who contributed the majority of $400,000 in revenue in just two weeks on Early Access - felt aggrieved by the decision, claiming that Double Fine was cutting promised features to rush the game to release. That Double Fine is also releasing the full source code has been regarded by some as evidence of that fact.
"[The source code] will allow the community to create potentially far-ranging mods that add content, new features, and change some fundamental game behaviors," Double Fine's statement read. "We'll of course be sticking around a bit for bug fixing and support, but any new content for the game will now be in your hands."
"The creator is solely responsible for fulfilling the promises made in their project. If they're unable to satisfy the terms of this agreement, they may be subject to legal action by backers"

Kickstarter Terms of Use
Read some of the comments below Double Fine's post to get a sense of how well that went down with the Spacebase community. The thread titles on the game's Steam forums also speak to a widespread sense of frustration.
Valve responded to similar events earlier this year, altering its FAQs on Early Access to warn customers that, "some teams will be unable to 'finish' their game. So you should only buy an Early Access game if you are excited about playing it in its current state."
And Kickstarter has also subtly shifted the language describing its policies, placing more emphasis on the culpability of the developers behind any given campaign, and extricating itself from responsibility when things go wrong.
In a post published on Friday, Kickstarter said: "For the overwhelming majority of projects, it's pretty simple: creators finish the work they planned, backers are happy, and nobody sweats the details. But there are exceptions. Sometimes problems come up, projects don't go according to plan, and people wind up in the dark about what's supposed to happen next."
Under its terms of use - the full wording of which can be found here - Kickstarter makes it clear that it is, "not a part of [the] contract," between creator and backer - a contract it describes as a "direct legal agreement."
"When a project is successfully funded, the creator must complete the project and fulfill each reward. Once a creator has done so, they've satisfied their obligation to their backers.
"The creator is solely responsible for fulfilling the promises made in their project. If they're unable to satisfy the terms of this agreement, they may be subject to legal action by backers."