Valve: Some Early Access games will never be finished
Steam alters its FAQs on Early Access products, warns customers that some devs will never reach final release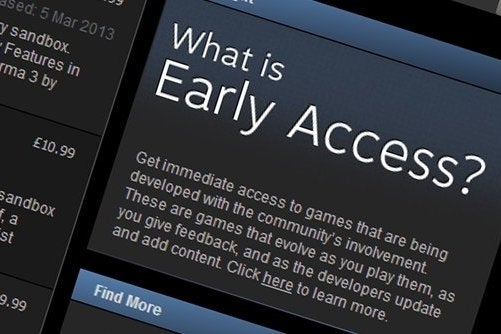 Valve has altered the FAQs relating to the platform's Early Access titles, warning its customers that some developers may never actually complete their games.
The changes, which were spotted by VentureBeat, mark a subtle but telling shift in how Early Access games are perceived by Valve. Previously, the question "When will these games release?" was met with a response that put the onus on the developer, but basically assumed that a final version of the product would one day exist.
"It's up to the developer to determine when they are ready to 'release'. Some developers have a concrete deadline in mind, while others will get a better sense as the development of the game progresses."
"You should be aware that some teams will be unable to 'finish' their game"

Valve's revised Early Access FAQs
Now, however, that statement has changed to something more definitive with the addition of a new caveat: "You should be aware that some teams will be unable to 'finish' their game. So you should only buy an Early Access game if you are excited about playing it in its current state."
Of course, some might argue that this was the point of the Early Access concept all along. However, consumers without clear knowledge of how games are made might look at the name "Early Access" and see it as a clear indication that they are buying a game that will eventually be released.
When approached for comment on the changes, Valve's Doug Lombardi issued the following statement:
"The changes to the FAQ are intended to help set customer expectations of what may or may not happen over the course of development of an Early Access game. We frequently iterate on Steam features as we gather feedback and find areas for improvement.
"In this case, it became apparent that further clarification would help customers evaluate their potential purchase of Early Access titles. We think of Steam, Early Access, and game development as services that grow and evolve best with the involvement of customers and the community."
The sale of early, unfinished versions of games did not start on Steam. Both Mojang's Minecraft and Introversion's Prison Architect reaped great financial rewards with the practice away from Valve's platform, but Steam has embraced it wholesale, adding a dedicated section to its digital storefront.
And Early Access has gone from strength to strength, with DayZ and Rust among a growing number of games to make millions through unfinished products.