Sony announces accessibility controller Project Leonardo, teases PSVR 2 launch line-up
Platform holder's CES showcase also reveals PS5 has sold 30 million units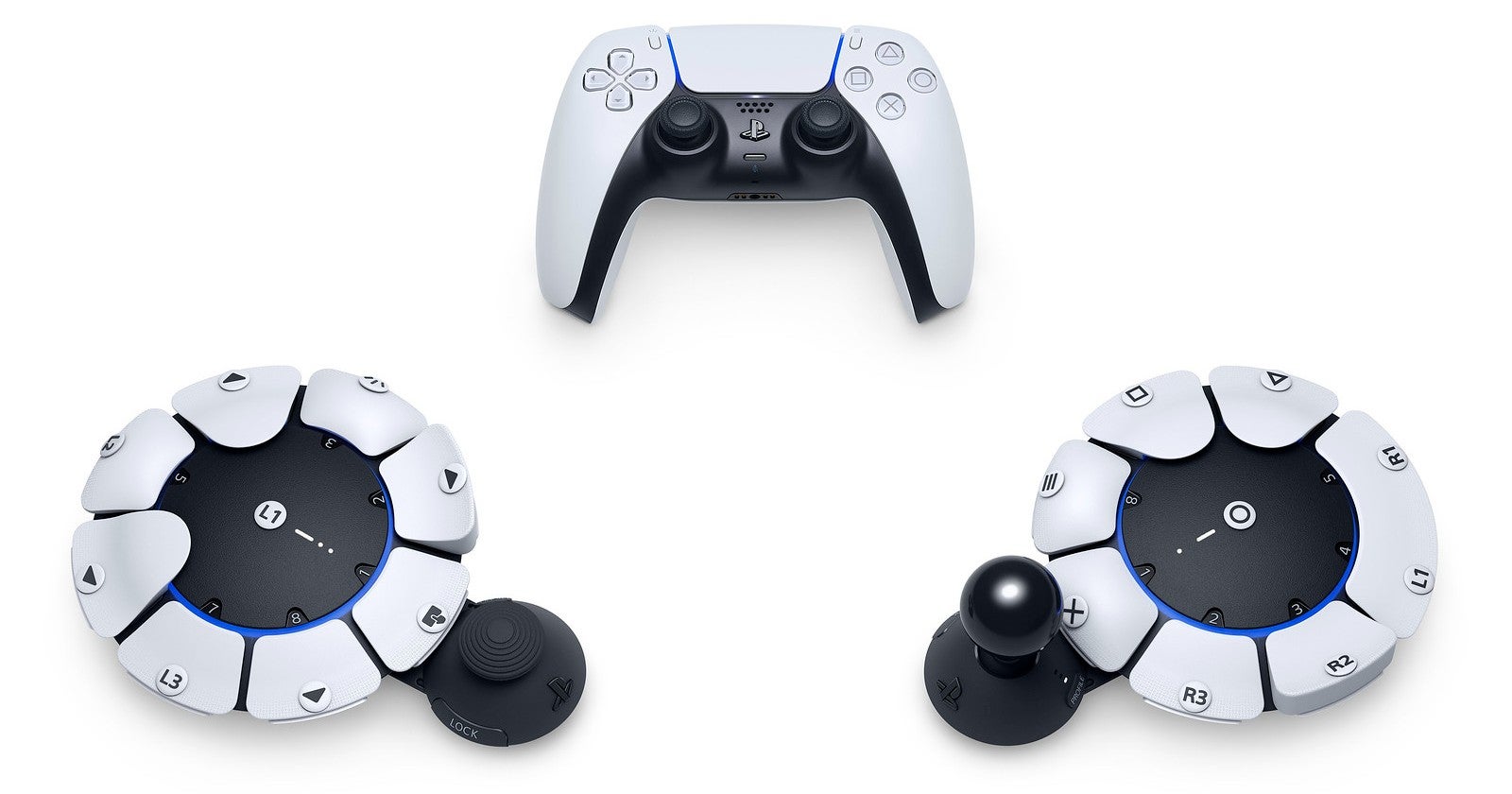 Sign up for the GI Daily here to get the biggest news straight to your inbox
At a glance
Customisable controller Project Leonardo now in development to improve PS5 accessibility
PS5 has now sold 30 million units worldwide since launch
At least 30 PSVR 2 titles available during launch window
Sony made a number of announcements during its CES 2023 showcase last night, including the unveiling of a brand-new accessibility controller for the PlayStation 5.
Currently referred to as Project Leonardo, the customisable controller (pictured above) is "built to address common challenges faced by many players with limited motor control," according to the PlayStation Blog.
These include accurately pressing buttons or triggers arranged in a small cluster, as found on most games controllers, or positioning thumbs and fingers in the optimum positions for a standard gamepad.
Project Leonardo is also designed to be comfortable for those who struggle to hold a controller for long periods of time.
The device has been designed with the help of accessibility experts and specialist organisations, including AbleGamers, SpecialEffect and Stack Up.
It features a range of components, including buttons and analog stick caps, that can be swapped around to suit each player's individual needs or preferences. They can also adjust the distance between the analog stick and the rest of the gamepad.
There are also four 3.5mm auxiliary ports that enable players to add external switches and other third-party accessibility accessories.
Buttons can be remapped, even enabling players to assign two functions to the same button, and they can store their chosen settings as control profiles. Up to three control profiles can be stored at any time, and swapped between at will.
Project Leonardo has been designed to be used as a standalone controller, or paired with a second Leonardo device and/or the standard DualSense controller.
The device is currently in development with Sony gathering feedback. There is no word on a release date or price at this time.
It follows in the vein of Microsoft's Xbox Adaptive Controller, which was announced and released in 2018.
Elsewhere during Sony's CES showcase, VGC reports that PlayStation boss Jim Ryan revealed that PS5 has now sold more than 30 million units since its launch in November 2020.
Ryan added that December 2022 was the console's biggest month for sales so far, thanks in part to better availability of stock.
Sony is currently aiming to ship 18 million units into retail by the end of the current financial year, which ends on March 31, 2023, with a target of 23 million units shipped the following year.
If it accomplishes this, it will place the PS5 ahead of PS4 during the comparable point in the previous console's lifecycle.
Sony also showed off a trailer for the upcoming Gran Turismo film during its showcase, and gave a little more insight into the upcoming PlayStation VR 2 launch.
In November, the platform holder announced PSVR 2 will launch on February 22, 2023, priced at $550. It will not be compatible with games for the original PlayStation VR.
But GamesBeat reports that Ryan confirmed at least 30 titles would be available for PSVR 2 during the launch window, including the Horizon: Call of the Mountain and the newly-announced VR version of Gran Turismo.
Beat Saber was also confirmed for PSVR 2.
Sign up for the GI Daily here to get the biggest news straight to your inbox