Rocket League hit $110m in revenue by giving away content for free
PlayStation Plus giveaway and free major DLC updates are behind rapid growth, says Psyonix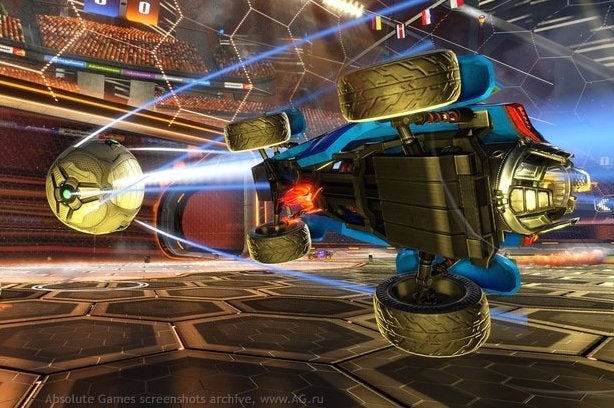 Psyonix has now earned more than $110 million in revenue from Rocket League, and it got there by giving away content for free.
According to a new report from Forbes, Psyonix had earned $70 million in revenue and sold 4 million units of its breakout hit Rocket League across PS4, PC and Xbox One. Now, those figures stand at $110 million in revenue and 5 million unit sales - a 57% and 25% increase respectively.
"Our numbers are actually going up, not down," Psyonix VP Jeremy Dunham told Forbes, "which is not very common for a game that's ten months old."
The key thing to remember here is that the figures above do not include the downloads Rocket League received when it was given away for free through PlayStation Plus. Over the course of that month - the first the game had been available anywhere - around 5 million people downloaded and played it, creating a substantial and very enthusiastic audience on which to build.
Rocket League launched on Steam on the same day, July 7 2015, but it was not tied to a promotional giveaway. Despite PC gamers having to pay for the game, though, powerful word-of-mouth from its console players helped to drive more than 1 million sales at around $20 each before the end of August. According to SteamSpy's data, Rocket League now has around 3.3 million owners on Steam, where it has never been given away for free. Indeed, in terms of paid downloads, PC is the game's leading platform.
"Our numbers are actually going up, not down, which is not very common for a game that's ten months old"
And the same effect played out when Rocket League reached the end of its period of console exclusivity, and launched on Xbox One in February this year. Within three weeks, it had sold a further 1 million units at $20 to Xbox owners who had been watching PS4 players with envious eyes.
According to Forbes, more than 15 million people have played Rocket League between its launch in July 2015 and now. In April, it had over 5 million monthly active users.
That early exposure to the power of giving away content has informed the way Psyonix has handled the game's numerous DLC packs. A recent example is Hoops, a significant piece of content that switches the gameplay from a version of soccer to a version of basketball. Psyonix believes it could have developed and released Hoops as a standalone game, but instead it chose to regard the content as a form of marketing.
In fact, the only DLC Psyonix does charge for is purely cosmetic: skins, new cars that offer no competitive advantage, etc. Anything that has a direct impact on the way Rocket League plays is distributed to the entire community for free.
"One of the things you see in a lot of multiplayer games is that over time usually the player base gets smaller and smaller as more and more DLC is added to the environment, because fewer and fewer people are buying those items," Dunham said. "Since we only sell cosmetic items and cars we aren't cutting anyone out of the equation, and that's why our numbers are actually going up month after month after month. Our active player base has been increasing for five months in a row."
And that rise in numbers leads to sales of the premium DLC it releases. Psyonix has now sold more than 5 million DLC packs across PS4, Xbox One and PC.