Oliver Twins' Panivox unveils new interactive narrative platform RichCast
Tool for creating and playing voice-activated stories now in Early Access ahead of planned December launch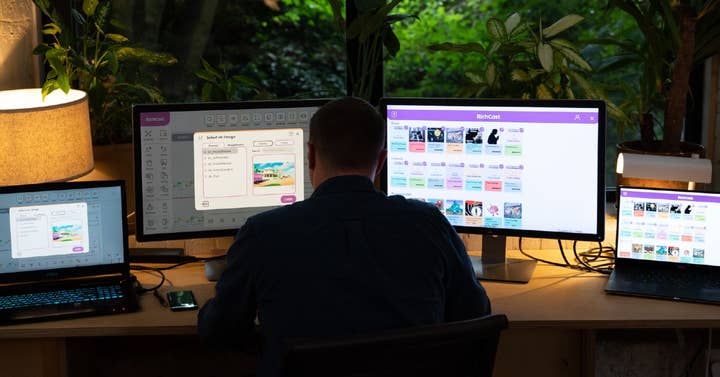 Panivox has launched RichCast, a new platform for interactive narrative experiences, into Early Access.
Formed earlier this year, Panivox is the new studio from veteran game developers Philip and Andrew Oliver -- best known for the classic Dizzy games -- and their co-founder Neil Campbell.
RichCast is a PC and Mac program that allows users to play through interactive game-like stories, similar to those found in mobile hits like Episodes and Choices.
A key difference is the games can all be voice-activated when making choices, and all dialogue and text is delivered by AI voice actors.
The program also allows users to create their own stories and other interactive experiences via an integrated suite of tools. There are plans to allow creators to monetise their stories at a later date.
Panivox has spent the past few months commissioning writers and content creators to build games and experiences for launch, and will be running competitions and sponsorships to source more.
The Early Access edition of RichCast is now open to all, with the aim of launching the full version in December, followed by a soft launch of the iOS and Android app in Q1 2022.
GamesIndustry.biz spoke to Philip Oliver about the new project. You can read the full interview later today.
"We believe there is a massive market in creating interactive narrative -- be it fiction or non-fiction -- that can be created by any great writer," he told us.
"We're hoping the next Harry Potter will actually come through this route because interactive is fundamentally better than linear. It's more engaging, more 'hooky.' Imagine if something like Harry Potter was interactive, you would be sucked in even more. Imagine if the input was voice, and with the characters talking back to you.