Logitech buys Saitek from Mad Catz
Flight stick and farm sim controller brand goes for $13 million as Logitech bets on future of simulation games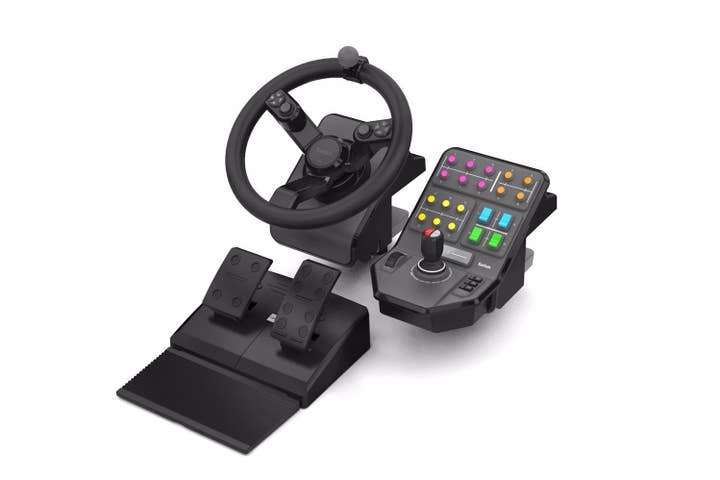 Mad Catz is further narrowing its product range in an ongoing attempt to right the ship. The company today announced that it has sold its Saitek division to Logitech for $13 million.
Saitek, which specializes in flight sticks and steering wheels for flight, space, and farm simulation titles, was originally purchased by Mad Catz in 2007 for $30 million.
As part of the deal, Logitech will obtain all of the trademarks, equipment, and other necessary assets to create and sell Saitek controllers. In addition, eight members of Mad Catz's R&D staff have accepted job offers from Logitech. In a post announcing the acquisition on the Logitech blog, the company made it clear it sees Saitek as part of a larger strategy to grow its presence in the simulation market.
"Simulation games are cool and getting cooler. Whether you're into driving, flying or exploring space, there are fresh new titles available and more to come. Some of these titles are even VR enabled and we believe that dedicated controllers will stimulate and enhance the total VR experience."
Mad Catz president and CEO Karen McGinnis said the deal brings her company "attractive and certain value."
"Our Board and management team are highly focused on enhancing shareholder value and we believe this transaction is consistent with our ongoing efforts, enabling us to improve our financial position and working capital to better support and grow our Mad Catz and Tritton video game accessories and headset brands," McGinnis said. "As we continue to evolve our business strategy to operate the company more strategically while leveraging resources more efficiently, we are confident that the sale of the Saitek brand and product line, along with the other previously-disclosed company-wide initiatives, will result in improved financial performance and shareholder value."
It's been a difficult year for Mad Catz, with its previous chairman, CEO, and general counsel all resigning the day before the company laid off 37 percent of its staff. The company laid much of the blame for its woes at the feet of the "incredibly disappointing" performance of Rock Band 4, which it published last year but failed to rekindle interest in the rhythm game genre.