Embracer's Gearbox acquisition appears to have blocked Homeworld 3's Fig investment scheme
Fans told their reservations for shares have been cancelled, but Fig tells us "no money ever changed hands"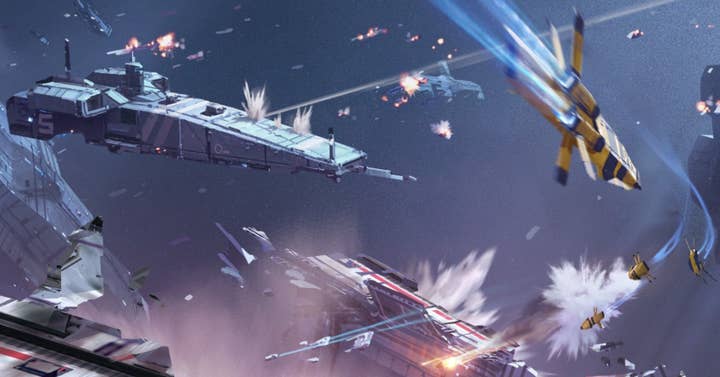 Fig users who backed Homeworld 3 have been informed they will no longer have the chance to invest in the game's success and share in its profits.
An email, shared online by backers, assures that "everything is on track with Homeworld 3's development" but due to "recent changes at Gearbox", it will no longer collect reservations for investment on this game.
Any who already made a reservation will not collect any investment when the game eventually launches.
"We know that this will come as a disappointment to some of you that were waiting to invest in the success of this incredible game," the email reads.
CEO Justin Bailey confirmed to GamesIndustry.biz that the message is authentic, and emphasised that "no money ever changed hands."
Fig's investment scheme works like so: during the initial crowdfunding campaign, backers reserve the opportunity to invest in shares in the game at a later date. Again, Bailey stressed that no money is charged at this stage, adding it is "just a reservation process."
Later, Fig and the developer usually open up the investment portion and contact all those who reserved the right to invest. But in the case of Homeworld 3, the project never reached this stage.
It appears Embracer Group's acquisition is likely the cause of these cancellations. Bailey told us Fig was in discussions with Gearbox about moving forward with the investment phase, but these talks "trailed off after the acquisition announcement."
GamesIndustry.biz has contacted Gearbox for more information.
Embracer acquired Gearbox earlier this year in a deal potentially worth up to $1.3 billion. At the time, studio boss Randy Pitchford told us the deal, and the access to capital Embracer enables, was "like a rocket booster to our ambitions."
However, this is not the first time a studio that used Fig for crowdfunding has been acquired. Obsidian Entertainment, Double Fine and inXile all used the platform to finance their projects before they were purchased by Microsoft.
In the case of Double Fine and inXile, the acquisition actually led to early payouts for investors in Psychonauts 2 and Wasteland 3.
"Those opportunities paid handsomely to investors," said Bailey. "The difference between those and Homeworld 3/Gearbox is that those reservations were collected in advance of the acquisition. We went through the reservations process and then opened up and concluded the investment process. In the case of Homeworld 3 and Gearbox, the acquisition took place after the reservation process but before the investment process."
He added that any users who backed the campaign by purchasing a bundle have not been affected, and that those who had reserved the right to invest will still receive their other benefits.
"In the traditional sense of crowdfunding, where people become backers and give money to assist the developer in the creation of the game in exchange for goods, all backer money has been collected," he said. "All backers will receive their goods."
The Homeworld 3 Fig campaign launched in 2019 with a funding goal of just $1. It raised over $1.5 million from more than 8,400 backers.
At the time, Gearbox said the low goal was to make it clear the game was already "on a solid foundation, funding-wise" and that the campaign would give longtime fans "a chance to invest in Homeworld 3's success."