EA under fire for promoting FIFA loot boxes in toy catalogue
Update: EA admits to inappropriate FIFA ad placement, begins "immediate review of all future media placements"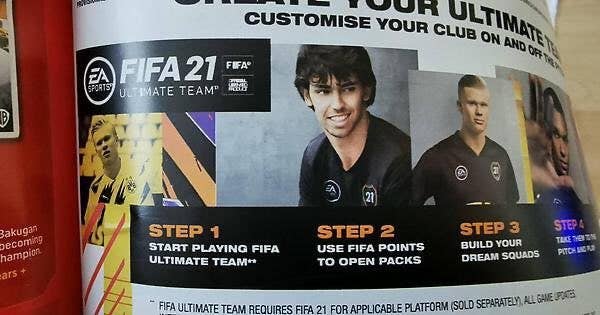 Electronic Arts publisher faces criticism for promoting FIFA's in-game purchases in a children's toys catalogue.
VGC reports the publication in question is the latest in-store magazine from UK retailer Smyths Toys, which featured an advertisement for FIFA 21 centred around the Ultimate Team mode.
The ad listed the four steps of playing Ultimate Team, with step two being "Use FIFA Points to open packs."
FIFA Points are the virtual currency Electronic Arts sells specifically for the Ultimate Team mode, with the player packs being the sports series' equivalent of randomised loot boxes -- or 'surprise mechanics,' as EA prefers to call them.
Images of the ad were shared via Twitter by user 'AllFifaMistakes' with the hashtag 'ThisIsntOK', while another user shared an image of an in-store promotion with a similar message. The in-store placement also pushed the use of FIFA points and specifically advertised wallet top-ups for the PlayStation Store.
The tweets have sparked negativity on both Twitter and forums such as Reddit, with EA accused of "normalising in-game purchases for kids" in an unethical way. It has also further fuelled the debate as to whether FIFA Ultimate Team constitutes gamblng.
The publisher is currently facing a class action lawsuit in California that asserts Ultimate Team violates the state's gambling laws.
Meanwhile, the UK government is currently calling for evidence -- both positive and negative -- around concerns about loot boxes.
Following a lengthy enquiry last year, a committee for the Department of Digital, Culture, Media and Sport recommended that paid loot boxes should adhere to the regulations of gambling laws and called for a ban on selling games with loot boxes to children.
Following EA's financial results earlier this year, chief financial officer Blake Jorgensen said revenues from FIFA Ultimate Team -- already a major earner for the publisher -- were "off the charts" during lockdown.
Update: An EA representative told GamesIndustry.biz, "We take very seriously the responsibilities we have when marketing EA games and experiences in channels seen by children. In spite of this, we're aware that advertising for FIFA Points has appeared in environments it shouldn't have. We have been working diligently with Smyths to ensure this advertisement is not distributed in any remaining copies of their 2020 catalogue.
"We have also undertaken an immediate review of all future media placements and are working to ensure each of our marketing efforts better reflects the responsibility we take for the experience of our younger players."