Double Fine: Xbox deal won't change multi-platform Psychonauts 2 release
Tim Schafer describes relief at no longer having to pitch ideas "to every publisher that exists"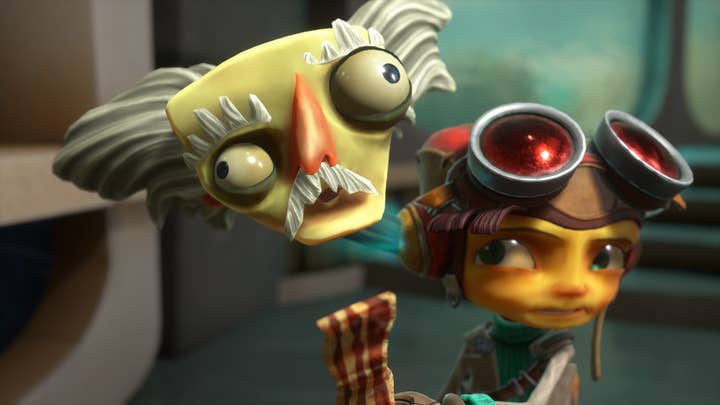 Double Fine Productions will stick to its original publishing plans for Psychonauts 2, despite the company now being a first-party Microsoft studio.
The acquisition was announced during the Xbox E3 briefing yesterday, but very few details were presented alongside the news.
However, Tim Schafer addressed some possible concerns in a video, including what will happen to Psychonauts 2, which was supposed to launch on multiple console platforms.
"First of all, our existing commitments to backers of Psychonauts 2, or any other agreements we've made, will be fulfilled," Schafer said. "So whatever platform you chose to receive your copy of Psychonauts 2 on, for example, you'll still get it."
Once those agreements have been satisfied, however, Schafer said the studio would be focusing on, "Xbox, Game Pass and PC."
Schafer also lightly touched on the reason for accepting Microsoft's offer. He assured Double Fine's fans that it will continue to make, "the kind of games we make," and that a culture formed by 20 years of independence would not be changed by the acquisition.
He offered the annual Amnesia Fortnight event -- during which the whole company focuses on creating small prototypes based on new ideas -- as an example of what Double Fine will continue to do regardless of its ownership. Schafer's next comment was more revealing, however.
"The thought of being able to develop those [ideas] without having to drag them all over the world, pitching to every publisher that exists -- that's just really nice to think about."
It doesn't take much searching to unearth examples of Double Fine running into problems due to working with publishers. In 2014, for example, it had to cut 12 jobs specifically because an unannounced project was cancelled by the publisher that had signed it.
More recently, Psychonauts 2 was signed by Starbreeze, in a deal worth $8 million in development funds. The Swedish publisher's recent financial problems cast doubt on whether that commitment would be honoured, however, and the Microsoft acquisition involved $13.2 million for the Psychonauts 2 publishing rights.