Double Fine looks to completely shift away from work-for-hire
Company wants to maintain its independence using investors and crowdfunding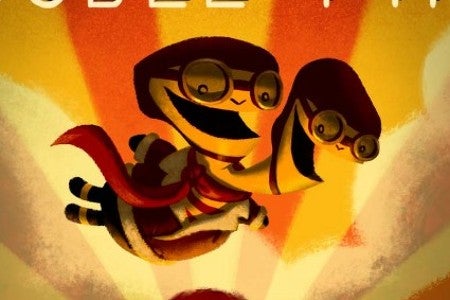 Double Fine Productions helped kick off the Kickstarter craze for game developers, raising $3.3 million for the Double Fine Adventure. What's more, the company is looking at other means of financing so that it can fund future projects and maintain its independence.
"We're making a switch from console work-for-hire and going to direct to consumer and free-to-play projects," said Justin Bailey, the vice president of business development at Double Fine to VentureBeat. "That process has taken place over the last 18 months."
Kickstarter could be used as a sort of seed round of funding for specific projects. After that, real investors might come on to provide more money, enabling Double Fine to work on more projects and more platforms.
"We try to be as creative with our business development as we are with our games," said Double Fine founder and CEO Tim Schafer. "We are always on the lookout for ways to break the traditional mold for game funding. So when we see new opportunities come up - like Kickstarter, angel investment, or other alternative funding models - even though they might seem new and risky at the time, they are also very attractive to us. Because, let's face it, anything beats the traditional game funding model. It's like a loan with a really horrible interest rate. No revenue usually until you've not just paid back the development cost, but paid it back many times over. Plus, lots of entanglements with intellectual property usually."
A unique opportunity presented itself last year when Steve Dengler, founder of currency exchange web site Xe.com, gave $1 million to Double Fine for more projects. That resulted in Psychonauts being ported to Mac and the publication of Stacking and Costume Quest on the PC. Outside investment has also helped the company put together its first iOS game.
"I'm a fan with money," said Dengler. "That pretty much sums it up. I've been a fan of Double Fine for years, and now I get to help them make new games on their own terms. Traditionally, a developer needed a publisher to get their work made and out to the fans. And traditionally, that relationship was pretty one-sided. But together, we are changing that."
"What I do want to do is help them make great games for their fans because I am one of those fans," Dengler added. "And so far it's working wonderfully. It's tremendously satisfying."
"The great thing about having multiple teams at Double Fine is that we can experiment," Schafer noted. "We can try out different game genres, platforms, and sizes, and we can try out different funding models. So when someone like Steve Dengler sends a tweet my way, asking how much it would cost to port Brutal Legend to PC, I'm in a position to have a serious conversation with him. I don't have to say, 'Sorry, everybody's busy on this one big game we're making over here'."
"Steve is great because he is literally an angel investor - he came out of the clear blue sky, has mysterious powers, and he only uses them for good. Oh, and he can fly, too…in his Cessna," joked Schafer. "He loves games, he likes Double Fine, and he wants to remove the money obstacle from our path and help us achieve our creative ambitions. The best thing about a partner like Dracogen is the creative freedom. There's no bureaucratic overhead like time-wasting green-light committees and milestone acceptance tests. We get to focus on making the game good because we have his trust, and in exchange for that, we offer him complete transparency into the product. Mutual trust and mutual respect is critical in this kind of relationship."
Double Fine is currently publishing some of its games on Steam, but someday hopes to offer games directly through its own website and looks to benefit from virtual good sales in a free-to-play game. Using methods like this, the 60-person strong developer hopes to stay independent.
"It is complicated to keep straight, but we have crowdfunding, self-publishing, the mobile studio, and some legacy business. We are now majority-funded by crowdfunding or outside investment. By next year, hopefully that transition will be complete," said Bailey. "We've needed a lot of money up front from publishers in the past, but over 12 years, we've been in transition," "The publisher model is changing. And indie gaming is growing up a little bit and maturing as a business process. Our goal is to fund ourselves as an independent game developer. You want a diversified approach. The nicest thing is the indie community is tight, and we are all trying to help each other in every way."