Double Fine rakes in $3,445,265 with Kickstarter
The new adventure game project is the most successful Kickstarter campaign in history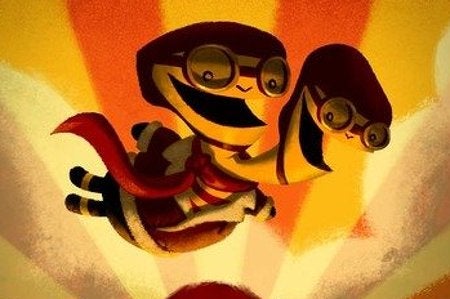 Double Fine's historic Kickstarter campaign to create a new adventure game has ended, with an amazing $3,335,265 pledged from 87,138 backers on Kickstarter. Double Fine held a live video event on Ustream for the last 2 hours of the campaign, as Double Fine staffers partied and chatted with backers before popping champagne. Double Fine noted that this was the most succsseful campaign in Kickstarter history.
In his speech after the close of the campaign, Tim Schafer thanked some of the premium backers who pledged for some of the ultra-premium items offered only on Double Fine's web site. This included Days of Wonder, whose $50,000 pledge was dedicated right now to the team on their board game Ticket to Ride. Double Fine garnered an additional $110,000 from premium backers not listed on Kickstarter, according to Schafer.
An ebullient Schafer commented, "This is not the end of the whole gaming industry as we know it."
"There still might be a few games made by publishers after today," Schafer continued, tongue firmly in cheek. He turned more serious for a moment. "If you've ever been told you were part of a niche gaming effort, you can now be part of a super niche. Why does a big company get to choose what I watch or play? Well, now they can't. Thank you to everybody on the team, to the backers, and to Cindy at Kickstarter."
Now Double Fine begins the work of making the game, and trying to support the backers who pledged money without even knowing what the game will be about. It's a stunning validation of the quality of games that Tim Schafer and Ron Gilbert have made, and it's already having an effect on other developers. Brian Fargo's InXile Entertainment launched a Kickstarter today for a sequel to the classic Wasteland RPG, which has already gathered close to $400,000 towards their $900,000 goal in less than one day.