Digi-Capital: For the mid-tier "just being good is no longer good enough"
Tim Merel sees a tighter squeeze on the mid-tier as the industry pushes towards $100b revenue in 2018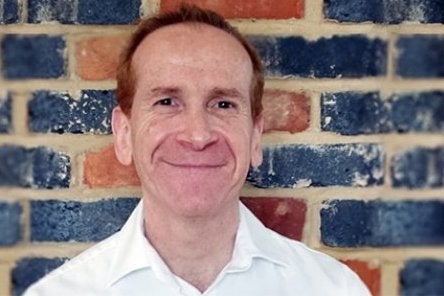 A record $24 billion year for exits across IPOs and acquisitions may seem like glad tidings, but the investment bank and analyst firm Digi-Capital has predicted even tougher times ahead for the already squeezed mid-tier of the industry.
According to a new report from Digi-Capital, $15 billion of that record total for 2014 came through acquisitions, with $8.1 billion from five major deals. The remaining $9 billion was through IPOs, largely from Asian companies.
"You might think this is a bubble, but you would be wrong," said Digi-Capital's managing director, Tim Merel. "Something more subtle is going on, and you can see it when you follow the money."
Digi-Capital corrected one of its own forecasts, made at the start of 2014, that global game revenue would reach $100 billion by 2017. The industry will still reach that total, Merel said, but a year later than Digi-Capital had previously thought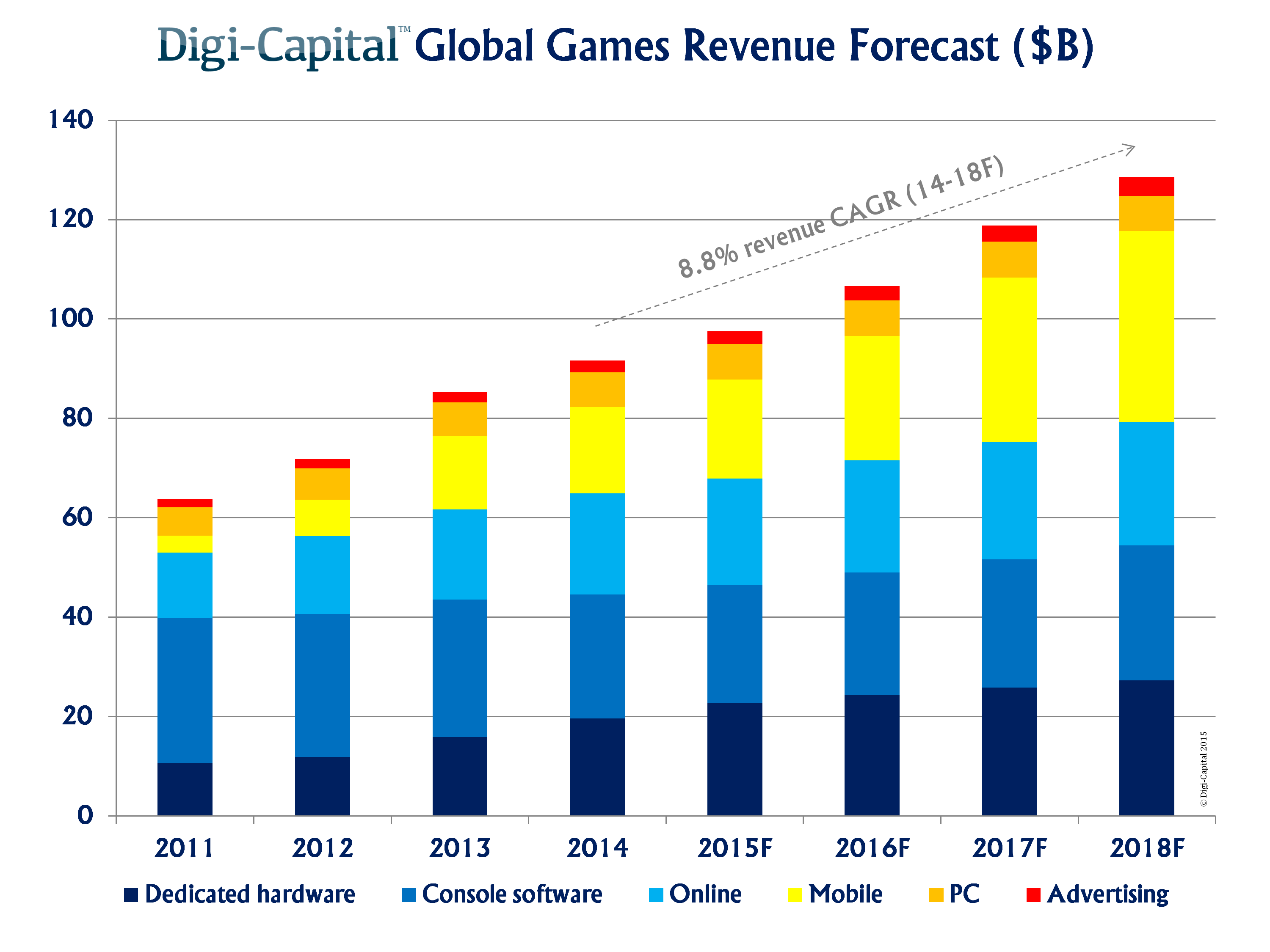 "Having tracked what's happening across sectors through 2014, from the go-go markets of Asian mobile games to the recovering Western console space, we've seen the nature of growth changing. It's stabilized."
Mobile - which drove more than half of that $24 billion value - is the only sector of the industry showing "strong double-digit growth," and Virtual Reality is the only other sector that has potential to breakout. As such, Digi-Capital forecasts a compound annual growth rate (CAGR) for games software and hardware of 8.8 per cent between 2014 and 2018.
"Become great and get bought, or slim down to become nimble like an indie and survive"
"That sounds healthy," Merel noted. "But it's single digit growth and that changes things. A lot. In markets with single digit growth, a rising tide no longer lifts all boats. Competition becomes about the difference between the great and the good.
"In this phase of the market, corporates with hit IPs, user scale and cashflow can invest in the high costs of marketing and infrastructure to compete in a stable growth market, although this reduces everybody's margins. Indies don't have hit IPs yet or the scale advantages, but they don't have the costs either. Both can produce hit games, even if they are few and far between. Mid-tier games companies have no hit IPs yet, no scale advantages, but infrastructure and marketing costs. They can produce hit IPs too, but their cost bases increase their risk."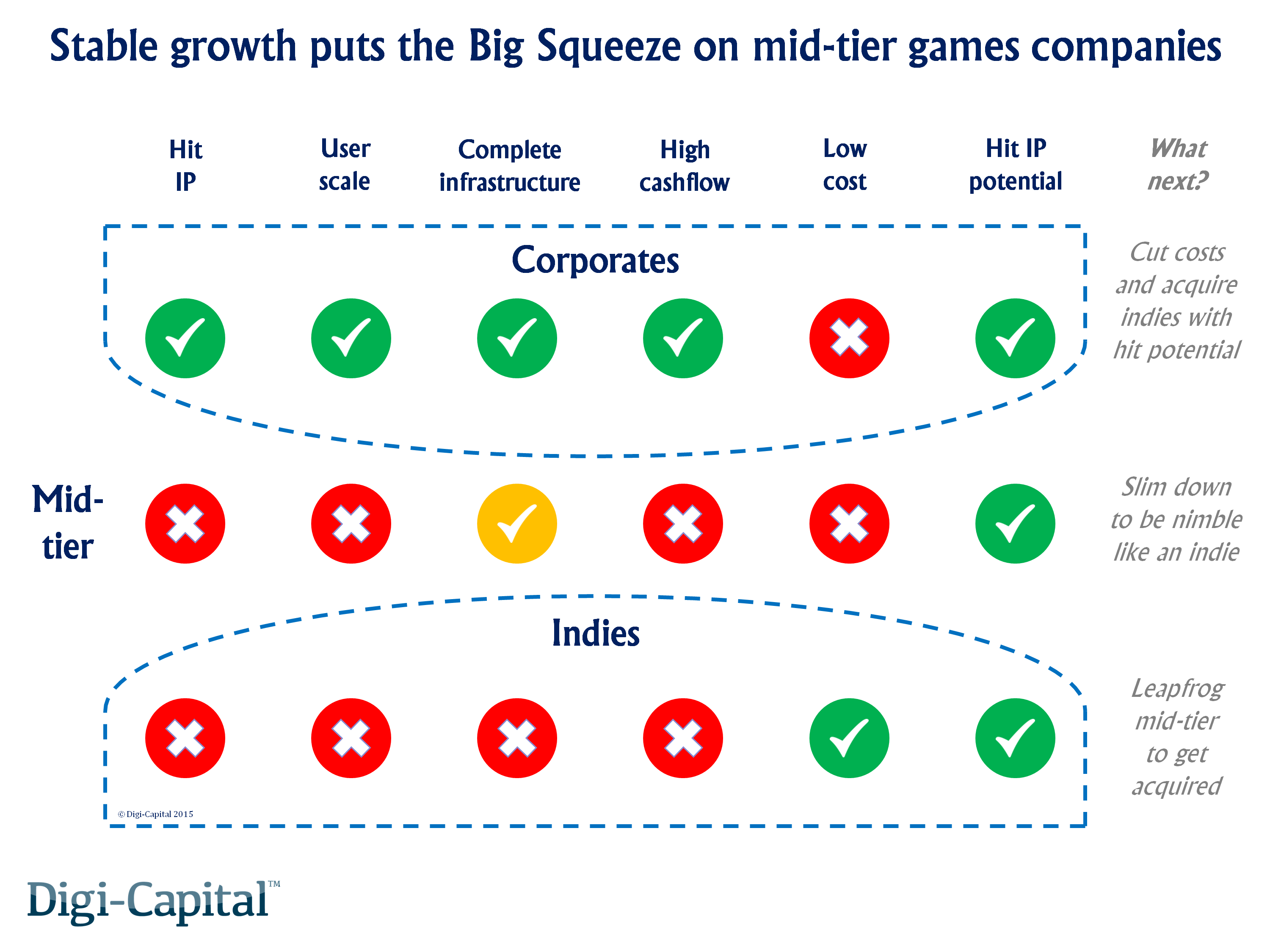 In that environment, mid-tier teams and their attendant costs become less and less attractive to corporate buyers, and only those with significant reputations and momentum will stand a good chance of finding investment - which, at $1.5 billion in 2014, was 25 per cent down on 2011.
In fact, corporates will be more likely to fund or buy indies and smaller developers, to take advantage of what Digi-Capital has termed, "unrealised hit potential."
"The squeezed mid-tier now has a choice: become great and get bought, or slim down to become nimble like an indie and survive," Merel said. "Just being good is no longer good enough."