Digi-Capital projects worldwide game revenues to hit $200b by 2023
Firm believes mobile gaming could top $100b on its own in five years, with PC hardware/software the next largest sector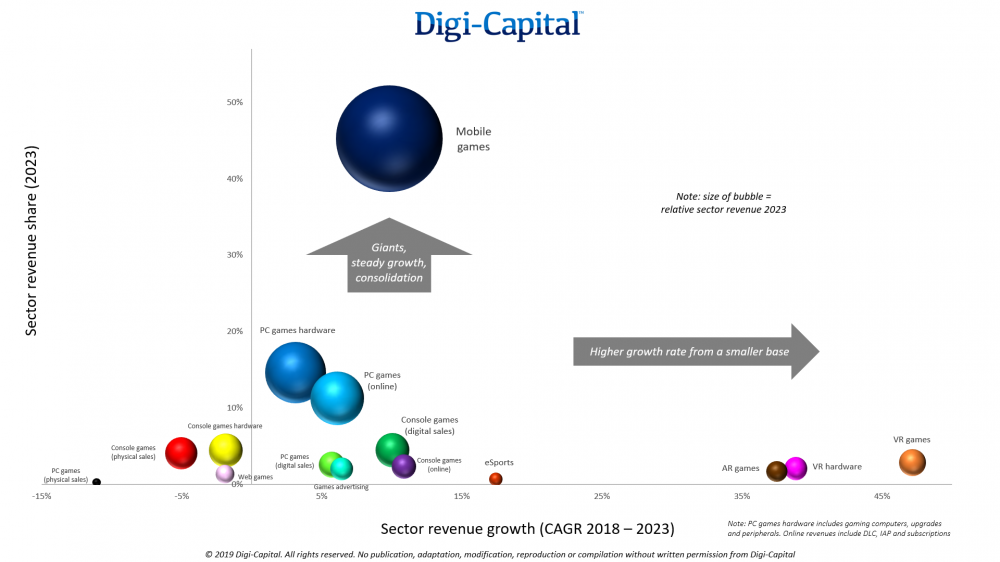 The first $100 billion is always the hardest. It may have taken the better part of 50 years for video games to have its first $100 billion year, but $200 billion in annual revenues could be just around the corner.
Digi-Capital today released excerpts of its 2019 Q1 Games Report today, saying that it projects combined gaming software and hardware revenues to top $200 billion by 2023. While the firm noted some negative investor sentiment and dipping share prices in the games industry of late, it also noted a record $5.7 billion of investment in gaming companies last year.
The biggest contributor to that total is expected to be mobile games. Digi-Capital put last year's mobile games worldwide total at $70 billion gross last year (including the app stores' shares of revenues), and said that could top $100 billion in the next five years.
PC games are also expected to play a big part of the game industry's growth story, with the firm saying streaming services like Google's just-announced Stadia "could also fundamentally impact high-end gaming across all platforms (not just PC)." The report also said that mobile and PC together could account for 75% of all games industry revenues by 2023.
The story is less bullish for the remaining 25% of the industry, as console revenues are expected to be "flat-ish," and VR/AR/esports provide solid opportunities for small outfits, but remain "commercially challenging" for larger players to invest in at scale.
As for where this money will come from, Digi-Capital has Asia accounting for about half the global games market in 2023, with Europe at 25% and North America at 20%.
"All this potential doesn't mean that short-term concerns aren't valid, or that some games companies (even those currently at scale) might not fall from grace," the company noted. "Some of the volatility of recent times could turn out to be right on the money. When we talked to Epic Games' CEO Tim Sweeney about all of this, he said 'I think that we're just in the final days of a long transition away from the old retail-centric game release model. Good times ahead.' With the long-term prospects for games still looking positive, the brave, bold and lucky could have a bright future."