Call of Duty was the UK's best-selling game in October
FIFA 20 was very close to taking the crown, while Ghost Recon Breakpoint had to settle for No.3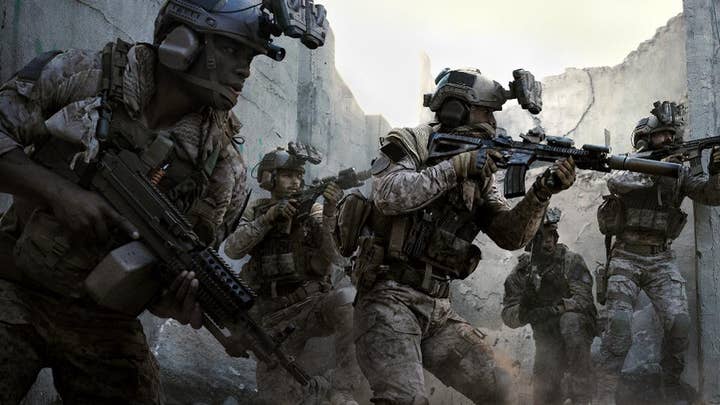 It's no surprise to learn that Call of Duty: Modern Warfare dominated the monthly physical charts in the UK this October.
Having launched two weeks later than its predecessor, it makes it difficult to directly compare its monthly performance with Black Ops 4. Purely looking at the figures, Modern Warfare sold 28% fewer copies than its predecessor did during its first month, though adding that extra fortnight and the shift to digital sales, it's highly likely it actually performed better than Black Ops 4.
That is backed by the fact Activision revealed last week that Modern Warfare was the fastest-selling entry in the series this generation, grossing $100 million more than Black Ops 4 in its first three days, while physical launch sales were 39% higher than the previous entry.
Focusing back on the October charts, it's worth noting that Modern Warfare sold primarily on PS4 -- 62% of the physical copies were shifted on Sony's platform, versus 38% on Xbox One.
Meanwhile, Tom Clancy's Ghost Recon Breakpoint had to settle for No.3 for its first month on shelves. Ubisoft's title wasn't able to beat FIFA 20, which took No.2 after debuting at the top of the charts in September. Sales for EA's football behemoth were only down 37% month-on-month and only a couple of thousand copies separated FIFA 20 from Modern Warfare.
Ghost Recon Breakpoint sold 74% fewer copies than predecessor Ghost Recon Wildlands did during its first month back in March 2017 -- and that was a very busy month, with the game competing with Horizon Zero Dawn, Breath of the Wild and Mass Effect Andromeda. Breakpoint is likely to have done much better digitally, though.
WWE 2K20, despite being mired with bugs and glitches at launch, debuted at No.5. Sales for the wrestling title were down 44% year-on-year.
Further down the Top Ten, Private Division's The Outer Worlds entered the monthly charts at No.8, with 78% of the sales going to PS4, versus 22% for Xbox One -- the title was available on Xbox Game Pass though, which would partly explain this divide.
Ghostbusters The Video Game Remastered and Ring Fit Adventure respectively debuted at No.14 and No.15, while Sony's MediEvil remake had to settle for No.18, having only been on shelves for a couple of days when GfK closed its report for the month.
Last but not least, Plants vs Zombies: Battle for Neighborville debuted at No.27, with a fairly equal divide between PS4 (54%) and Xbox One (46%).
It was overall a weak October at retail, with unit sales down 39% year-on-year -- though Red Dead Redemption 2 launched at the same period last year, boosting the market.
Activision was the best-selling publisher this October, both in units and value, followed by EA.
Here's a list of the best-selling games for each platform in October:
- PlayStation 4: FIFA 20 (EA)
- Xbox One: Call of Duty: Modern Warfare (Activision)
- Switch: Mario Kart 8 Deluxe (Nintendo)
- PC: Anthem (EA)
Here's the Top Ten for the period between September 29 to October 26, 2019 (data courtesy of GfK/Ukie):
Call of Duty: Modern Warfare (Activision)
FIFA 20 (EA)
Tom Clancy's Ghost Recon Breakpoint (Ubisoft)
Mario Kart 8 Deluxe (Nintendo)
WWE 2K20 (2K)
Borderlands 3 (2K)
The Legend of Zelda: Link's Awakening (Nintendo)
The Outer Worlds (Private Division)
Gears 5 (Microsoft)
Minecraft Switch (Nintendo)