Behaviour Interactive's transatlantic expansion - and what comes next
We speak to the Dead By Daylight firm's leadership following the acquisition of SockMonkey Studios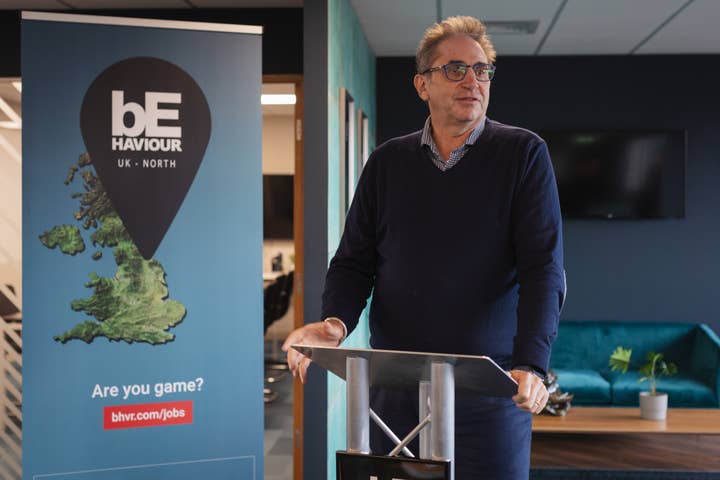 Sign up for the GI Daily here to get the biggest news straight to your inbox
Earlier this year, Behaviour Interactive acquired SockMonkey Studios, a UK developer and the company's first foothold outside of North America.
The Canadian developer and publisher, best known for multiplayer survival horror game Dead By Daylight, is now in its third decade of operation but it was not until last year that it first branched out of its home market by purchasing Scavengers developer Midwinter Entertainment from Improbable.
With a second acquisition now under its belt, the company has hinted that it has further expansion plans for Europe. GamesIndustry.biz was invited to the studio's official opening, and sat down with leaders from Behaviour Interactive and its new UK studio to find out more about the firm's ambitions and the role SockMonkey's acquisition plays in its growth plans.
"We've been looking at the whole Western world and we've decided to focus on Canada and Western Europe," Behaviour CEO Remi Racine explains. "The main reason is culture. The culture of the people is similar to Montreal. We're trying to replicate what Montreal is all about.
"I've killed off my baby, but it was more about being part of the bigger team"

Bob Makin, Behaviour UK North
"We met the SockMonkey team about a year ago, and we've developed that relationship. This didn't happen overnight, we got to know each other, and at some point we started working together."
He added that SockMonkey also brings more knowledge and expertise into Behaviour overall, telling us: "Making games today needs a lot of people. As much as we have technology and power and all of this, they need a lot of people working on them. We need talent and there was talent here."
SockMonkey Studios, meanwhile, was operating almost ten years to the day before it was acquired by Behaviour. While the work-for-hire studio had been approached by various potential buyers in the last three years, co-founder Bob Makin says these offers were always politely declined.
"We weren't actually looking to sell," he says. "We had a plan to maybe sell at some point in the future, and then we started talking to Behaviour about doing some work-for-hire work with them, we were talking for months and months, and we realised there's actually a very good synch. They were looking for a UK studio, we were just plodding along, so we were just like, 'Which way do we want to go? Do we want to stay independent or do we want to be part of something amazing and disruptive?' It just seemed the natural next step."
He continues: "There's just something about Behaviour, something about their culture and their way of working, they're like a big SockMonkey. It's so weird how everything they do and how they work, it's like everything we would do if we were 1,000 people."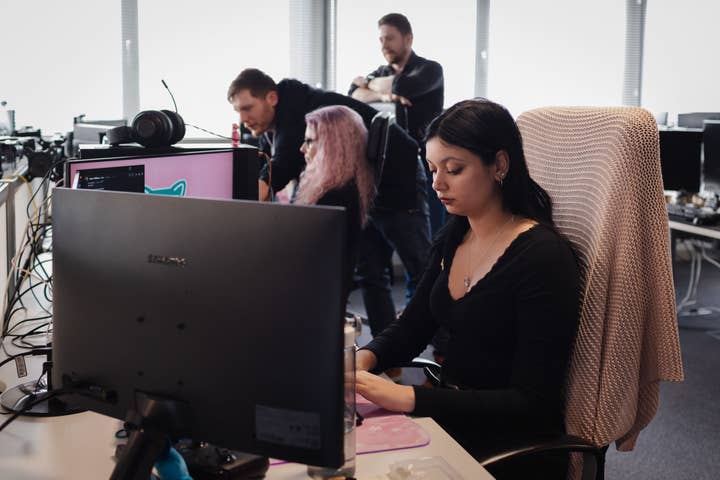 Following the acquisition, Middlesbrough-based SockMonkey has now been renamed Behaviour UK North, making it clear that it's part of the same family as Behaviour's Toronto and Montreal studios.
"I've killed off my baby, but it was more about being part of the bigger team," says Makin. "We wanted to be part of Behaviour, to take the name and grow as a bigger part of the team rather than individual studios.
"SockMonkey has always been an underdog. You're always going to be a smaller studio bashing up against the EAs and the Sumos of the UK. All of a sudden, you've got this huge player just appear and that's exciting. We're looking to grow and take over the world."
"We say we break the game every three months, and we have plans in the next two or three years to do more exciting stuff"

Remi Racine, Behaviour Interactive
Wayne Meazza, Behaviour's executive vice president for studios and business development, says the aim is to increase the headcount at Behaviour UK North to "around the 100 mark, then grow from there."
"There's a lot of talent in the United Kingdom, and here in Teeside," he says. "We're patient, we'll take our time and we'll grow as and when the candidates want to join us."
As for Makin, he's keen to see what the studio can do with a hefty and successful parent supporting in, allowing his team to "take off the breaks."
"When you're an independent studio, you're wearing many hats, you're looking over your shoulder constantly," he says. "You're tending to different projects and wondering 'What if this one doesn't come off? What if this one doesn't?' Now all that stuff's gone to HQ and we're able to focus on working on great projects and bringing great projects in as a big part of the team."
Behaviour Interactive's projects are a mix of co-development and work-for-hire, working on franchises such as Fallout, Halo, Assassin's Creed and Warhammer 40,000, as well as developing its own IP. Boosted by the success of Dead By Daylight, Behaviour has this month released Meet Your Maker, a multiplayer shooter in which you build your own outposts and raid those of other players.
The UK studio will be working on a similar mix, depending on the project and likely co-developing with the lead studio in Montreal. The execs tells us there will eventually be some separate projects for the UK team to handle independently.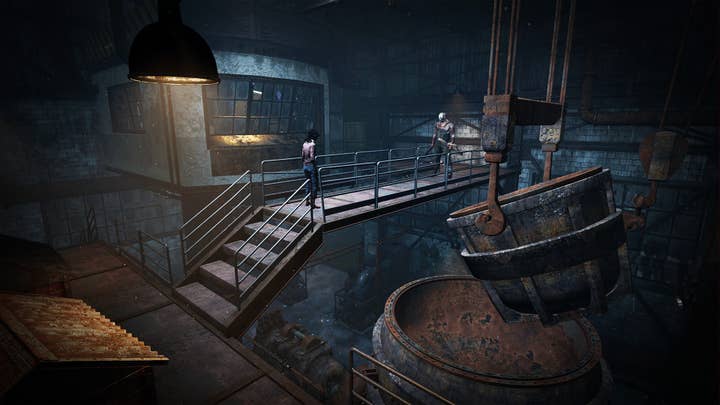 Dead By Daylight was a turning point for Behaviour Interactive, not only elevating the developer to new levels of success but also marking its debut as a publisher – although Racine says the company will not be relying solely on self-publishing at this point.
"We look at ideas all the time and decide if we're going to do it ourselves or are we going to pitch it to another publisher because we don't quite have the knowledge," he says. "It opens up a lot of opportunities for us, Dead by Daylight for sure helped us. It even helped us get work from big publishers because the trust level of doing big games and mainly games-as-a-service games, we have the knowledge that a lot of big publishers don't."
Behaviour is using that knowledge to position Meet Your Maker for success. Racine tells us there's a "very defined plan" for post-launch support and in-game event during the first year, with a long-term plan also in mind. However, the main focus at this stage is attracting players.
This is especially important given the number of online and games-as-a-service games due to shut down in 2023. Following a wave of closure announcements at the start of the year, Racine assures that Behaviour understands enough from the success of Dead By Daylight to give Meet Your Maker the best chance possible.
"It's all about pleasing the consumer," he says. "You not only need to bring content to them, but you also need to surprise them with different things. If you look at very successful GaaS games, over the years they surprise consumers and sometimes they change the game significantly. We say we break the game every three months, and we have plans in the next two or three years to do more exciting stuff. You have to invest."
The SockMonkey acquisition was described at the time of announcement as "the first step in [Behaviour's] European expansion." As for the company's wider M&A strategy, Racine tells us: "Our growth plan will mostly be in Montreal and Toronto, partly through acquisition. Growing a studio like SockMonkey is part of that growth plan and we're looking at others.
He adds: "We don't have to, but it's part of our process within the next two years to look at studios in Europe and in Canada."
"As much as we have technology and power and all of this, games need a lot of people working on them – and there was talent here"

Remi Racine, Behaviour Interactive
The exception has been last year's purchase of Midwinter, which was working on Scavengers – a multiplayer shooter centred around permanence and complex simulations on a larger scale. However, Racine says that deal happened for different reasons.
"Some people representing Improbable approached us to buy the studio," he explains. "The reason why we did it is their team had made a game called Scavengers that was not successful, but we have a concept that uses a lot of the know-how within Scavengers. It was an internal concept of something we wanted to do, and that's what they're working on.
"When we first got to know them, we asked them to look at that concept and they worked on it for a few months before we bought them. They got to know the concept, we got to know them and the fit was basically there."
Behaviour isn't ready to share details about the project yet, but Racine noted that while it will have some things in common with Scavengers, he "wouldn't say it's the same game."
Finally, we ask if the choice of the name 'Behaviour UK North' implies there might be a 'UK South' studio in the works at some point.
"Maybe," laughs Meazza.
Racine concludes: "If there's an interesting studio in the UK for it, why not?"
Sign up for the GI Daily here to get the biggest news straight to your inbox