Amazon Fire TV: A "nonevent" for games?
Analysts chime in on the impact of Amazon's new Android-powered box; most don't think Microsoft or Sony have anything to fear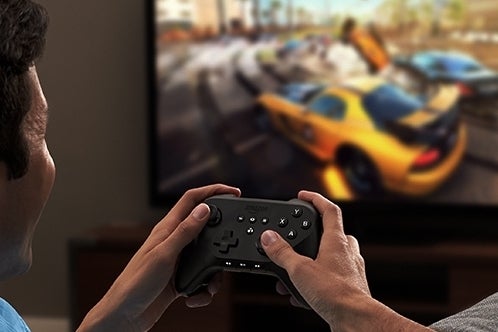 With Fire TV, Amazon has launched its first box to deliver games to the living room. The $99 Android-based hardware features a quad-core processor, a dedicated GPU and a separate gaming controller for $40. Moreover, Amazon will bring exclusive games to the Fire TV through its first-party team at Amazon Game Studios.
Similar to other microconsoles, the games on the digital store will be either free or quite cheap to purchase, which Amazon hopes will make it attractive to the masses. Amazon has an army of resources and while other microconsoles have failed to become mainstream, it would be foolish to doubt Amazon's potential. Should dedicated console makers like Sony or Microsoft be concerned? The majority of the analysts GamesIndustry International spoke to didn't think so.
Wedbush Securities' Michael Pachter called the announcement a "nonevent," saying Amazon "will not be a player." DFC Intelligence's David Cole agrees.
"Short term they don't have a reason to be concerned but long term it could be an issue. The main focus of the box is streaming video. The issue is video is 1) a much bigger application than games and 2) much easier to do. It is clear games are at best currently a distant after thought for Amazon in terms of the Amazon box. The type of games they are looking at are more in the realm of tablet/mobile/casual products, which are really no substitute for what the dedicated consoles provide," he said.
"Anybody in high tech or in content that sees Amazon jump into their bread and butter market and isn't concerned about what Amazon might be able to do should have their head examined"

Lewis Ward
"So I think right now it is a rounding error in the game industry but that could change if Amazon decides it wants to make a big investment in the space. However, the reality is you really have to very directly target gamers and Amazon right now is only half-heartedly doing that."
Indeed, hardcore gamers won't be passing up the PlayStation 4 or Xbox One for an Amazon Fire TV anytime soon, said independent analyst Billy Pidgeon: "Hardcore games enthusiasts won't be satisfied by this or any other inexpensive television-connected device. Still, Microsoft, Sony and Nintendo are increasingly competing for individual and family entertainment time with interactive entertainment, video and audio available in the home on multiple devices, including smartphones and tablets as well as multimedia boxes that connect to television sets."
Pidgeon conceded that "as more devices can offer games and media, consoles' appeal for the mass market (an important factor in mid-to-end cycle console adoption) is in steep decline." He added that if anyone should be worried now, it should be Apple and Google.
"Apple and Google have been the main contenders for online media transactions, but Amazon has the motivation, the focus and the distribution to move Fire TV quickly into lead position. Apple has competition issues with media providers and Google is behind in online retail and user experience. Amazon's entry into connected TV could energize the competition and speed household penetration," he said.
Asif Khan, CFO of Virtue LLC, wasn't wowed by the Fire TV announcement either. Even with exclusive games - and now Amazon has hired some heavy hitters in Clint Hocking and Kim Swift - he's not convinced that Amazon can disrupt the console market.
"We knew that Amazon was going to enter the games industry, but I am not sure who is going to feel compelled to buy it with a controller that costs 40 percent of the device. The success of the device as a gaming alternative will likely depend on the software that Amazon's gaming studio can create, but we have seen with Nintendo's Wii U flop that first-party content is not enough to get consumers to buy a device," Khan noted.
"There is chance that Fire TV can make some waves if Amazon's partners continue to bring games to the device, but in my opinion this product will achieve limited success," he continued. "It feels like all of Apple's competitors have now shown their cards in anticipation of the upcoming Apple TV refresh. We have seen Xbox One, Chromecast, and now Fire TV. None of these products have wowed consumers and ushered in a new age of how we interact with TVs. This announcement by Amazon today just has me even more interested in what Apple is going to announce this year. Clearly the set top box market has a lot of players and Amazon has a chance to contribute something to that increasingly crowded space. With that being said, I do not think the Fire TV is a game changer for video game consoles. It is a set top box that also plays games, with the potential of asymmetric gameplay."
If the analysts seem overly negative, perhaps they are forgetting about Amazon's web services. The back-end technology could make a difference, said IDC research manager Lewis Ward, who believes Amazon is "absolutely" a contender in the console space.
"Anybody in high tech or in content that sees Amazon jump into their bread and butter market and isn't concerned about what Amazon might be able to do should have their head examined," he commented. "Let's put it this way: Fire TV is by far the most viable microconsole platform out there. Couple that with Amazon's back-end streaming, storage, and game-hosting platforms and developer tools and you've got a serious threat to casual home-based console gaming in particular, at least in North America and pockets of Europe in the next few years."