Zynga acquiring Small Giant
CEO Frank Gibeau discusses acquisition approach as publisher picks up Empires & Puzzles studio for $560 million, raises guidance
Zynga is adding another major title to its catalog, as today the company announced the acquisition of Helsinki-based Small Giant, the studio behind the iOS and Android match-three role-playing game Empires & Puzzles.
Zynga is paying $560 million for an 80% share of the company, with a commitment to purchase the remaining 20% over the next three years for amounts determined by profitability goals. (Today's acquisition would value that remaining portion at $140 million.) The transaction is expected to close January 1, 2019.
Speaking with GamesIndustry.biz about the acquisition today, Zynga CEO Frank Gibeau said Empires & Puzzles will instantly become one of the biggest games.
"Right now, Empires and Puzzles is as big as Words With Friends in terms of revenue for us," Gibeau said. "It's a really big part of our portfolio, and it's growing. In addition to that, they're also working on some new products that haven't been announced yet. So they'll add to the new product pipeline, which will be cool."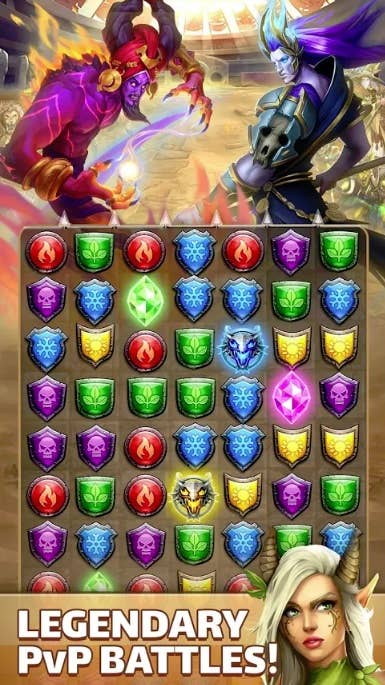 He noted that Empires & Puzzles is currently the #3 top grossing app on the Google Play store in the US. According to App Annie figures, that's the game's highest ranking ever. The iOS version of the game peaked as the seventh highest grossing game on the US App Store back in September. Gibeau said that Small Giant, which has no other games currently available on mobile stores, is on track to bring in $190 million in bookings for the whole of 2018.
"It's accretive day one from a profitability standpoint," Gibeau said. "It's sizable revenue, so it's at scale. And it's not done growing. We think we can grow it even more doing forward."
This is the fourth in a series of progressively larger acquisitions for Zynga since Gibeau took the reins of the company in 2016. It began last year by picking up Harpan and its four Solitaire games for $42.5 million, then followed that by adding Peak Games' card studio for $100 million. And earlier this year, Zynga made a splash by purchasing Merge Dragons developer Gram Games for $250 million.
Gibeau explained the company's process for sizing up possible acquisitions.
"We start with the relationship between the team, how the leads culturally fit with us, how we see the world in terms of game-making. We really spend a lot of time building a relationship and getting to know each other.
"The next piece is we really look for the franchises and the games. What are they building? Are there things we like about them? We look for the quality of the creative but also when we look at the design, it's important to us the games have long-term engagement, that these are the types of games people will be playing for five years or more.
"Then we think about what the right way to work together is. We want to be a place that's attractive for developers to join because we, together with them, can get them even bigger audiences and grow the games in ways they couldn't do otherwise. It's not about having one creative culture or one approach for how to make games. It's about having a collection of studios, all with their own cultures, personalities and independence, but all leveraging the power of Zynga's platform and capabilities so we grow together."
"You could have the most high quality, original IP in the world, but if you can't deliver an audience, you're really nowhere"
While Zynga has in the past emphasized the importance of creating original intellectual property, Gibeau's tenure to date has leaned more toward acquiring such IP after its proven successful rather than building it from scratch.
"We really wanted to craft a portfolio that had ideas that would attract audiences," he explained. "Getting an audience into a game is very difficult in mobile. You could have the most high quality, original IP in the world, but if you can't deliver an audience, you're really nowhere."
He defended the company's track record on that front somewhat, saying he would argue that Farmville and Cityville had to be reimagined for modern mobile platforms to the point that they felt like innovative and fresh development.
"The collection of those products together over the next couple years will generate very large audiences for us so that when we come out with future waves of games, we can start to dip more into original IPs and take a little bit more risk on the intellectual property because we'll be able to deliver audiences day one that will make the games vibrant and alive," he said.
Regardless of how it gets there, Zynga may well find itself with the sort of resources to throw after riskier projects soon. The company has posted net profits in two of its last three quarters, and today it raised its guidance for the current quarter, with revenue up $8 million to $243,000 and a net loss down $500,000 to $1.5 million. If that net loss guidance is accurate, Zynga will string together back-to-back years of profitability.
"What we're really trying to show the world is Zynga has exited the turnaround," Gibeau said. "We really hit our goals this last couple quarters to fix the fundamentals of Zynga, start to build a great studio, start putting out really engaging games. And now we're focused on growing the company with partnerships like what we've done with Gram and Small Giant, as well as building a new pipeline of games and continuing to grow our live services team."