Xbox boosts responsible gaming strategy with Family Settings app
The platform holder discusses the evolution of its safety ecosystem and the new family features developed for its app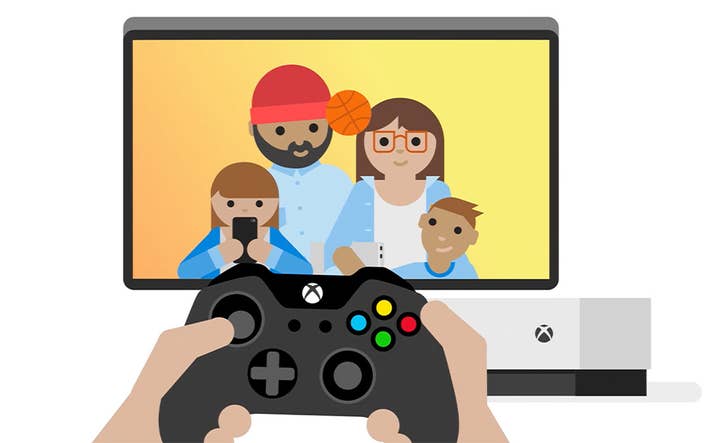 Xbox has announced the launch of a family settings app covering the main safety features available in its ecosystem, such as managing screen time and creating content filters.
It's available now in public preview for all Android users, as well as 10,000 iOS users -- the restricted number is due to Apple's TestFlight rules. More features will be added later in the year when it fully launches.
"It's an important and exciting step for us," corporate vice president of Xbox Operations Dave McCarthy tells GamesIndustry.biz during a presentation demoing the app. "This is an area that's near and dear to my heart, and the introduction of this app is just another step in our journey around responsible gaming and giving our players -- in this case parents and kids -- some added tools that they can use to manage their online experience."
"The introduction of this app is just another step in our journey around responsible gaming"
This is part of ongoing efforts from Xbox to develop both its safety settings for families, but also their accessibility. The platform holder released an Xbox Family Guide around Christmas 2018, and made its safety settings available on Android through its Microsoft Launcher app in late 2019. McCarthy also touched upon these topics in an interview with GamesIndustry.biz last year.
The new app feels like the natural next step in presenting these settings in a user-friendly manner, accessible for even tech-averse parents and guardians. It also helps raise awareness that gaming can be part of a healthy family life.
"[We have] over 20 features now," McCarthy says. "You can manage purchased content, screen time, put content filters, manage your privacy and communication. Some of that surfaces in the app.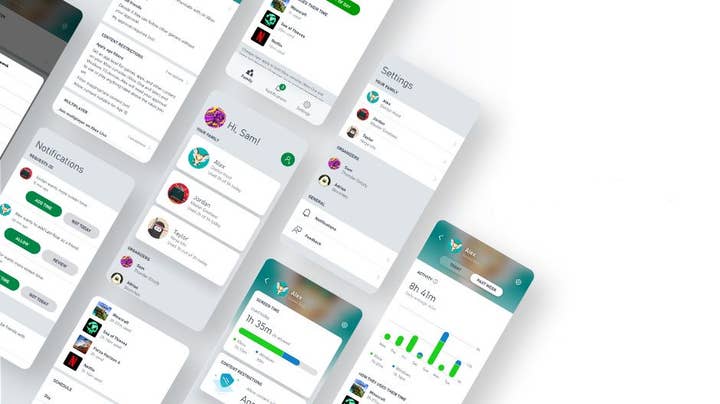 "[We] started [working on the app] this past year but we've been working on these family settings for the four years that I've been in this space. We're continually investing in [it], we're [always] learning new things. Cross network play is an awesome example. It wasn't something that was even on our radar a few years ago and it wasn't even initially evident that we needed to do something special for kids and teens. But as we saw games like Fortnite come on the market, we needed to add functionality to allow more fidelity of control around that.
"And then the other piece -- and in some ways it's the flip side to that coin -- is how do you make it as easy and convenient as possible for people to manage? And that's where making the decision to introduce an app made a lot of sense for us. Because we did have really robust settings online, and that you can manage on the console's UI, but nothing beats the convenience of being able to pick up your mobile device and do it there."
"Nothing beats the convenience of being able to pick up your mobile device"
Any settings change made through the app will be instantaneous and applied throughout the entire Xbox ecosystem -- you can find more details on its family settings on this page.
When you set an account for a minor on Xbox, as part of a family group, the games they have access to are defaulted to age-appropriate content. So in Europe it would match PEGI ratings, and the ESRB for North America.
"But then you get interesting scenarios," McCarthy says. "Some parents will be comfortable with certain games actually being allowed outside of the content rating for their child."
You can give or remove access to a game above the appropriate age rating directly from the app, but it will also introduce a finer control over what your child can or can't access within a game. McCarthy takes the example of a fictional nine-year-old, Alex, who wants to play Minecraft.
"Minecraft is a really interesting one for kids because it's rated E10+ [for everyone above 10] and so by default this one actually wouldn't be accessible for Alex. So we've essentially added the 'Minecraft easy button,' if you will. So [the guardian] can just allow the game by toggling that."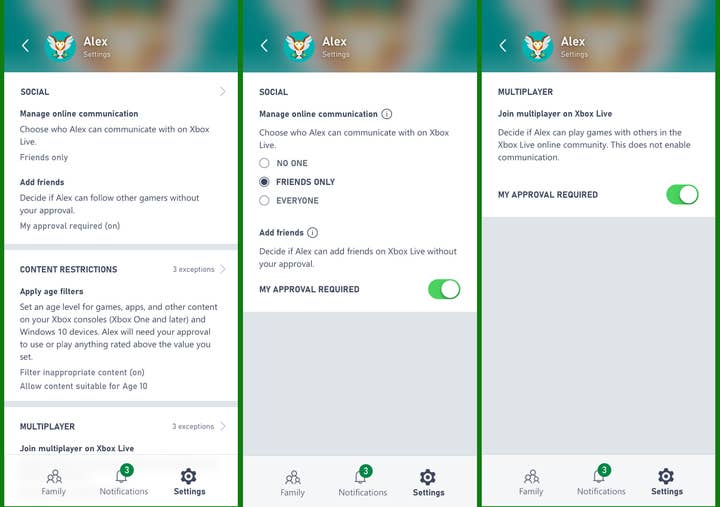 But you can also give access to Minecraft without giving access to the full package, so your child only plays offline for instance. Or on the other hand, you can give access to Minecraft's multiplayer, even if multiplayer is turned off by default in the master settings. For now, this functionality is only available for Minecraft, but it will be added to more games in the future.
"We can even go so far as to manage the Club settings there, which gives access to things like Minecraft Realms, if they want to be on a server with their friends and do online things. This is a real practical scenario that has fed some of our prioritisation of features. It's that 'easy button' for titles that parents want to give [some] access to, but respect the other settings. The idea is that, over time and based on parent feedback, [we'll] add more easy buttons like this, based on real life usage scenarios that they share with us."
"[We're] setting up the right conversations for you to have with your kids on these things"
Giving access to content outside of the appropriate age rating is something to take seriously. A Childcare.co.uk survey of over 2,000 UK parents found in 2018 that 86% of those surveyed didn't follow video game age restrictions, while over half had no knowledge beforehand of an 18+ game their child was playing. Guardians should have an accurate idea of the content they're allowing before doing so.
McCarthy says that giving a teenager access to a mature title, for example, should be an opportunity to sit down with them and talk about what it entails.
"That breakdown [of the settings] allows you as a family just to have a dialogue around these things. It's a mix of us providing you the tools and choice to manage your experience the way you want it to, and setting up the right conversations for you to have with your kids on these things overall.
"Another example in the multiplayer space is cross network play -- that comes up [a lot] with games like Rocket League or Fortnite. They support the option to play outside the Xbox Live network. So if you were comfortable with that as a parent, let's say they had a friend on PlayStation that they really wanted to play with, then you would turn this setting on and enable them to do that. But it's off by default, because it's outside the Xbox One network."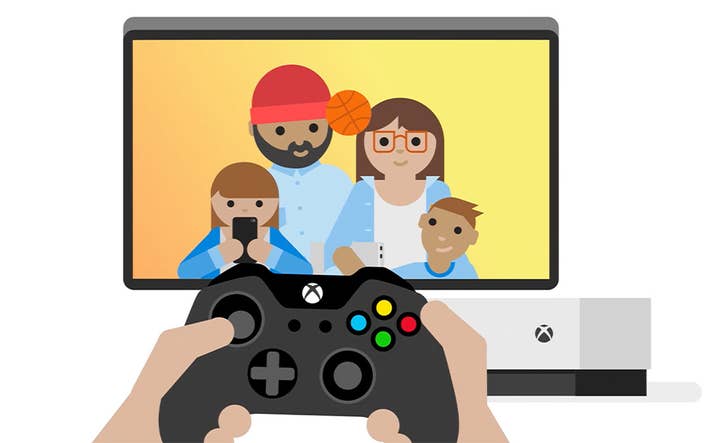 Managing screen time is also an important aspect of the app, with more options being made available recently.
"In parallel to building the app we actually introduced the ability to set screen time at the individual game level," McCarthy says. "Before, it was just one universal setting. You could set your screen time, but it would apply to everything. Now you can go in and set discrete settings. I can manage down to the day of the week, hour in the day, and I can do that from the app as well.
"I've also got an option there to share a screen time activity report of their weekly usage, and you can see the breakdown of games."
"I can manage [screen time] down to the day of the week, hour in the day, from the app"
Xbox has also made it easier to give a screen time extension through the app. A child can request more time from the console once they have reached the limit, and the guardian will instantly receive a notification on their phone and be able to accept the request directly from there, and adjust the time given.
"This is actually a scenario that happened in my own house where my son was playing Xbox on a Sunday night and hit his screen time limit," McCarthy says. "I was down the hall in our bedroom reading a book, trying to fall asleep, got the request for a little extra screen time and conveniently was able to provide it.
"It's just a really practical scenario to have those things pop up and be able to approve them right away, especially these days with interesting situations in households with parents trying to manage."
Guardians can also set up communication settings for their child -- for instance who can get in touch with them, and whether the child is allowed to add friends on their own. However, friend requests won't appear in the app for now.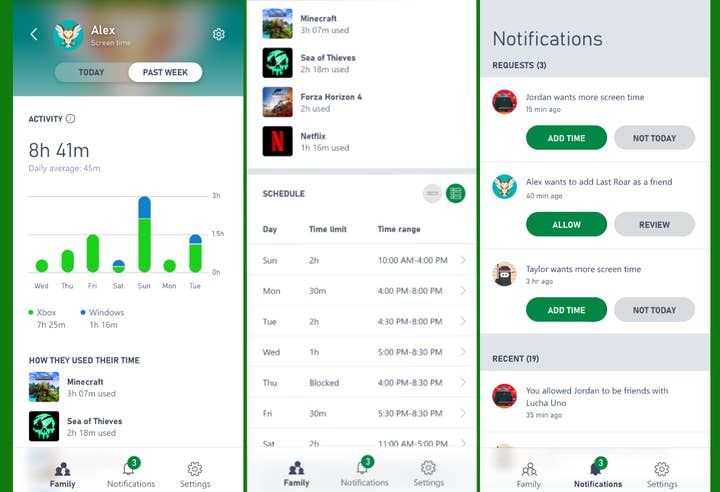 "Before we go to general availability, we'll be adding the capability to actually approve or reject friend requests when they come in as a parent, " McCarthy says. "We'll add this functionality where you can view and manage your child's friends list. I always find it's healthy now and again to sit down with my kids and actually go through their list of friends to make sure they know who all these people are."
Other features not included in the app from the get go are the ability to report users or to set a spending limit.
"That's the sort of thing we're working on post-preview here. We want the feedback: is that a gap here right now that parents really want? And if it makes sense then we can make it happen."
Guardians' feedback is a crucial part of Xbox's plan to roll out the app fully later in the year, with McCarthy clarifying that the launch isn't tied to the Xbox Series X release. It will all depend on what feedback it gets.
"Starting [today], we'll be able to get real-time feedback from parents," he says. "There's an area to enter feedback, and that will help us over the coming weeks to prioritise any fixes or additions that parents would like to see before we go to general availability later this year.
"We've been trying to balance that simplicity in presentation -- how do we not throw too much at people, even though we've got all these capabilities -- with: okay, is there enough functionality here for the app to be a really useful part of your life? And they will tell us in the feedback box -- they always do. So it'll be interesting to see what comes out."