Working With Borrowed Brands
Devil May Cry, The Hunger Games, and the universal challenges with creativity based on someone else's property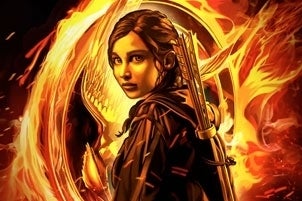 Intellectual property is the lifeblood of the gaming industry. Brands are harder to kill than a horde of zombies, able to cross formats and borders in a single bound, more powerful than a pedigreed developer.
You don't have to look very hard for evidence, but a glance at the best-selling software charts will suffice. In the first 11 months of 2012, only a handful of games not based on a pre-existing brand found their way into the industry-tracking NPD Group's monthly top 10 charts: Kingdoms of Amalur: Reckoning, Dragon's Dogma, Sleeping Dogs, and Dishonored. None finished higher than fourth place, and none managed a repeat showing on the list. So out of 110 possible slots at the top of the charts, games not relying on an existing brand to sell them took up just four.
One of those four, Dragon's Dogma, already has a sequel on the way. It will join Monster Hunter, Street Fighter, Mega Man, Resident Evil, and more in the publisher's well-known and oft-refreshed stable of lucrative brands. Capcom Head of Consumer Games Business Katsuhiko Ichii underscored just how precious the publisher considers its franchises, telling GamesIndustry International, "As content creators, Capcom's brands are the foundation of our company and our most valuable asset."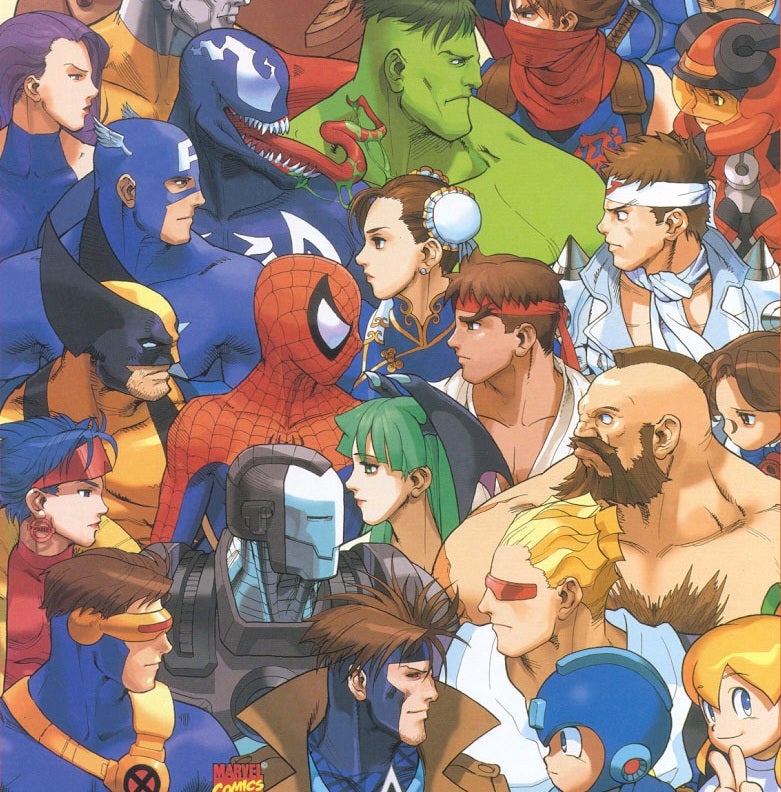 Despite that, Capcom - and many other brand-holders - must entrust those most valuable assets to people outside the company on an almost routine basis. For example, Capcom has been working with independent studios on new installments in its franchises for years. In April, the publisher released Resident Evil: Operation Raccoon City, developed by Vancouver-based Slant Six Games. January will see the launch of DMC, a Devil May Cry revamp developed by Cambridge, UK, studio Ninja Theory. And sometime later in 2013, Lost Planet 3 will be finished courtesy of Los Angeles-area studio Spark Unlimited.
At the same time, Capcom has found itself on the other end of similar deals, working with other companies' brands to make games based on their characters. Street Fighter x Tekken, Ultimate Marvel vs. Capcom 3, and the free-to-play mobile hit Smurf's Village, to name a few. As a result, it clearly understands the dynamic between the brand-holders and content creators, sometimes playing the former role, and other times the latter.
Sometimes a company even manages to be on both sides at once. Take Lionsgate, for instance. The entertainment powerhouse produced one of 2012's biggest box office hits, The Hunger Games, which brought in nearly $700 million worldwide. But since the film was based on a wildly popular series of books, it had to create the movie with the cooperation and approval of the brand holder, author Suzanne Collins. At the same time, Lionsgate was contracting external parties to create tie-ins for the film, dealing with many of the same concerns a brand holder would. (After all, Lionsgate is expecting The Hunger Games to be a huge movie franchise for years to come, and has committed to release another Hunger Games film each November through 2015.) To create games that would bolster the brand instead of dilute it, Lionsgate tapped Funtactix to make The Hunger Games Adventures for Facebook, and enlisted Canabalt developer Adam Saltsman to make an iOS tie-in, Girl on Fire.
"Restrictions are often a blessing in disguise when it comes to thinking creatively."

Lionsgate's David Hayes
Lionsgate Vice President of Digital Marketing David Hayes was in the position of trying to support the developers to create something great while ensuring that Collins' work was properly respected in the adaptation, and he found that what was right for the game wasn't always right for the brand, and vice versa.
"There's always a bit of massaging to do between the best gameplay and the best brand fit," Hayes explained. "For that reason, over time we've developed a strict set of 'Dos and Don'ts' for The Hunger Games that has proven helpful. But at the end of the day, restrictions are often a blessing in disguise when it comes to thinking creatively. Some of our best work comes from 'putting a box around it' and finding ways to twist a great idea into an even better execution that supports brand guidelines."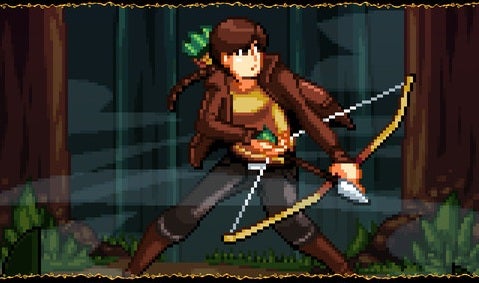 Saltsman attested to that fact, recalling an early version of Girl on Fire's climactic boss battle that didn't sit well with the Collins camp. Originally, the iOS game concluded with a straight forward fight in which the player shot the boss with a bow and arrow numerous times, but it was determined the slugfest approach would be out of character for protagonist Katniss Everdeen. The restriction forced Saltsman to creatively reconsider the problem, and he wound up flipping the fight around to be more about dodging than shooting, something which played into the core theme of the game anyway.
"That just felt way better," Saltsman said. "So that was a case where our first idea was in conflict, but the solution we eventually came up with was way better than what we had in the first place."
As the head of a company that specializes in turning feature films into Facebook games, Funtactix CEO Sam Glassenberg said his conversations with brand holders are often centered around visual style.
"You're not going to make a Facebook game that looks identical to the movie," Glassenberg explained. "So that's a process. What we try to do is create a perfect mix of something that's authentic and represents the franchise, but meets what users expect on the platform. And that can be a delicate balance, and it's an ongoing conversation we have with creators."
Sometimes the hardest part is simply getting that conversation started. Glassenberg said the biggest challenge of his job is getting filmmakers on board with the idea of a Facebook adaptation, saying the reason why their properties are so successful is often because they've been carefully protected.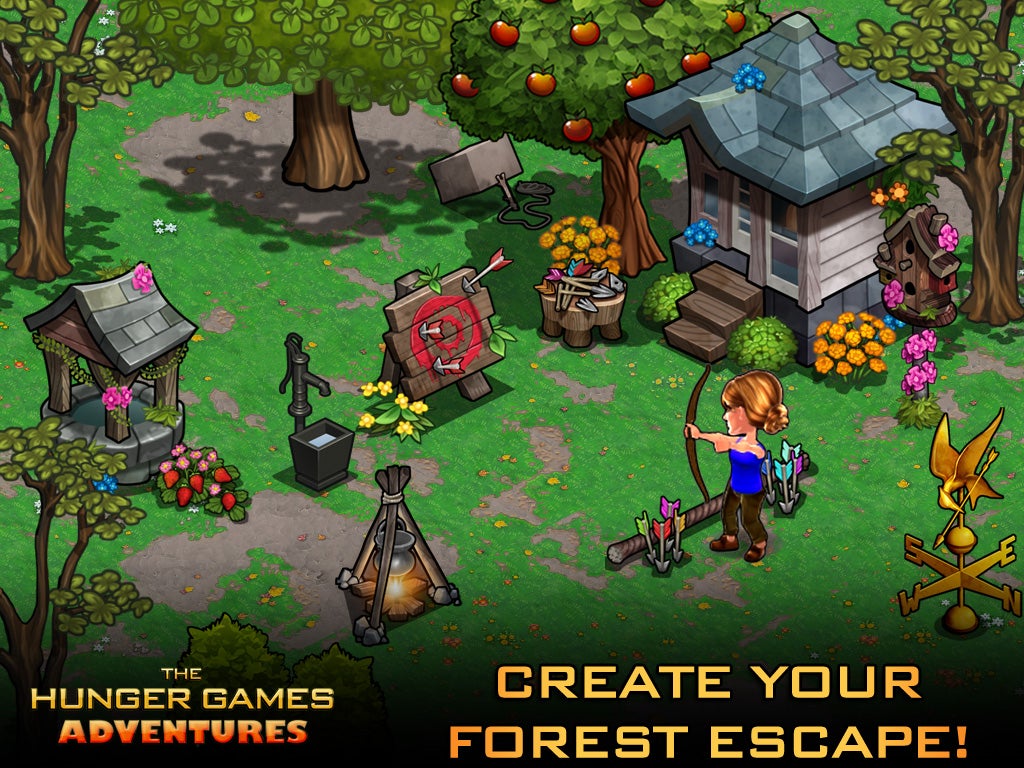 "With social games, you can't deny there's a certain stigma there," Glassenberg said. "So if you go to a filmmaker or an author and say, 'Do you want to make a social game,' often their gut reaction is, 'I don't want the jewel in my crown, this thing I've spent my life creating, I don't want it to be some silly, bobble-headed Farmville clone."
To win such skeptics over, Glassenberg points to his team's technology, its expertise in social gaming, and perhaps most importantly, its track record bringing big-name properties to new platforms. The Hunger Games Adventures has more than 200,000 players and is the fifth highest rated adventure title on Facebook nine months after launch. The studio also created the Mission: Impossible Facebook game, as well as the browser-based title Rango: The World.
Slant Six executive director and managing director Brian Thalken stressed the importance of winning a partner's confidence.
"These franchises are things with real value," Thalken explained. "And the publishers could choose anyone in the world to work on these with them. It comes down to a matter of getting to know each other, working with the producers."
"One thing that never changes is the pride and belief that brand-holders have in their brands."

Capcom's Katsuhiko Ichii
When asked about Capcom's approach to working with other people's brands, Ichii echoed the importance of getting off to a good start.
"The way we work with partners naturally differs in each case, but one thing that never changes is the pride and belief that brand-holders have in their brands," Ichii said. "This makes it very important to ensure that the game's concept and design are firmly established at the earliest stages and that agreement is reached on all sides, which allows development to proceed in as stress-free a fashion as possible for all involved."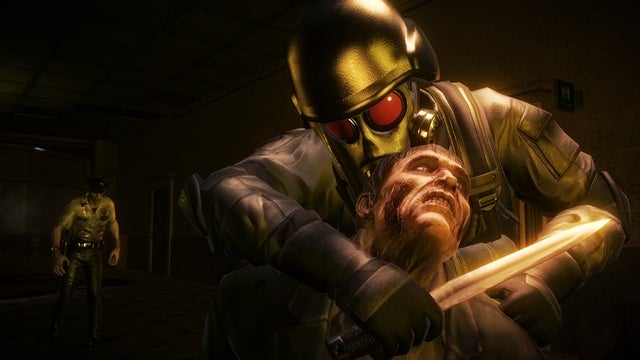 For Operation Raccoon City, that meant a lot of back-and-forth travel between Japan and Canada, and daily video conferences with the developers and producers, building not just a game but a working relationship. A number of those discussions dealt with the 12 new characters being added to the Resident Evil canon for Operation Raccoon City. Although Slant Six was well acquainted with the franchise to begin with, Thalken said there was plenty of back and forth with the publisher's producers to make sure everything fit within the established Resident Evil universe.
To help out the team, Capcom provided Slant Six with a "franchise bible," a wealth of published material detailing Resident Evil minutia for anyone who comes to work on the series. While such tools can be helpful, external developers don't always have access to them. When Slant Six worked on Sony's SOCOM franchise, the team had to rely heavily on discussions with the series' original producer, as Thalken said, "Most of it was in his head."
"[Capcom] wanted us to think about what Dante and DMC would be like if it were a modern movie and what he would be like if he were created today in the Western world."

Ninja Theory's Dominic Matthews
While brand-holders may have a franchise bible, they can be quite receptive to the idea of shaking things up. On top of asking Slant Six to bring the survival horror series into the world of squad-based shooters with Operation Raccoon City, the publisher also requested that the studio kill off one of a key returning character. And then there's DMC, which has drawn plenty of criticism from series fans for completely overhauling the character design of protagonist Dante, and changing the series' previously gothic setting to the modern day.
As Ninja Theory communications manager Dominic Matthews explained, "Capcom were very clear in their determination to take Devil May Cry in a fresh direction. They wanted us to think about what Dante and DMC would be like if it were a modern movie and what he would be like if he were created today in the Western world. This decision was theirs and we were happy to work with them to find the right mix of preservation and innovation."
Obviously, there are limits to how far afield Capcom wants the developer to go. Matthews said the team originally considered putting a bunch of difficult puzzles into the game, but dropped the idea to keep the action fast-paced.
"As long as Ninja Theory preserves the core of what makes a Devil May Cry game, we give them freedom with the rest of the project," Ichii said. "That naturally necessitates a relationship of trust between us. Ninja Theory is bringing their own unique creativity to Devil May Cry; Capcom would never have been able to produce the kind of design sensibility that they have shown. In saying that, Capcom exchanges ideas and shares views on certain aspects as the project progresses, while respecting Ninja Theory's own ideas."
Whether gamers will buy the new Devil May Cry remains to be seen, but it's clear Ninja Theory would be happy to oblige requests for another one.
"It's been a great experience working with Capcom," Matthews said. "There is a great mutual respect between ourselves and the teams from Capcom Japan, US, and Europe. We make a good partnership I think, one we would be happy to continue."
As for Slant Six, the studio is open to returning to work on existing franchises if the right fit came along, but it appears to be moving into more original material. Thalken said the studio has no licensed games in the pipeline currently, although it is working with Microsoft to create a new IP for Windows 8 Mobile called Galactic Reign. It also just launched The Bowling Dead, an original title published by Activision. That's a step closer to the developer's own best-case scenario, which Thalken said had Slant Six turning the tables and enlisting developers to work on its own brands.
"I think that's what every developer really wants to do, is create their own IPs, and have complete creative control over what they do."

Slant Six's Brian Thalken
"I think that's what every developer really wants to do, is create their own IPs, and have complete creative control over what they do," Thalken said. "Building up a franchise from scratch, being allowed to take creative risks, allowing their staff to generate ideas, create their own art style..."
That generalization might not apply to every developer, as it turns out. While Saltsman has made a name for himself in the world of indie developers, he wants to continue working on licensed projects every now and then, provided the brand-holder is a good fit.
"For the sake of my mental health, it's actually really positive to spend part of the year doing mainstream stuff and part of the year doing weirder stuff," Saltsman said. "Left to my own devices, I'm definitely more inclined to make super lonely, niche, vaguely sci-fi, action-horror-type games rather than building things that effectively communicate or engage with humanity at large."
And to hear Glassenberg tell it, working in other people's worlds can be every bit as satisfying as creating a new one.
"This is our secret sauce, it's the soul of the company, our expertise," Glassenberg said. "We take these universes that the fans are so excited about and we translate them to the medium. We bring them to Facebook and mobile and tablets. We enable you to realize the fan fantasy."