Why BattleBit Remastered's devs wanted to make a low-spec large-scale shooter
And how a trio of inexperienced developers created a game that sold 100,000 copies in just three hours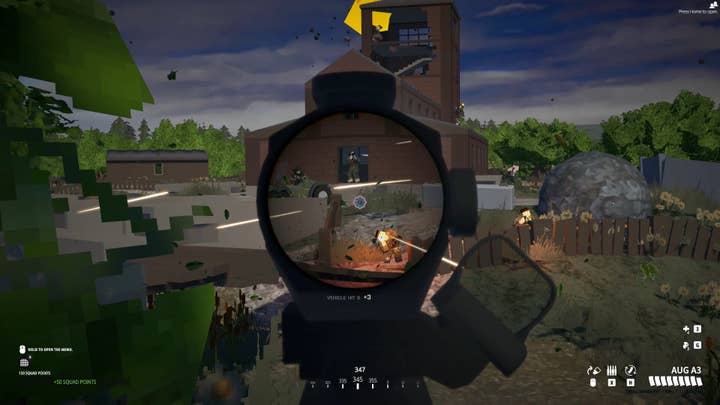 Sign up for the GI Daily here to get the biggest news straight to your inbox
In an industry like games, one that's always looking forward and eyeing up what the newest and most powerful tech in the world, it's not exactly common for a developer to pitch a project as being able to run on almost anything.
That's exactly what the team behind the indie smash hit BattleBit Remastered has done. The game takes the large-scale battles – up to 256 players – and destruction of a game like Battlefield and reduces the graphical fidelity considerably so that it doesn't explode lower-end PCs.
Ahead of the release, the BattleBit team wasn't expecting anything massive to happen when the game launched on June 15, 2023. But when they started looking into the demand for the title, they were very surprised by what actually came to pass.
"We were very underwhelmed about what we thought would happen," Fink says.
"We knew that people liked the game because, by that point, we had around a million wish lists. We decided to run a final playtest. We did one every Saturday. This final one was 48 hours long and we figured it'd give us a good idea of how many people were still interested in the game. We normally had something like 15,000 players so thought if we hit 20,000 for this final playtest, that would be extremely good. We ended up reaching over 32,000 people. That was slightly different to what we were expecting. But all of the playtests were free. On the release day, release week, we thought we'd have 15,000 people playing concurrently. We thought we would sell around 100,000 copies within the first three days.
"We didn't. We almost reached 90,000 active players. I think 87,000 was our highest peak. And we sold 100,000 copies in just three hours."
"We thought we would sell around 100,000 copies within the first three days... We sold that in just three hours"
The project was the result of Okyanus 'SgtOkiDoki' Mutlu and Uladzislau 'Vilaskis' Shalashou growing frustrated with how demanding a lot of modern action games had become.
"They were trying to play Squad but they had such bad hardware that they were just unable to play the game," explains BattleBit Remastered's 3D artist and head of moderation Max 'theliquidhorse' Fink, who became the team's third member a year into development.
"So they decided that they could make something similar themselves. That's where it originally started. The core idea through to this day is to deliver an experience like all those other games but on very low-end hardware."
BattleBit has some very obvious inspirations, from more hardcore titles like the aforementioned Squad and Arma to the likes of DICE's Battlefield and Insurgency: Sandstorm. Overall, those titles require pretty powerful PCs to run, so translating that kind of experience into something someone with less powerful hardware can play was not without its challenges. To highlight this point, the minimum specs that will run BattleBit Remastered are what Fink describes as "mid-tier" hardware from 2011.
"We just try to optimise everything to the best we can," Fink says. "We know our playerbase really well and we know what PCs are out there. With every update we do, we just try to stay at the same or better performance. If it becomes worse, then we have to really weigh how much worse it would be and whether it would still be runnable.
"If we had something that would heavily impact the performance of the game, 90% of the players might not be impacted by this, but at best 100% would not be impacted by this. We try to hold off until we find a better way – updating the game in a suitable way to bring out a feature so it will not kill half the playerbase."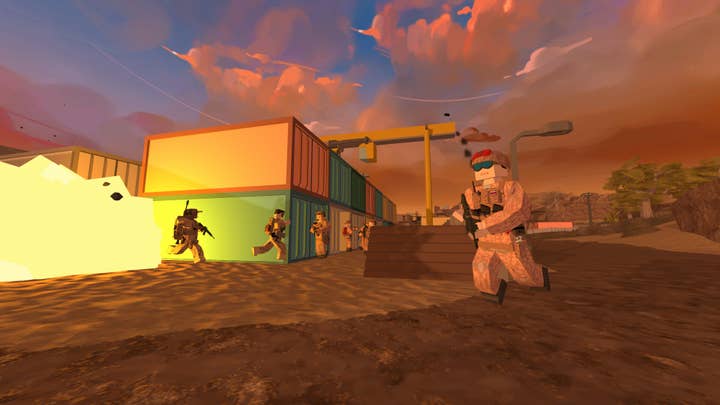 Another factor that made development on BattleBit Remastered challenging was that none of the team had really made a game before. The 'Remastered' part of the title is a studio in-joke referencing that work on the game had to be restarted five times.
"[We rebooted development] because we were learning, more or less," Fink says.
"Nobody has an industry background. Nobody went to school to learn what we do now. All of us learned this on the go. You do something, you build a new system that would be the core or the foundation of what you are working on, and then one year down the line you realise what you did back then is all shit now. It's time to rework it otherwise you can't do X, Y and Z in the future."
Fink recommends this style of development, but only if you are working on a project for fun and not to actually release the game.
"If someone ever decides to build infrastructure to support 100,000 people, God bless you, you will be in for a ride"
"If you are like us and you don't plan to release the game, it's always a hobby project and you just do it for the pure enjoyment of it, then yes, just go for it," he says.
The BattleBit team only started to really take the game seriously once they saw how many people were excited to play it.
"We switched to Steam playtesting in January 2022 and then suddenly the game heavily blew up – more and more people were coming in," Fink says. "It was like: 'Okay, now we can't do what we normally do, which is just play with some friends and we work on it. Now it's getting more serious.' It looked like we needed to start thinking about releasing the game, so started to prepare everything to do that. That's really fun if you start from a blank page on how to release a game."
Prior to its launch into Steam Early Access in June, BattleBit's development was funded entirely by its community. The studio had a public Patreon where people could donate money in exchange for various goodies and a look behind the scenes.
"Donors would receive a copy of the game and a supporter pack on release, as well as some dedicated Patreon content, early insight into updates, the usual things," Fink says. "That funded the project, especially after it blew up. Before, it was still funding the project, but compared to after it blew up, it was only bringing in a small amount comparatively. We spent our personal money on this project because some things are just expensive.
"At peak times, it was over $20,000 a month which was really great. That really helped us build out all our server infrastructure. If someone ever decides to build infrastructure to support 100,000 people, God bless you, you will be in for a ride."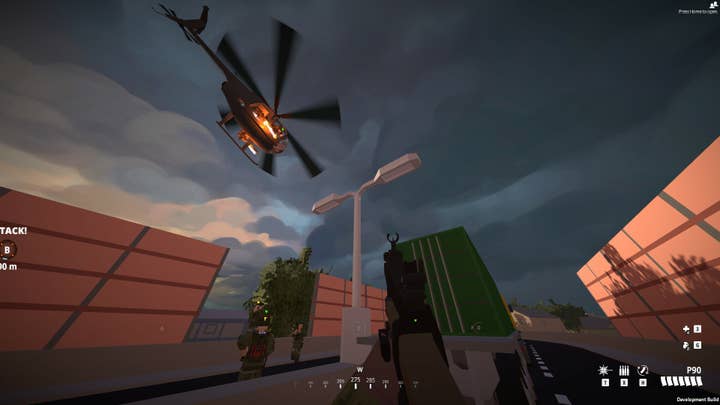 When you picture a developer experiencing the level of success the BattleBit trio has, you imagine them watching the number of players and sales on a screen. That might be true for some studios, but for Mutlu, Shalashou and Fink, there was simply too much to be done to pay attention to those kinds of metrics.
"We didn't watch it. No one at the studio was taking care of it," Fink says. "I was doing first-level support with our moderators organising a lot of people in the background, helping streamers get into it and so on. The moderation team was just doing their best to handle all the incoming tickets and there were a lot of those. We were all focused on stability and everything.
"It was only after two and a half weeks in that we checked how much money we had made or how many copies we had sold."
At that point, Battlebit Remastered had sold 1.8 million units; now sales stand at north of two million.
"It's just insane seeing these numbers in the Steam backend. We never expected them," Fink says. "Even the fact that we stayed in the top five selling games on Steam for five or six weeks continuously was insane. We thought that was based on copies sold, too. After four weeks, someone told us that it was actually revenue-based. I couldn't believe it. We thought they were joking, but they weren't. It is revenue. That's crazy."
"We've had such an incredibly successful release; that's allowed us to quit our nine-to-five and do this full-time"
Given that BattleBit has clearly taken inspiration from older Battlefield games, it might not come as a surprise that the team has opted for a slightly more 'old school' method of monetisation – it doesn't really have any beyond the upfront cost of the game.
"That's how we like it, to be honest," Fink says. "That is literally how we always wanted it to be. We all agree across the board that things like Battle Passes... you buy your Battle Pass then the game just becomes your job. You are always greeted with a task so the game is no longer enjoyable. You need to finish the task because tomorrow there will be something else to do. The game just tells you about the latest sales so that it can make more money off you. It's a direction we don't support at all. It's something we don't want to do with our own game; that's why we just didn't.
"We feel it's been a good decision. We did make to supporter pack for people that really wanted to back us. But all it was always the decision that if you just buy the game, you should have everything that comes with it, every future update and so on."
There are a lot of factors that explain BattleBit Remastered's success so far; targeting lower-end specs, really engaging with its community, and showcasing what the game was all about with its regular playtests. The title is a throwback to a simpler time when the player's enjoyment is the primary objective of a game. Even though BattleBit Remastered has made the team a huge amount of money, its ambitions are really very simple.
"We just want to make a fun game. It's that simple," Fink says. "We've had such an incredibly successful release; that's allowed us to quit our nine-to-five and be able to do this full-time."
He concludes: "We can just follow our passion now and just make a fun game."
Sign up for the GI Daily here to get the biggest news straight to your inbox