When a game blows up, how do you deal with the fallout?
1047's Ian Proulx talks about coping with the sudden success of Splitgate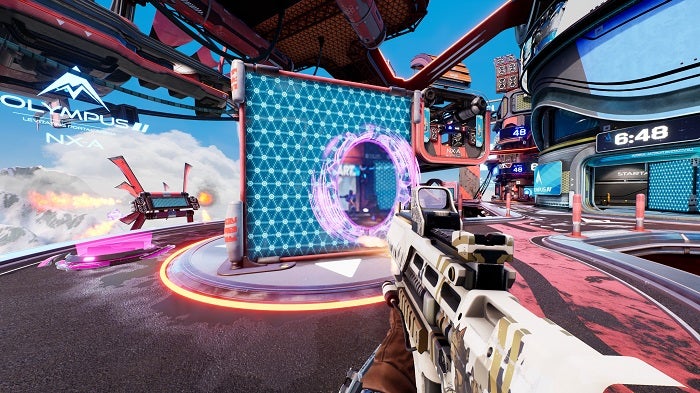 For developers of online games, having millions more players than you expected at launch would be classified as a pretty good problem to have.
But it's still a problem, particularly when the crushing weight of players is more than the game can technically handle and you've only got a small dev team to help address the problem. So what's a game developer to do in that situation?
That's the question 1047 Games had to offer after it launched Splitgate into open beta in July. Splitgate is a free-to-play online arena shooter that has been described as Halo meets Portal as it introduces the teleportation mechanic of Valve's first-person puzzler into a more traditional sci-fi shooter experience.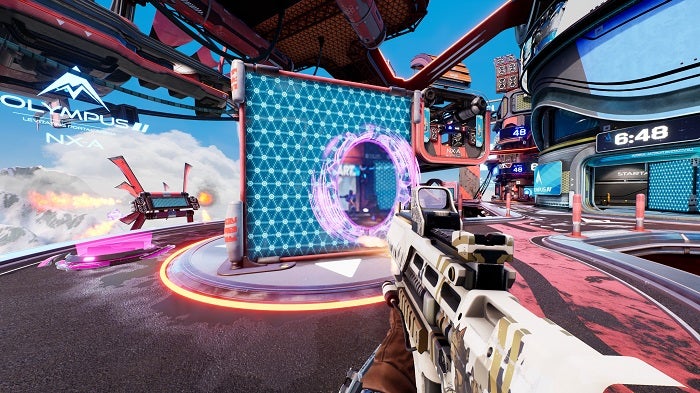 The developer had hoped that Splitgate's open beta would perform well in July. What it didn't imagine was that it would draw the attention of two million players, requiring urgent updates to a game that hadn't been intended to handle that much traffic.
Speaking to GamesIndustry.biz, 1047 CEO and founder Ian Proulx says that it's a balancing act between being responsive to your player community's interests and mindful of your team's ability to deliver on those.
"We're working very hard. This is our baby and we are also telling people, 'Do not kill yourself,'" said Proulx.
"We think we could up the capacity even more. Let's not push our luck, let's go to bed. Let's catch up [tomorrow], that's kinda been the dynamic here. We're all working hard because we're excited, we're all high on life right now."
The success of Splitgate has overwhelmed the team on so many levels that Proulx explains he and the team have actually welcomed breaks in the game's momentum.
"We were kinda happy that Apex [Legends] got a new season, that's gotta help right? And it bought us a day [in player traffic]," he said.
"It was the first day where [players] numbers didn't go up or down, it just stayed flat for one day and the next day it went up. It bought us 24 hours; we'll take it."
When it comes to looking forward, Proulx says that 1047 Games actually doesn't plan ahead very much.
"With our roadmap we don't plan well into the future, we really do want to hear what the community wants," he explains.
"The thing about being a small team is that we can be very nimble and we can adapt quickly."
"With our roadmap we don't plan well into the future, we really do want to hear what the community wants."

Ian Proulx, 1047 Games.
If the player community wants a particular feature, Proulx says the dev team can pivot to address that request. He notes that the team does discuss if the decision makes sense with the current direction of their work.
"It's a balance. You can't just blindly listen to your community, it's a constant balancing act," Proulx said.
As evidence of that, Proulx described the decision to remove Splitgate's original ranking system, which he said was well received by the players.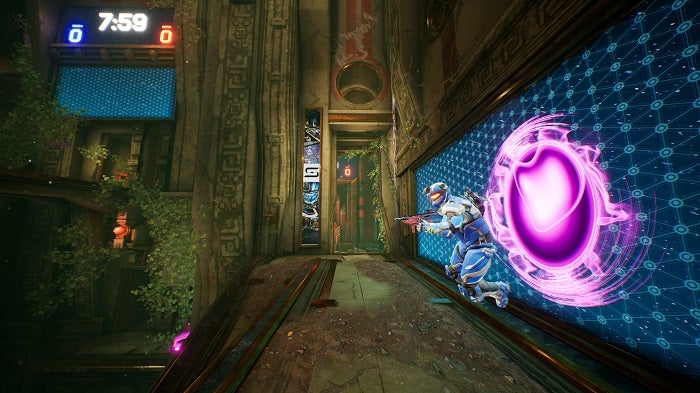 Despite its popularity, one problem with the ranking system was that everyone playing regardless of skill would start at rank 1 and would be paired together. So regardless of a person's actual skill, they would all be lumped together.
This created a poorly balanced experience for everyone. Lower ranked matches now consisted of people familiar with playing FPS games and newcomers. People new to the genre would continue to lose and subsequently quit the title after a few matches.
"It's a balance. You can't just blindly listen to your community, it's a constant balancing act,"

Ian Proulx, 1047 Games.
At the same time, matches were too easy for the more experienced players while newcomers were having a difficult time in lower rank matches.
The other issue with the system was that leveling up in rank was a slow process. It would take dozens of hours to reach the highest rankings, and once someone reaches that high, matchmaking wouldn't be able to find them a game because so few players were near their level. They essentially would wait forever for matches and quit because they couldn't find any.
What would then happen is that some players would create a new account, which is free, and start all over again at rank 1. This then created a cycle of new players being matched against people who were more experienced. So it would either repeat where they would play from the beginning or just quit playing the game permanently.
Splitgate has been a success despite some stumbles and an arguably saturated field of free-to-play first-person shooters. While 1047 has raised more than $100 million in funding since Splitgate went into open beta, Proulx said "a lot" of investors passed on the company citing the entrenched competition.
Even so, Proulx sees the popularity of this style of game as another one of those good problems to have. All 1047 needs to do is keep bringing something fresh to the table.
"People like arena shooters," he says. "If I'm playing the same thing I was playing 20 years ago, that's not going to take off. You have to [create] something that's accessible to the masses and still have that high skill ceiling."