Warframe and the secret of longevity
70 million players later, Digital Extremes COO Sheldon Carter talks shooter trends and putting your community first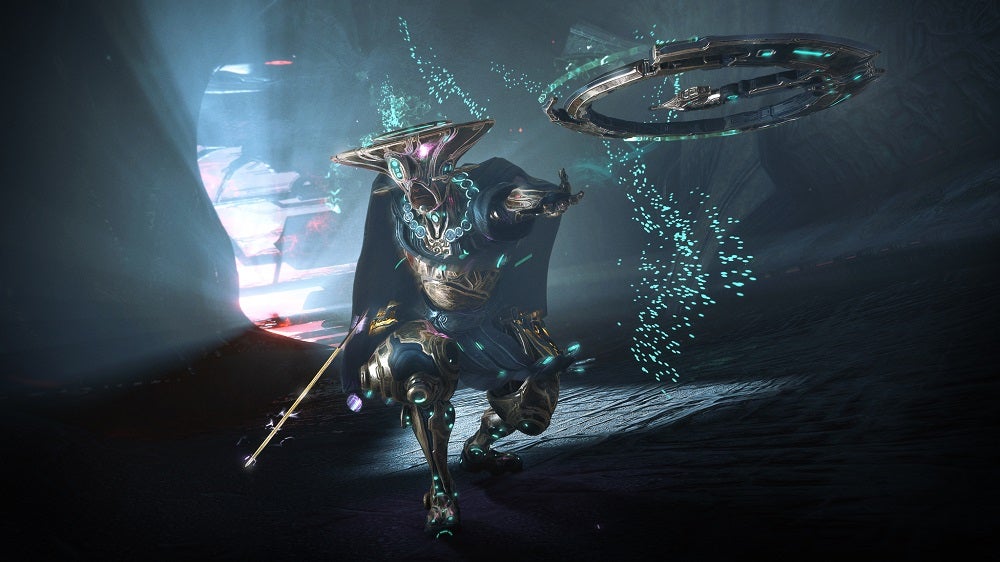 Having just passed 70 million global registered players, and speeding towards a mobile release next year, Digital Extremes' Warframe is in one of its strongest positions yet, eight years after heading into beta.
Warframe began its lifespan as a PC title in March 2013, before becoming a launch title for the PlayStation 4 in November -- one of the first games-as-a-service titles to arrive on consoles.
In 2021, the game is technically still in beta, despite its presence across six different platforms and ten full-sized expansions released so far, with another -- New War -- on the way tomorrow. With all of that content under its belt, it's hard to consider Warframe a "new game," and begs the question, will it ever "officially" leave beta?
It's been a long time since Digital Extremes COO Sheldon Carter even thought of Warframe as a game in open beta. In fact, the concept of forever being in a beta state is completely tongue-in-cheek to the company now.
"We think about it like a game that's always evolving, so we never want to be done," Carter tells GamesIndustry.biz. "But this is a released game at this point."
He tells us that he prefers to think of Warframe as a game that is constantly evolving, and that it's been dubbed as an open beta for so long that there's little merit in an official launch.
"It's still a good thing to let your audience know that the game is changing," he adds. "It's still worthy to shoot for that and to say you're released. I think for us, like I said, we were in open beta for so long, we just kind of laugh about it now."
Warframe launched a year prior to Destiny but soon found itself in the shadow of Bungie's first foray into games-as-a-service, and its first offering since Halo: Reach.
Although Destiny became a much bigger title due to the sheer amount of backing it had -- and Activision serving as publisher -- Carter thinks that the size of Destiny actually benefited Warframe, and that their similarities are a positive thing.
"We're the game that often comes up in other games' subreddits whenever people are looking for something to try between big releases"
"We had probably a year head start on [Bungie] so I think we already had our fans," Carter says.
"It's a good thing. I think the more games that have this kind of a similar feel, it's like a rising tide and all ships go up. We definitely benefited with that from Destiny, because they had the marketing, all the money, and it raised awareness for how a looter shooter can be."
Carter adds that he thinks Warframe continues to benefit from Destiny in a similar way, even eight years on, and that a lot of players drift back and forth between the two titles. Not only that, but the constant evolution of the two keeps Digital Extremes on its toes with new developments and updates.
"We can't become complacent, we have to keep improving and looking at different angles that are exciting to us."
Carter continues: "We've been really lucky with word of mouth with the game. We're the game that often comes up in other games' subreddits whenever people are looking for something to try between big releases. That's the thing that keeps us steady.
"I can't say that it's like some genius marketing plan or anything like that. For us, the strength has been the story of the game, but it's kind of a hidden secret. The thing that no one really knows about Warframe is it's got this deep, interesting story. And so right now with what we're doing, again, with the New War expansion is trying to give you this whole complete story arc you can just jump into."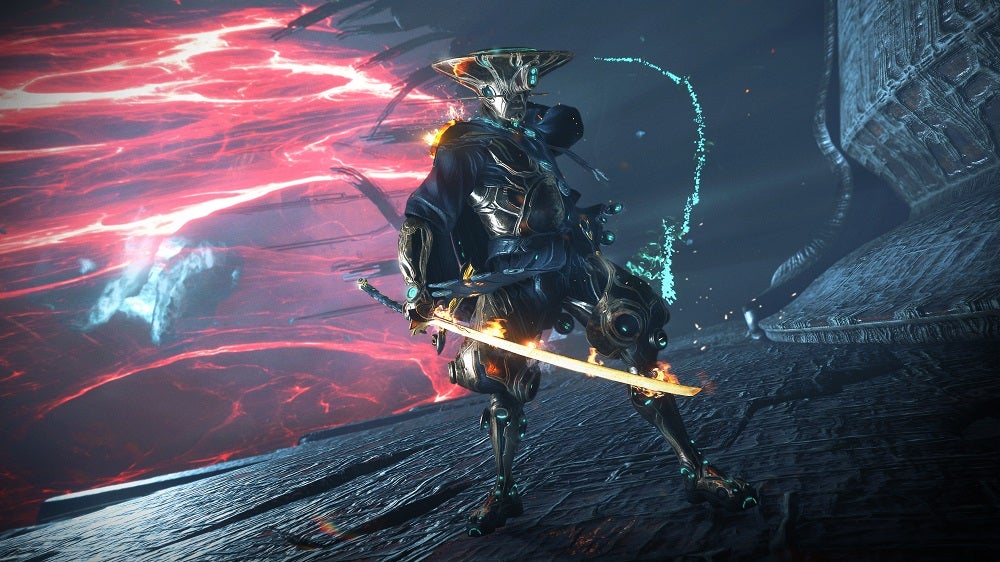 While Warframe's base game and all of its major expansion packs are free, Carter acknowledges that the need for monetisation, especially in free-to-play games, has evolved in a big way since the game launched. But he says that the company remains cognisant of its formula to not play into predatory behaviours, or having to lean into common methods such as battle passes or gacha elements.
"We've been lucky that we know our own audience and our formula. It's neither of those two things," Carter says. "As much as there's been a pressure to follow free-to-play trends, we have to be true to how we started, and those types of things just didn't fit exactly what we wanted to do."
"Despite changes in ownership, no one has ever pressured us to change the way we decided to run our game initially"
Warframe monetises itself with platinum, an in-game currency that can be bought with real money and exchanged for character skins, weapons and other items, but it can also be earned organically through gameplay.
When Digital Extremes' parent company Leyou was bought by Tencent almost a year ago, the developer assured fans that it would remain "creatively independent" and to expect "no changes" in how the studio operates.
"There's nothing wrong with [battle passes or gacha] obviously," he adds. "We've been lucky that despite changes in ownership, no one has ever pressured us to change the way we decided to run our game initially, which is fantastic."
Warframe is a game that keeps its community at the heart of its development, which is true of most developers, but the game's annual Tennocon fan convention adds a new dimension to that.
Tennocon, which began back in 2016, is where Warframe fans convene for panels, Q&As, as well as sneak peeks of upcoming content. While the last two Tennocons have been virtual thanks to the pandemic, Carter tells us that they are the most-viewed events to date.
"We always see the spike, as soon as there's a lot of people talking about your game, obviously, a tonne of new players come in and join in, and they want to be a part of it, which is exciting," Carter says.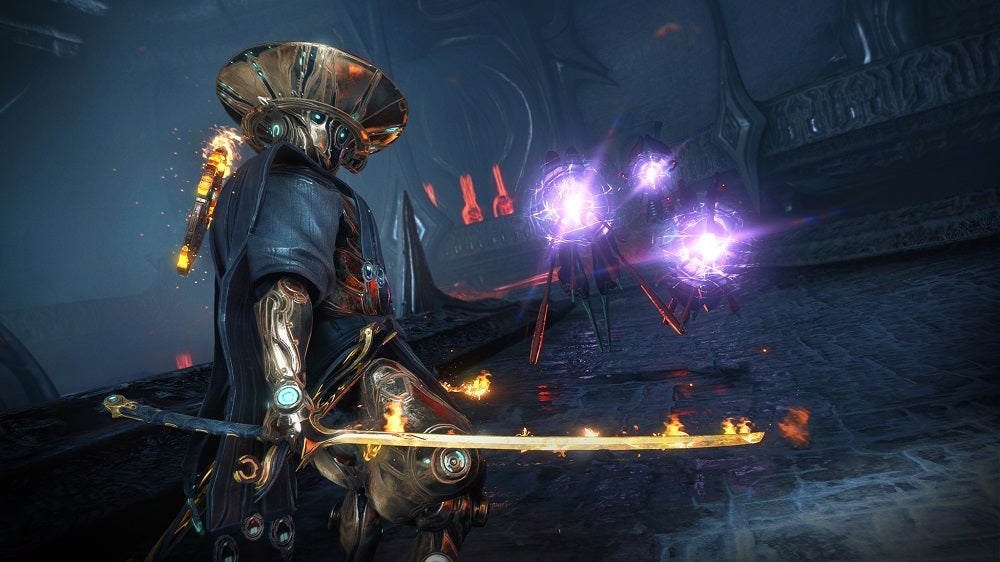 Carter does think that Tennocon is more for the game's existing audience, but word of mouth once again plays into Warframe's in-game popularity spikes around the event.
"I think the more we engage with and focus on our core fans, the more we reap the benefits of that."
He adds: "Our fans would get mad at me if I called Warframe accessible, but they want to bring their friends in. That's one of the biggest compliments you can get -- people who just want other people to play our game with them."
While Warframe has avoided moving with genre trends and monetisation strategies, one area of growth too lucrative to pass it up is mobile. Next year, Warframe will land on phones, giving existing and new players a different way to play.
"I'd love to be able to take the bus and use my phone to run a mission really quick or to grab something, being able to bounce between all the different hardware including mobile, just makes the game more useful," he says.
Carter is under no illusion that Warframe will become a huge mobile game straight off the bat, but believes the game has the fundamentals of a successful portable title, almost thinking of the game primarily as a tool to keep existing players engaged.
"We want it to be the same experience," he says. "So this isn't going to be a cut down version, this would be more like, 'hey, this is just another SKU of Warframe. And it's on mobile.'"
And from a business perspective, getting Warframe into the hands of more players than ever is a no brainer, as Carter adds: "The console that everyone has is in their hands or in their pockets right now."