VR chasm of disappointment becoming more of an abyss?
Analysts weigh in on whether the latest Oculus announcements this week will move the needle for VR adoption
Oculus held its annual Oculus Connect conference this week, revealing new untethered headsets (Oculus Go and Santa Cruz), more software and an interesting overhaul of the interface called Dash, which the company hopes will help to usher in a new era of computing without traditional monitors. But will any of this help move the needle for VR and Oculus in particular? The analysts we spoke to still believe it's going to be a slow burn for a while.
NPD's Mat Piscatella is especially bearish. For him, the needle is hovering around idle.
"Looking at it purely from a gaming perspective, the announcements over the past days have been interesting, but I don't think there was anything too surprising or course changing," he says.
"For the higher-end immersive gaming VR space, the 'chasm of disappointment' is quickly becoming more of an abyss. Adoption has stagnated, and none of the announcements suggest to me that this will change meaningfully. The tepid impact of the $399 price drop for Rift and Touch was already seen with the summer price promotion, so I doubt we'll even see any significant change in sales based on the permanent price drop.
"I don't believe Oculus Go is the headset to ignite the standalone VR market even at a $200 price point"

Piers Harding-Rolls, IHS Markit
"The Oculus Go is an interesting device for the mid-tier space, but for gaming I don't see this as bringing anything trajectory changing in terms of adoption potential. It's nice to not need a phone, but it's not like this is a huge leap over Gear VR. It certainly feels evolutionary, not revolutionary. 360 rotation tracking is good, but not having positional tracking severely limits its potential and appeal for gaming."
SuperData's Stephanie Llamas is a bit more optimistic that Oculus' announcements will start to make a difference. "In regards to moving the needle in VR with the standalone headsets, the price of Oculus Go is on-point which is a good first step," she says. "Given the right content...from Pixar and others, and overall quality, this could be a key driver for VR to reach the mainstream."
IHS Markit's Piers-Harding Rolls agrees that striving for high-quality standalone headsets is the right direction to push in, but he wonders if Oculus Go will be good enough.
"I believe that standalone headsets are the technological end-game for VR headsets but, crucially, the quality of the experience needs to be significantly better than premium smartphone VR as they are more expensive for those that already own a high-end smartphone," he notes, referring to Oculus Go's similarities with Gear VR.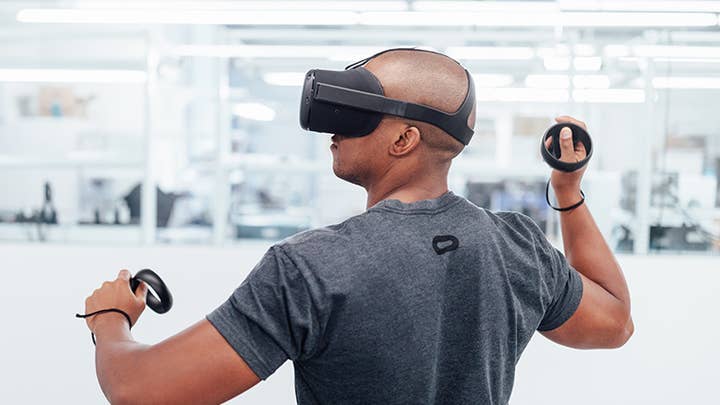 "While Oculus Go offers a more convenient form factor, the use of LCD screens, the same 3-DoF head tracking and same content portfolio as the Gear VR means the quality of experience won't be greatly different to smartphone VR. The convenience of Oculus Go's all-in-one form factor, while appealing, is not enough to overcome the price differential. On this basis I don't believe Oculus Go is the headset to ignite the standalone VR market even at a $200 price point."
He adds, "I have more interest in the Santa Cruz prototype as the inside out tracking providing 6-DoF and the dual controllers promise more immersion but it's likely the price point will be significantly more than the Oculus Go as a result. I think we have some time to go before we have a more broadly appealing standalone VR headset."
"I don't think the market is doing a great job supporting the two levels of VR games that exist now, [and] having a third feels like a real stretch"

Mat Piscatella, NPD
Despite Oculus Rift's continued price advantage over HTC Vive, the latter has been keeping ahead of the former. And both trail Sony's PlayStation VR, which itself has been somewhat stalled. Analysts aren't so sure that Oculus will be able to catch Vive, let alone PSVR. That said, we can expect more price drops in the future across the various brands.
IDC research director Lewis Ward comments, "If Facebook starts talking about total Oculus-branded device sales or shipments after Go debuts next year, then yes, I think Go's debut is going to make a huge difference relative to where the competitive race stands today between Vive and Rift by the end of 2018. That doesn't mean Rift will ever catch Vive, although at a $200 price difference I'd also be shocked if we didn't see the race tighten next year and perhaps see another $100 price drop for Vive.
"If what Facebook releases is total Oculus-branded headsets sold or shipped, it may well be this lifetime-to-date total exceeds that of the Vive before the end of next year, but this is kind of an apples-to-oranges comparison. I hope they break it out in some way, so we can see how Go is performing next to Gear VR and Daydream, which is a better functional and price point comparison."
Harding-Rolls adds that the high-end VR market will remain niche despite price cuts: "Overall the PC-based VR market is still a niche opportunity. Across all PC-based VR headsets - Rift, Vive and Windows MR - we are forecasting a world installed base of 2.4 million by the end of the year. It will continue to grow but this market is a slow burner over the next few years."
Early feedback on Santa Cruz has been positive, because unlike Oculus Go, it provides a closer experience to Rift and Vive but completely untethered. That said, between Go, Rift and, soon, Santa Cruz, is Oculus ultimately creating too much customer confusion with its various VR products?
Piscatella comments, "Project Santa Cruz is a bit perplexing to me, and maybe I just don't get it. From the way I read it, 'Rift-like' experiences means content that may be more complex than that made for Gear VR/Oculus Go, but less so than content made for Rift and Touch. So, what does that really mean? Its own library and development criteria? I don't think the market is doing a great job supporting the two levels of VR games that exist now, [and] having a third feels like a real stretch. Maybe I'm just missing something.
"This will help Facebook gauge the most viable product and how to move forward in VR"

Stephanie Llamas, SuperData
"In sum, I can't read these announcements as being particularly encouraging or offering great deals of newfound hope for the VR gaming space. In fact, I only see these announcements making VR even more confusing for the mass market consumer and more complex for development. I'm a bit baffled, to be honest."
While Piscatella is not all that confident in the Oculus strategy, SuperData's Llamas believes that Facebook is deliberately putting different products out there to see which gains traction. "With these two new headsets (Oculus Go and Santa Cruz), Oculus is seeking to appeal to two different user types as opposed to the one-size-fits-all Rift model. This will help Facebook gauge the most viable product and how to move forward in VR," she says.
With the market continuing to be a "slow burner" as Harding-Rolls puts it, some may question how long Facebook will remain committed to Oculus and VR as a whole. Is there any chance Facebook might think about spinning Oculus off if things don't pick up in the next few years? With Mark Zuckerberg stating that his company wants to see a billion people in VR, it doesn't seem likely.
"If we think back to the early days of Facebook when Mark Zuckerberg turned down $75 million from Viacom in 2005 -- just a year after the site launched at Harvard -- it's always been clear he's had his eye on the long game," Llamas notes. "He knows Facebook needs to be in VR. It doesn't matter if they do it with Oculus or not, but Oculus is among the best in the industry so I don't see them switching up any time soon."
IDC's Ward agrees: "I think Mr. Zuckerberg and company are in VR for the long haul, for better or worse. For Facebook to grow as a company, they need to attract new users through new and preferably social experiences, and Go and Santa Cruz are a worthy path of exploration in this direction."