Vive unveils subscription service, new app stores and accessories
HTC details new business strategies for 2017 at CES
HTC has taken to CES in Los Vegas to unveil a number of new initiatives designed to generate more revenue for VR developers.
It has also showcased two new accessories for its Vive headset that it hopes will make its product a more immersive experience.
Beginning with the streaming service, HTC says the initiative will help to address the discoverability issue on its Viveport app store, with thousands of VR apps and games now available.
A price has not been announced, but the firm promises it will be a 'low monthly fee', and developers can choose to opt-in to the service alongside selling their titles separately. HTC is positioning this as an additional revenue stream for Vive developers.
"We're happy to let VR fans know that the same way they discover and consume content through popular subscription services for music, films, TV and games is coming to virtual reality," Viveport boss Rikard Steiber said in a statement.
"For developers, this is yet another opportunity for them to reach broader audiences - we want to give VR developers as many ways as possible to monetise and feature their content, and this is yet another channel for them to reach new customers on Viveport."
In addition to the subscription service, the company is also launching two new VR B2B app stores. The first is linked to the Viveport Arcade concept (which is where cinemas, arcades and other businesses can have a VR set-up in their location and charge consumers to play). A new storefront will allow those businesses using the arcades to curate the content that consumers can play. There are currently 300 titles to choose from. Today, Viveport Arcade is available in 1,000 locations (primarily in China) and the firm says they will be in over 5,000 locations worldwide by the end of 2017.
The second app store is for enterprise business, which will curate content for areas such as healthcare, engineering, real estate and retail. The store will feature full VR projects, plus tools in order to build your own.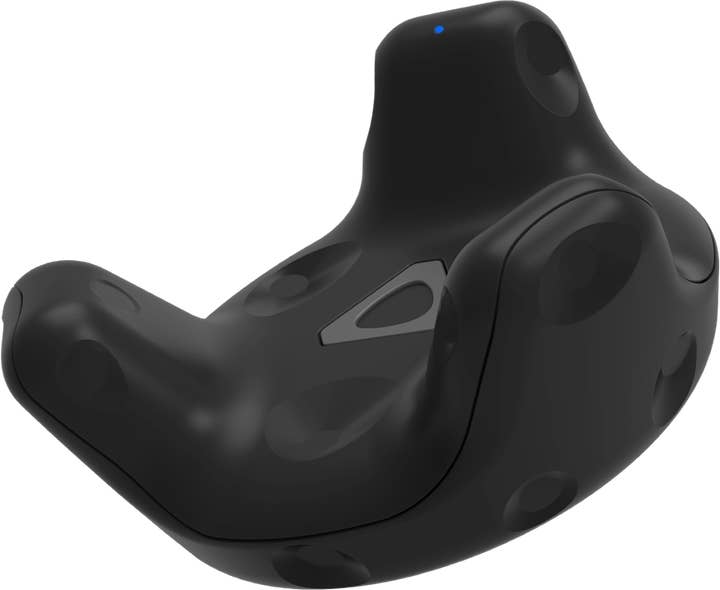 Away from the retail side, HTC has also revealed two new accessories.
Perhaps the most significant is the ViveTracker. This is a product that acts as a foundation for other accessories for use with Vive. The tracker integrates with other physical products so manufacturers can create rifles, baseball bats, firehoses, haptic gloves and more. HTC believes it will help reduce costs in terms of materials and will allow manufacturers to build full motion control peripherals faster.
"To foster the long-term growth of VR, we want to make it even easier for developers to prototype and market more immersive controllers and accessories," said Daniel O'Brien, Vive's US and EMEA GM.
"The Vive Tracker is the first step in growing an ecosystem of third-party accessories that will change how we interact with virtual experiences and provide consumers and businesses with an unlimited amount of content opportunities."  
Finally, there is the  Vive Deluxe Audio Strap. It is a head strap with integrated headphones that is designed to be more comfortable when using the Vive headset.   Both products will be available in Q2 this year, while the previously announced Vive wireless adapter is scheduled to arrive at some point in 2017.