Unity 4 makes a confident stride towards AAA quality
David Helgason talks us through Unity 4's key features, including its best-in-class animation system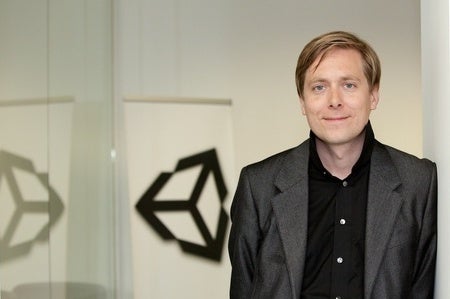 The fourth full iteration of Unity Technologies' popular game engine will push its capabilities firmly into the realm of AAA development.
In an interview with GamesIndustry International, Unity co-founder and CEO David Helgason detailed significant new additions to the Unity tool-set for both expert and casual users. While Unity remains the engine of choice for a huge number of indies working in mobile and other digital platforms, Helgason believes Unity 4 exemplifies the company's drive towards the high-end of development.
"Although we're passionate about small developers, we're also proud to now be serving bigger and bigger companies," he says. "That's important, because it makes sure that we push the bar really high, and then everyone can be well served. We don't want to be providing second-tier tools to anybody."
"Two years ago we had nothing at E3. Maybe there was a single game somewhere, but I wasn't aware of anything made with Unity being promoted or launched or announced at E3. That was two years ago, and last year it was a handful, but this year it was actually a lot."
"With Mecanim and the animation system, in some sense it's the first time that one of our key features is ahead of anybody else"
Despite this rapid progress, Helgason shrugs off the suggestion that, in the near future, a Unity game might take pride of place in one of the platform-holder press conferences.
"The trend is definitely in that direction, that's for sure," he says. "but if we ever measure our success purely and primarily by that we will have become the wrong company."
The focus for Unity, now as ever, is to provide the most powerful and flexible tools for the broadest possible audience. With Unity 4, the single most important addition is the technology developed by the Canadian animation specialists Mecanim, which Unity acquired in August last year.
"We keep pushing, and with Mecanim and the animation system, in some sense it's the first time that one of our key features is ahead of anybody else... One of the ways that the independent part of the industry has lagged behind is - of course, and very naturally - in animation. It's expensive to do and the tools have to be very good. This will make a big difference."
Mecanim's technology was the product of years of work; the sum total of the knowledge and experience its co-founders' - Robert Lanciault, Sonny Myette and Pierre-Paul Giroux - acquired across their entire careers. Helgason claims that it "animates better and faster than anything else", and will significantly raise the standard of what's possible with Unity.
"You can have 500 characters rendering with a complexity that other engines, even what are considered the AAA engines...it's an order of magnitude above that," he said. "But it's also really, really easy. The work-flows are amazing, so hardcore animators can really work on a refined level while also saving loads of time.
"On the other end, which is also very important to us, people will be able to buy stock motion and motion kernels from the Asset Store. So you could package up, say, a bastketball player or somebody doing parkour, and wrap it up in a way that could be just dropped into a game, dropped onto the characters - we have this targeting technology that allows you to bring in any animation onto any character."
The Unity Asset Store now contains around 3300 "packages" created by the Unity community, ranging from art assets and character models to more specialised areas like fluid dynamics simulations. Helgason regards the independent growth or the Store as central to what the company is trying to achieve. Specific numbers still aren't available, but Helgason says that almost all of Unity's biggest customers - "the famous studios" - are using it, making their work easily available to others.
"We spend as much or maybe more energy on making sure all of these things are compatible with new platforms and the most important platforms"
Unity 4 also expands its users' potential reach even further: it includes the full export function to the Adobe Flash Player, which is installed on more than a billion PCs worldwide.; it will also feature a preview of a Linux export function, which Helgason believes will reach a further 10 per cent of the PC market.
"We spend as much or maybe more energy on making sure all of these things are compatible with new platforms and the most important platforms," he says.
"Linux is something we've had a lot of questions about from the indie community, and the Humble Indie Bundle has showed that there's a business on Linux. So we're trying to commercialise on something we've been working on for a long time internally - we actually had some of our engineers kind of doing it in their spare time and on weekends. We'll be the first mass market engine to support Linux, and it's not the biggest user-base, but it's a very passionate group of people that are willing to pay, they're smart, and they really love the platform.
"I actually think our move will be a huge boost to Linux on the desktop. The most important ecosystems of our lifetime such as Windows, OS/2, and later Facebook and iOS, have been made, or undone, by having games, or not. It's too early to say just how big the impact will be, but I'm excited."
Unity 4 features a broad range of additions and tweaks, including full support of DirectX 11 and greatly improved visual fidelity on mobile platforms. It is currently available for pre-order from the Unity Store. A full list of additional features is below.
Shuriken particle system supports external forces, bent normals and automatic culling
3D texture support
Navigation: dynamic obstacles and avoidance priority
Major optimizations in UnityGUI performance and memory usage
Remote Unity Web Player debugging
New Project Window workflows
Iterative lightmap baking
Refined component-based workflows
Extensible inspectors for custom classes
Improved Cubemap import pipeline
Geometry data improvements for huge memory and performance savings
Meshes can be constructed from non-triangle geometry - render points & lines efficiently
Search, live preview and buy Asset Store assets from the Project Window