Ubisoft's sharing imperative
The hows and whys of the publisher's internal Ubisoft Developers Conference
Shortly after 10 a.m. one Tuesday last month, Ubisoft programmers Charlotte LeGrand, Paul Elliott, and Rory Slaney were regaling a packed conference room in Montreal with the latest techniques for preventing NPCs from walking into one another and making AI-controlled drones smart enough to fly through tunnels or holes in walls.
It may not sound like edge-of-your-seat fare for a general audience, but for the attendees in the room, it was directly applicable to their day-to-day lives. That's because the presentation was part of the Ubisoft Developers Conference, an annual gathering where Ubisoft employees from around the world converge at the publisher's Montreal studio to spread their latest learnings throughout the company.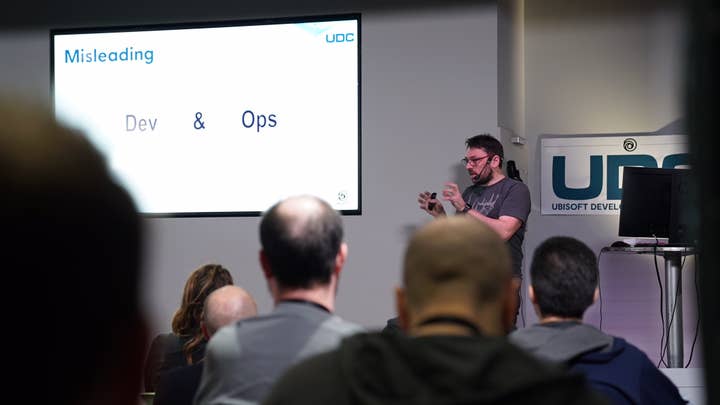 This year marked the ninth such UDC, with over 200 presentations, summits, roundtables, and workshops for people to attend. Nearly 400 people flew in for the conference, representing 31 different studios. That attendance figure doesn't count employees from within Ubisoft Montreal, or those elsewhere watching the proceedings streaming online.
The efforts on this year's event were headed up by Ubisoft's technology group director Chadi Lebbos and online technology group director Pierre-Jules Tremblay. Speaking with several journalists invited to attend a handful of sessions at UDC, Lebbos and Tremblay explained that the company realized it needed such an event about a decade ago, when team sizes had ballooned from 25 to 100 to 1,000 people.
"At a certain point, to limit the divergence, we need to force people to sit down together and share in order to make sure we have a certain convergence and are able to move forward as a group"

Chadi Lebbos
"Yes we collaborate," Lebbos explained, "but everybody has their own way of working and everybody spins out a new idea, everybody starts working on their own tool, etc. At a certain point, to limit the divergence, we need to force people to sit down together and share in order to make sure we have a certain convergence and are able to move forward as a group, and not as multiple studios going all over the place."
And because it's an internal conference, the sharing between speakers and attendees can be far more comprehensive than one would find elsewhere.
"Everybody's got access to everybody's code," Lebbos said. "We can look at how stuff was done. So the learnings and the sharings that come out of UDC are very valuable because they're very concrete and we have actual sharing happening from those meetings."
That level of transparency not only keeps teams from reinventing the wheel every time they need an AI wheelman, but Tremblay said it can also help foster a healthy sort of competition among the developers.
"The fact that you're on the stage at UDC talking about your piece of technology, and right after your talk, everybody can go and have a look at it and judge for themselves is a challenge in itself," Tremblay said. "And it's also proof that it's not just about competition; it's really about putting yourself out there..."
As for the logistics, UDC is put together like any other big international event, Lebbos said. There's an organizing committee that works on the show year-round, identifying Ubisoft experts to speak on topics like AI, game design, online, and so on. Developers also submit presentations, with the ones deemed the most impactful making the cut.
That determines who presents at UDC. When it comes to who attends, individual studios select attendees from their own ranks, and then the head office makes another pass of invites to ensure different teams are appropriately represented at the event (on Ubisoft's dime, naturally).
"We see it as a powerhouse, a yearly cycle where there's a lot of energy around the sharing that can propel us for the rest of the year," Tremblay said.
"Sometimes that sharing can also be a trap"

Roman Campos-Oriola
Even though the talks are focused on the tech behind the games, much of the value of UDC, like any other conference, comes from the networking. Tremblay said it's virtually impossible to book a meeting room within the Montreal studio for the week of the show, because the first thing attendees tend to do is carve out time to meet with key contacts and colleagues they don't get to see regularly.
"There are all these discussions that go on that are not directly tied to the UDC theme, but that always happens," Tremblay said. "And I think this is where the magic happens, hallway conversations and lunches and drinks in the evening where people get together and realize that in fact, they're not so different. It's very easy to convince yourself that your context is different, so you should be doing something different, building a different tool or a different piece of tech. But when you get together and you actually discuss it and have a few drinks, then all of a sudden it seems more the same, and maybe there's more of an opportunity to share."
Of course, games are creative products, and a solution for one may not be applicable to all. Speaking with journalists the next day, For Honor creative director Roman Campos-Oriola discussed how the dev team was informed by the experiences of the Rainbow 6 Siege team a little over a year earlier, to their own detriment.
"Sometimes that sharing can also be a trap," Campos-Oriola warned.
One of the key things the Siege team had cautioned the For Honor crew about was matchmaking issues. Determined not to repeat the same mistakes, they focused on building tools to monitor matchmaking during the launch period. And while the matchmaking did indeed go smoothly at launch, Campos-Oriola said there were other, more pressing problems they overlooked, like the tendency of the game to crash entirely.
"Yes, it's cool to share lots and get involved into that, but sometimes it's creating that 'tunnel of war vision' and you lose sight of other elements," Campos-Oriola said. "That's the price, that constant balance between integrating the learnings of other teams and learning by yourself about your game and its own specificity."
Disclosure: Ubisoft paid for our travel and accommodations for the event.