Ubisoft Toronto: "We can bring life back to toys-to-life"
Splinter Cell Blacklist developers working on unique new IP
The toys-to-life genre is dead, right?
Skylanders is taking a year off, and you're more likely to find it on Netflix than at your local retailer. Disney Infinity is now a distant memory, and it's not clear if we'll ever get a new LEGO Dimensions.
Yet Ubisoft has decided that the genre still has potential, and this week at E3 announced Starlink: Battle for Atlas, a new IP from Splinter Cell Blacklist developers Ubisoft Toronto for Nintendo Switch, PS4 and Xbox One. It's due in Q4 2018.
Unlike those previous three toys-to-life franchises - which were action platformers, with characters placed on portals - Starlink is quite different. Players control a modular spaceship that sits on top of the controller, and they can dismantle the ships and add different weapons. The impressive element is that once you remove an item from the physical ship, it immediately vanishes in game, and then when you add a different wing or weapon, it appears on screen.
"We think innovation can really bring life back into this market," Laurent Malville, creative director on the project, tells GamesIndustry.biz.
"We think that toys-to-life brought a lot of younger players into video games, and that was great. But we think as they grew up, the expectation grew with it. So for us, we didn't want to do just another one like those games. It was important for us to innovate in this category. We didn't want to innovate on just the toy itself - and we think we did do that - but also to innovate with the huge open world. We're not talking down to the players. This is a big open world that you can spend time in."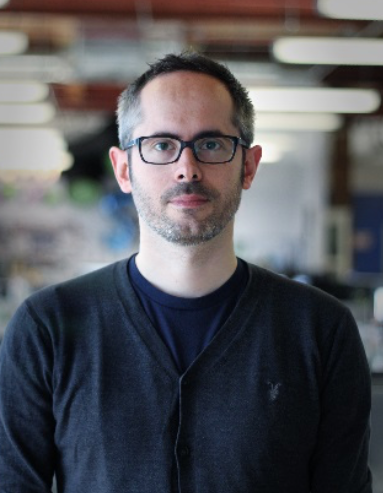 The game is certainly unlike Skylanders and its ilk. This is a spaceship title, and appears to play more like an open-world Starfox game.
Although the toy concept is the most impressive part of the game, there are digital options, too, for those not so keen on buying physical items.
"We think the toy is the whole game," says Malville. "That is the beauty of it - having that modular starship on-top of a controller. You don't open a complex menu or anything, it is just there. You just grab the weapon, put it on and it appears right away. Or if you want another pilot, because I want to use his special ability in that fight, it is just there and it is the simplest way of doing it. And those collectibles, those starships, those pilots, what is beautiful is that once you've played the game for several hours, you can just put them on your bedside table or on your shelf."
"But because we want to provide the maximum freedom for players to experience this game, we designed that idea that every physical part that you buy, you will unlock a digital part. So if you want the full experience, you can play with the starships on top of your controller. But if you want to just display the collectibles on your shelf, and play the game without them, you can do that as well.
"You will also be able to buy the digital part separately, without the collectibles, if you want. Just because, again, we want to provide freedom for players."
"But the magical moment where you connect the part is something that is dear to us."
Ubisoft Toronto's last game was Splinter Cell Blacklist, and the firm has gone on to support the development of Far Cry 4, Far Cry Primal and Assassin's Creed Unity.
Yet the company wanted to take a "calculated risk" with their next effort. So Ubisoft CEO Yves Guillemot gave the firm a mandate for a new project, which was to "combine technology breakthrough with innovative gameplay".
It was a wide-open mandate, so a small team of 10 began prototyping. They started brainstorming ideas every two weeks. The best three pitches got made into games, and then they rinsed and repeated. Dozens of prototypes were made featuring different genres and technologies.
"Approving crazy projects is part of the DNA of Ubisoft"
But the idea they kept coming back to was the toys-to-life project, so they flew to Paris to show Guillemot. And he backed it.
"Approving crazy projects is part of the DNA of Ubisoft," Malville says. "If you look at Assassin's Creed back in the day, or Just Dance... it is just part of what the company does. We were excited to show him what we'd done. And we were super happy that the top management team in Paris were just as excited as we were, and that we got to make it."
GamesIndustry.biz was shown the game at a pre-E3 press event, and there was a murmur of excitement from the audience when Malville demonstrated how removing and changing an item from the physical toy is reflected in the game.
"Honestly, it was an emotional moment for me, and I'm sure my producer, too," he says excitedly. "We will send an email to the team tonight to tell them about it. Because this is a big moment for us. We are a team of under 100 people. We are very passionate and it is the first new IP to come from the Toronto studio, and so when the room reacted like it did when I connected the part, it was just awesome."
"It is very important that what you build is what you see."