Ubisoft launches fifth season of Entrepreneurs Lab program
Calls is open for startups working blockchain and social entertainment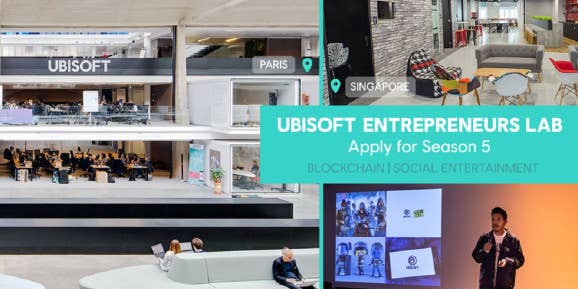 Ubisoft has today announced the fifth season of its Entrepreneurs Lab program, calling for projects focused on blockchain and social entertainment.
The call is open until March 1, 2020, and applicants have the choice between Station F in Paris -- the largest startup campus in the world -- and Ubisoft's recently opened site at Pixel, in Singapore.
First launched in 2017, the program is led by the Ubisoft Strategic Innovation Lab Team which supports startups in creating new products and services.
The model is built on mutual collaboration, and sees Ubisoft offering equity-free support, asking only that startups share their learning. The companies are provided office space, guidance and expertise, pitching opportunities, plus access to Ubisoft's global network.
This season sees Ubsisoft renew its commitment to blockchain gaming tech, while also expanding into social entertainment, which explores "new ways to create socially inclusive, empowering, positive and accessible experiences."
"Social entertainment is an area we want to further explore both for players and viewers of Ubisoft content," said program director Catherine Seys.
"Together with talented entrepreneurs across a range of entertainment fields (music, video, live shows, etc.), it's our desire to contribute to creating the most engaging, fun and creative entertainment experiences of tomorrow.
"As for blockchain, we strongly believe that the technology has yet to unveil all it has to offer. It is our fifth season exploring, and there are still so many paths we have not ventured into."