Inside Station F: The grander ambitions of Ubisoft
Ubisoft's focus on emerging technology, from blockchain to VR, points to something bigger for the French games giant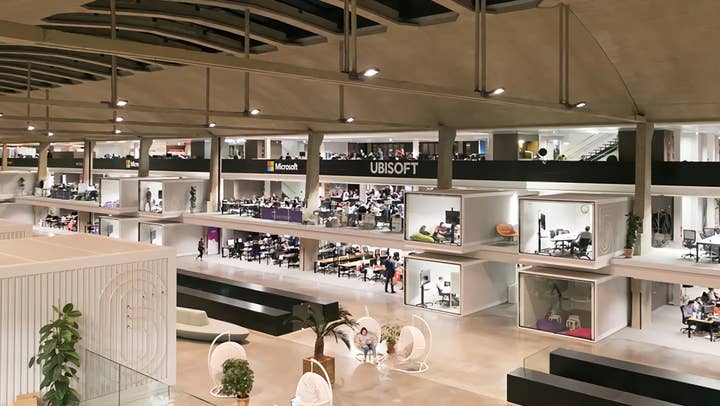 At 366,000 square feet, Station F is the largest startup campus in the world. Walking its vast open spaces, spying through the glass walls at young trendy people discussing their big ideas, it certainly feels like the largest one too. It also has that quintessential startup aesthetic, just on a much larger scale: it's hip, it's modern, and there's a psychedelic statue of a buddhist monk emerging from his own skin to reveal a perfect copy of himself.
But it's also home to Ubisoft's grander ambition to be more than just a games company, though no one at the publisher would dare to suggest anything so brazen. But the Strategic Innovation Lab belies Ubisoft's loftier goals: it's charting waters unknown by supporting startups in blockchain, artificial intelligence, virtual and augmented reality, and now "extended entertainment" such as esports.
Since 2017, Ubisoft has incubated 16 startups at Station F, and just last week announced its fourth season, along with an expansion of the programme to Singapore with the Ubisoft Entrepreneurs Lab. Based in the Info-communications Media Development Authority's (IMDA) Pixel innovation space, Ubisoft hopes to attract more Asian startups with the move, though it is also open to international applications.
While companies on the programme don't receive direct funding from Ubisoft, they're also not required to hand over any equity in exchange for the publisher's support. In fact, the Ubisoft approach to incubation is pretty hands-off, asking only that startups share their learning. The startups have no access to Ubisoft IPs, and Ubisoft has no ownership over their work.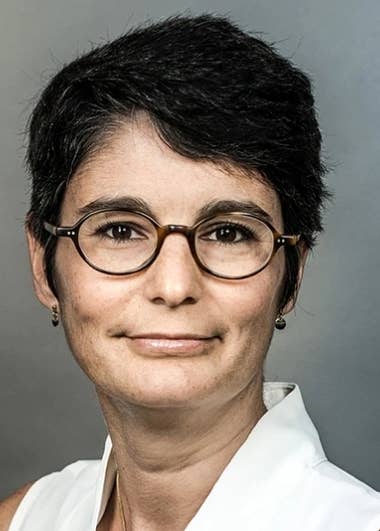 Speaking with GamesIndustry.biz, Catherine Seys, startup programme director at Ubisoft's Strategic Innovation Lab in Station F, says that it's her mission to explore the possible future of entertainment, and prepare the organisation for whatever comes next. That, first and foremost, is what the programmes are for according to Seys.
"I think it is very important that we don't take any equity at the start," she says. "It has allowed us and them to be more open with the way we select the people we want to work with. I think if we were to put money on them, probably we would end up investing in gaming companies because that's the risk we are able to assess the best. So that's not what we want with this program. Not investing and not taking equity... is a good way to start the relationship."
Once a startup has been accepted onto the programme, it has the full weight of Ubisoft behind it. Despite the French games giant offering no financial assistance, the startups aren't deprived of opportunity from being in its orbit. Ubisoft pays for the space at Station F, provides knowledge and experience, external visibility, pitching opportunities, and access to its international network.
Over the three seasons, Ubisoft has taken in five virtual and augmented reality companies, three AI projects, and eight working on blockchain. The fourth season continues its focus on blockchain while also exploring extended entertainment.
Among the current crop are mobile cloud gaming service CareGame, community collaboration platform and marketplace Playerstate, and holographic communication platform Mimesys, which was last week acquired by Magic Leap.
"We still need to explore, and that's our role and our mission at Ubisoft: to explore"

Catherine Seys
There's something surprising about Ubisoft's quiet but diligent focus on blockchain, though. Following the Bitcoin boom of late 2017, blockchain technology is still finding its place in the mainstream, despite the many gaming and tech companies that proselytize its virtues. But, as Seys notes, Ubisoft is wary of companies that rest on blockchain as little more than a buzzword.
"The fact that we have quite a focus on this technology is specifically because it's not major yet," she clarifies. "It doesn't mean that Ubisoft as a whole company is investing billions of dollars into that technology. But of course this is a very good focus for us at the Strategic Innovation Lab because we still need to explore, and that's our role and our mission at Ubisoft: to explore."
Importantly, as far as Ubisoft is concerned with the programme, startups don't need to be game-related, and Seys points to Mimesys as a perfect example of "opening our thinking" to the wider applications of augmented and virtual reality.
The recent expansion to Singapore is another telling move from Ubisoft. While the publisher has played a large role in growing the Singaporean games industry, the local government is also business-friendly, adaptive, and generally compliant. It's the sort of place that lets startups test flying passenger drones in urban centres, so you could say it's receptive to experimental ideas. As a wealthy city state known for its human rights violations and loose business regulations, Singapore is the exact sort of boundless frontier where companies like Ubisoft can experiment with whatever the next "big thing" might be.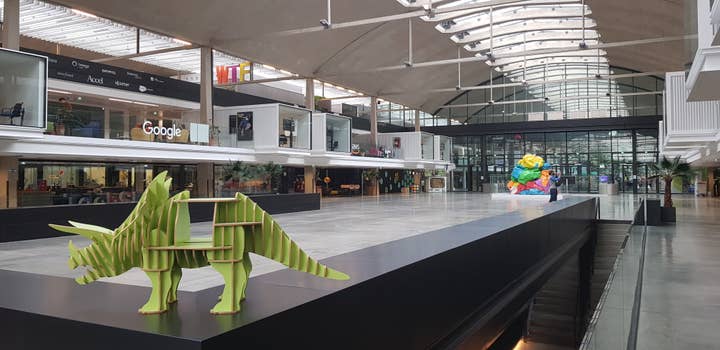 As Ubisoft Singapore founder Olivier de Rotalier puts it, the government is "always thinking how to adapt to future challenges." Having established Ubisoft Singapore 11 years ago, de Rotalier has since returned to France as managing director of Ubisoft Paris. He tells GamesIndustry.biz that expanding the innovation programme to Singapore will bring broader expertise that can connect well with the region's games industry.
"For us in the gaming industry, this programme is the second step in the operation," he says. "We are growing the industry. It was very important for us to grow Ubisoft Singapore, it was already a big mission. But we also wanted other companies to succeed because we could not be the only one succeeding in the gaming industry. We've been involved in trying to help other smaller companies in the ecosystem so we shared some expertise."
According to de Roatlier, the games industry is a "magnet for innovation" and working with startups from other sectors is the key to success.
"It's very important to learn to work with them and to integrate external innovation to what we do, and learning how to interrelate because the process itself is pretty important," he adds. "For the startups it's great because they are on their project, they are really working hard on whatever they have to do, working with experts at Ubisoft. We pick the companies because we think we can work with them and bring them something, so it's important... For us we win from understanding how to work with them, and from having another perspective other than just the Ubisoft way of doing things."
"We're a big employer in Montreal so if we don't want to exhaust all of the creative resources of the town"

Catherine Seys
With Station F and Pixel, Ubisoft appears to be fostering ambitions of being more than just a games company. Seys tells GamesIndustry.biz that "we are willing to be an entertainment company" but stops short of anything loftier.
It's hard to believe that Ubisoft isn't thinking bigger than just the entertainment sphere, though. In Montreal, Ubisoft works with VC fund White Star Capital, which handles its investments into artificial intelligence, blockchain, and eCommerce. According to Seys, the rationale behind its investment efforts in Montreal is to "support the ecosystem and economy."
"Ubisoft is a creative company," she says. "We're a big employer in Montreal so if we don't want to exhaust all of the creative resources of the town. We need to let other people create good games and contribute to that."
However, as Francis Baillet, vice president of corporate affairs at Ubisoft Montreal, tells us, the publisher's investments managed by White Star Capital "play into something outside of video gaming."
"We know video gaming well," he says. "If we're going to invest money in gaming, we're going to do it ourselves... So what was interesting when we explored the investment outside of video games, was to choose the venture fund company that will allow us to better understand other sectors... But we know that it will be sectors that somehow related to the technology we are using in the gaming sector."
Ubisoft dipping its toes into the VC waters also raises the question around the company's long-term goals. Venture capital funds are all about a profitable exit, but Baillet claims Ubisoft's involvement is about more than that: it's about giving Ubisoft an edge into what's up-and-coming, before anyone else.
"We are looking for what technology is being presented, what technology is coming into their hands, what do they see?" he adds. "We call it the 'deal flow'. Because we have access to the deal flow we can see, and we share this information internally... and we see what companies are looking for a fresh influx of money."
While Ubisoft opened its doors to show us what it's up to, the publisher was typically coy when it came to any of the bigger issues. With share prices to protect, secret projects to keep hidden, and who knows what other ambitions it quietly fosters, the picture is nonetheless of a company with its eye on the dimly lit corners of the future, pouring in money and resources to get ahead of the game.
Ubisoft invited GamesIndustry.biz to visit Station F, paying for travel and accommodation expenses.