Ubisoft fills E3 hour with Tom Clancy games and Watch Dogs Legion gameplay
Publisher also announces multiple new IP and a new subscription service, UPlay+
Happy E3 Day 2. Ubisoft kicked off today with a Tom Clancy-heavy E3 interspersed by musical performances, grandmas beating up bad guys, and a dog onstage.
But they also snuck in a few announcements outside of new software titles, including a new TV series from the creators of It's Always Sunny in Philadelphia, a symphony tour, and biggest of all, a new subscription service debuting this fall that will also appear on Google Stadia in 2020. All in all, a busy day for the publisher.
Here's everything that was announced at Ubisoft's E3 2019 press conference today:
This year's E3 theme? Services, services, services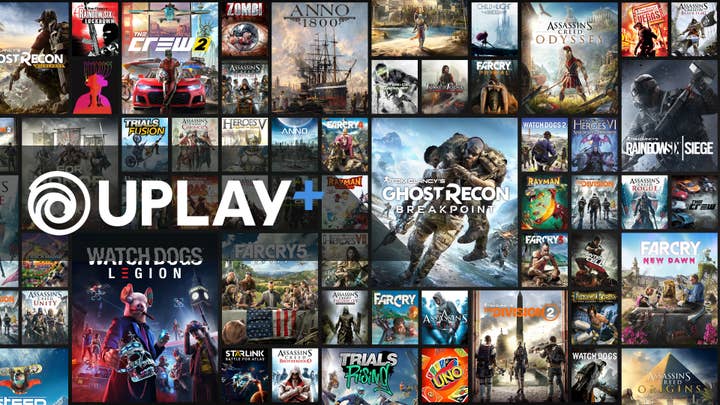 The biggest non-game announcement at Ubisoft's press conference was easily the reveal of subscription service UPlay+. Brenda Panagrossi stepped onstage to show off the new PC subscription, which will cost $14.99/month and is launching September 3, 2019. The service will feature over one hundred games, and subscribers will have access to the "Ultimate" editions of all of them where applicable, with all features and DLC unlocked. Those who sign up between June 10 and August 15 will receive a free month of access in September.
In addition, UPlay+ will arrive on Google Stadia in 2020, the first such subscription service to do so. Phil Harrison said yesterday that the streaming platform was open to subscriptions on top of its own paid Pro subscription, adding that such an idea might be enticing for larger publishers just like Ubisoft with big catalogs on the service.
Aside from UPlay+, there were a couple of other non-video-game-announcement bits of news to come from Ubisoft. The first, which came in the opening of the show, revealed Assassin's Creed Symphony, an 80-piece orchestra tour featuring music from over a decade of games in the series. The tour begins June 29 in Paris, and will visit various locations across Europe and North America before it ends in Zurich on November 30.
And in a completely different entertainment format, It's Always Sunny in Philadelphia creator and actor Rob McElhenney appeared onstage to announce a partnership with It's Always Sunny veterans Charlie Day and Megan Ganz, as well as Ubisoft itself, on a new TV series. Called Mythic Quest: Raven's Banquet, the show follows a team of developers working on the first expansion for a fictional MMORPG. McElhenney will play creative director Ian Grimm on the show, which is coming to the Apple TV+ streaming service. Apple TV+ launches this fall, but no word on when Mythic Quest will debut.
And one last footnote - That Division movie? It's being made for Netflix.
Dancing through the line-up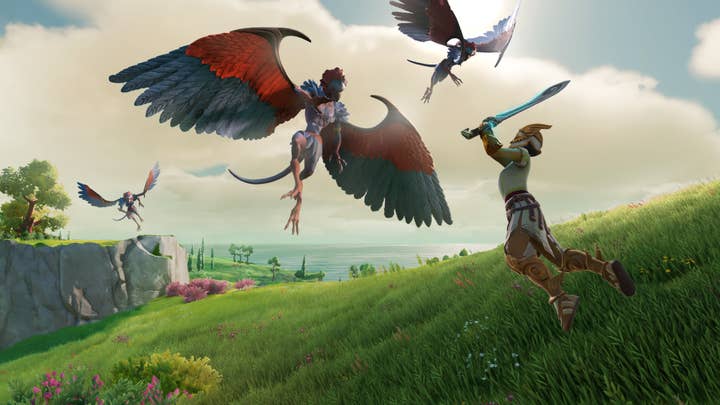 Ubisoft brought a healthy mix of brand new announcements (though admittedly a number of them had leaked by the time we made it to the conference) as well as updates both on upcoming games we knew about already, as well as to existing titles.
Here's every game announcement we saw at Ubisoft's E3 2019 press conference:
New announcements
No one was surprised to see Watch Dogs Legion after a series of leaks, but it turns out that that rumored promise of being able to play as any NPC in the game is actually true. The game takes place in a futuristic London that's been taken over by a corrupt surveillance state, where the player must build a resistance of people to combat oppression and free the city. They do that by recruiting absolutely anyone to the cause and making them playable, from savvy teen hackers to pigeon-feeding elderly women. The game is planned for release right at the end of Ubisoft's fiscal year on March 6, 2020.
Tom Clancy's Elite Squad is a free-to-play RPG coming to mobile that features appearances from various other Tom Clancy games. Pre-registration is open now, but no release window was revealed.
Ubisoft staple Just Dance will return, of course, with Just Dance 2020 coming in November to Nintendo Switch, PS4, Xbox One, Google Stadia and Nintendo Wii (but no Wii U)
The next entry in the Tom Clancy game franchise is Rainbow Six Quarantine, which saw a brief teaser at the show and is coming in early 2020. It's a 3-player tactical co-op PvE title being made by a team formed internally at Ubisoft specifically to build on the foundations of Rainbow Six Siege.
Continuing its tradition of making games around somewhat lesser-known sports, Ubisoft unveiled a title centered around roller derby called Roller Champions. The game is getting a pre-alpha E3 demo that will be free to check out from June 10 through 14.
The man himself Yves Guillemot appeared onstage to segueway into the final announcement of the show: a new IP called Gods & Monsters. Senior producer Marc-Alexis Cote said the game is from the Assassin's Creed Odyssey team, and is about saving ancient gods. No gameplay was shown, but it's coming out on Feb 25, 2020.
And a few updates
Rainbow Six Siege's Year 4 expansion has been revealed, entitled Operation Phantom Sight. It includes two new Operators joining the team, defensive specialist Warden and attacker Nokk.
Brawlhalla is getting several characters from Adventure Time added to its roster: Finn, Jake, and Princess Bubblegum. And, by the way, the game has reached over 25 million players.
The Walking Dead's Jon Bernthal appeared onstage to show off his appearance in Tom Clancy's Ghost Recon Breakpoint as Lt. Colonel Cole D. Walker, leader of an antagonist group called The Wolves. Ahead of the game's already-announced release date of October 4, 2019, a beta will go live on September 5.
For Honor is still chugging along, with a new in-game event called Shadows of the Hitokiri now available through June 27.
Ubisoft outlined its updated roadmap for The Division 2 over the coming year, including a free weekend on June 13-16. The first year of the game's post-launch content updates will be split into three episodes with new areas to explore, Expeditions, and a new 8-player raid.