Top 25 public game companies grossed over $100bn combined revenue last year
Global Games Market Report from Newzoo reveals top 25 game companies account for 80% of global revenue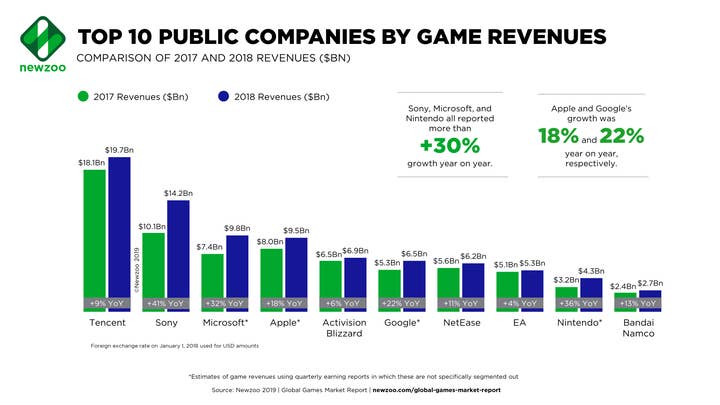 The top 25 public games companies account for nearly 80% of the global market, according to the latest Global Games Market Report from Newzoo.
Last year the companies in question grossed a combined $107.3 billion, witnessing year-on-year growth of 16%, and marking the first time the top 25 have exceeded $100 billion annual revenue.
Leading the pack for the sixth consecutive year was Tencent. The Chinese internet giant saw a 9% growth from the year prior to gross $19.7 billion in gaming revenue, accounting for almost 15% of the total market. Sony is a distant second with $14.2 billion gross games revenue, followed by Microsoft ($9.8 billion) and Apple ($9.5 billion).
The console market is thriving with Sony, Microsoft, and Nintendo reporting more than 30% growth year-on-year, and accounting for 38% of combined revenue generated by the top 25 companies.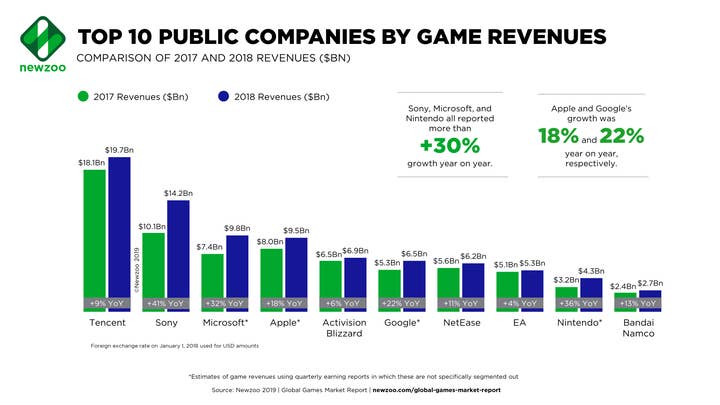 Additionally, five out of the top ten companies earned most of their revenue from console gaming.
Sony continued to dominate, seeing year-on-year growth of 41%, driven by its solid first party line-up of games like God of War and Spider-Man.
Meanwhile, fortunes have been turning for Microsoft which jumped into third place last year, overtaking Apple. While it still lagged behind Sony by several billion dollars, it saw year-on-year growth of 32%.
Nintendo also saw solid growth of 36%, with the continued popularity of the Switch -- and its strong roster of exclusive IPs -- driving revenues to $4.3 billion for the year.
Despite the healthy console market, a few cracks began to appear for console-first publishers like Activision Blizzard, Electronic Arts, and Ubisoft which struggled to keep pace with the platform holders' growth.
As the fifth ranked public games company, Activision Blizzard earned revenues of $6.9 billion, growing 6% year-on-year.
While the publisher saw console revenues climb, its gains were offset partly by declining mobile numbers.
EA and Ubisoft also witnessed a relatively slow year, growing just 4% and 3%, while generating $5.3 billion and $2.2 billion in revenues.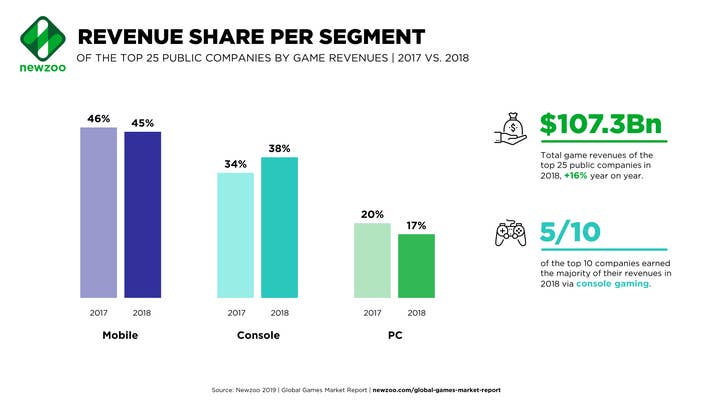 Apple and Google continued to perform well in the rankings, thanks once again to the App Store and Google Play. Additionally, both tech giants recently announced disruptive new additions to the games industry in the form of Google Stadia and Apple Arcade.
"It is now clear that both companies will use their unique strengths to greatly expand their activities in the games market," said Newzoo.
"Google leverages the global presence of its data centers and strong technology credentials, while Apple leverages its expertise in accessibility and an overarching focus on content curation.
"Meanwhile, they will continue to reap the benefits of their lucrative app stores while catering to new segments of the market with their new services."