Tim Sweeney: "Unpopular" Epic Game Store exclusives are working
Epic CEO argues that the divisive strategy will benefit gamers in the long term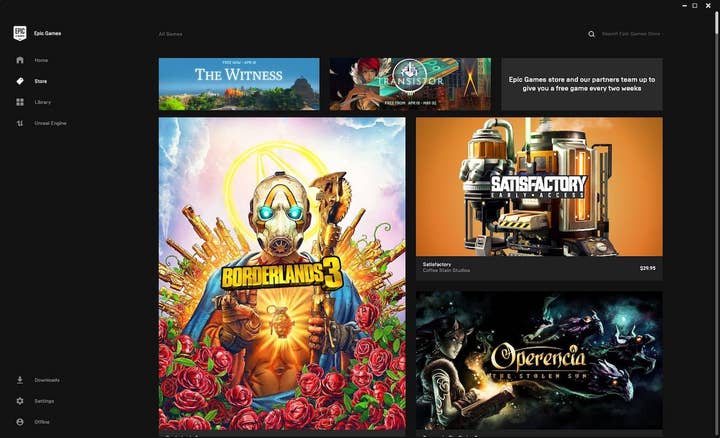 Epic Games CEO Tim Sweeney has argued that store exclusives will ultimately benefit gamers, in the face of persistent criticism for the Epic Games Store's strategy.
Joining a discussion on Twitter yesterday, Sweeney said that stocking the Epic Games Store with PC exclusives is the only effective way of ending the standard 70/30 revenue split imposed on developers.
"For example, after years of great work by independent stores -- excluding big publishers like EA-Activision-Ubi -- none seem to have reached 5% of Steam's scale," he said. "Nearly all have more features than Epic; and the ability to discount games is limited by various external pressures.
"The 30% store tax usually exceeds the entire profits of the developer who built the game that's sold"
"This leads to the strategy of exclusives which, though unpopular with dedicated Steam gamers, do work, as established by the major publisher storefronts and by the key Epic Games store releases compared to their former Steam revenue projections and their actual console sales."
An example that supports Sweeney's argument is Saber Interactive's World War Z, which it recently confirmed to PCGamesN has sold more than 700,000 units on the Epic Games Store alone -- the game's best digital platform in terms of sales performance, including both Xbox and PlayStation.
Sweeney urged that any disruptive strategy should be assessed on whether it is "proportionate to the problem it addresses," and whether gamers will ultimately benefit from the realisation of its goals.
"The 30% store tax usually exceeds the entire profits of the developer who built the game that's sold," he said. "This is a disastrous situation for developers and publishers alike, so I believe the strategy of exclusives is proportionate to the problem.
The gains developers make with that additional 18% of revenue will be split between reinvestment, profit, and price reduction, Sweeney said. This means that the use of exclusives, "passes the test of ultimately benefiting gamers, after game storefronts have rebalanced and developers have reinvested more of their fruits of their labor into creation rather than taxation."
Sweeney has touched on similar ideas before, but his willingness to continue joining the debate with engaged consumers is notable. And given the increasing number of success stories for the Epic Games Store, its use of exclusives is likely to continue.