The future of game consumption | Playable Futures Podcast
Playco's Stephanie King and MiDIA Research's Karol Severain join Will Freeman for the seventh episode of our Playable Futures series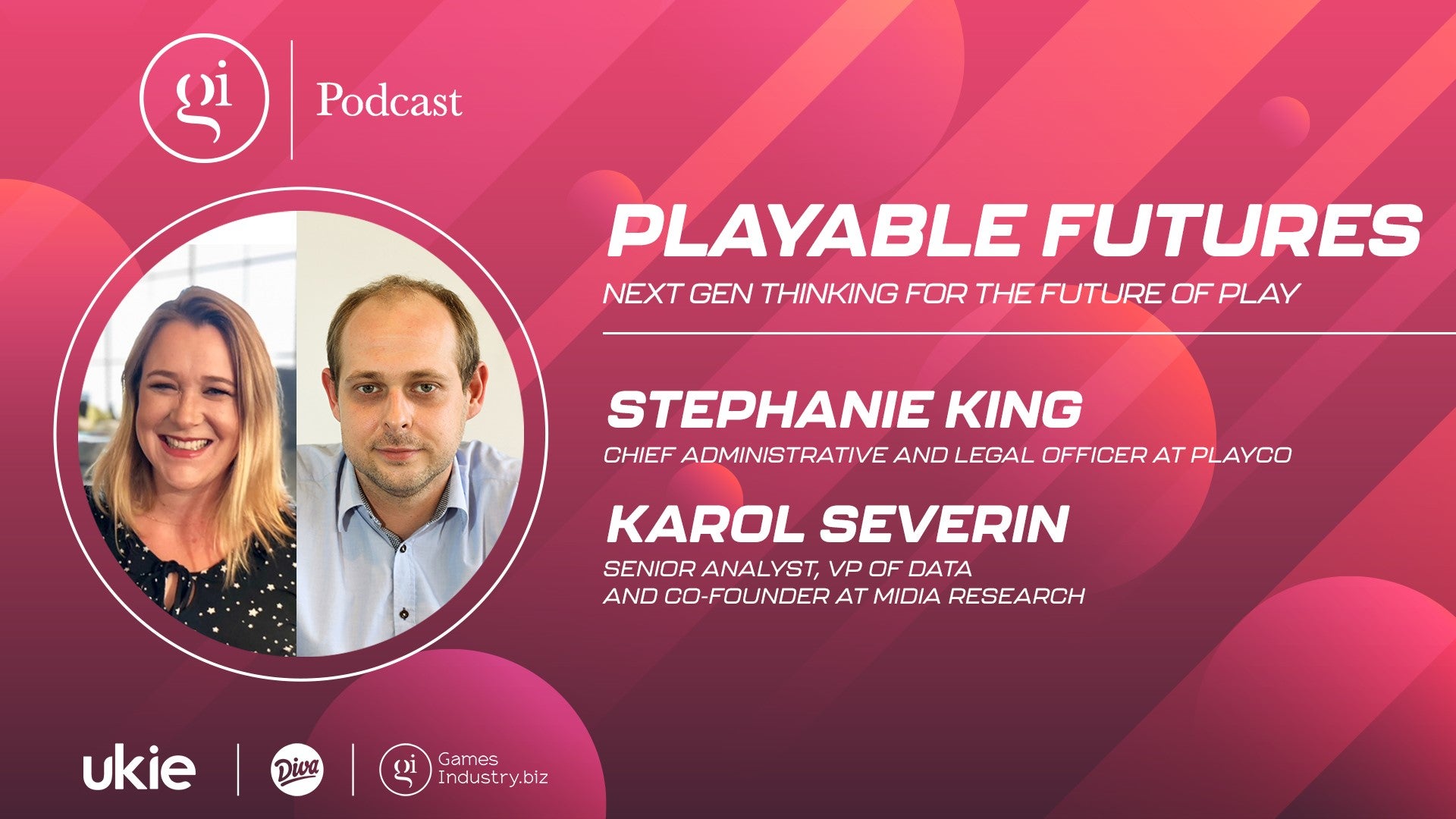 Sign up for the GI Daily here to get the biggest news straight to your inbox
Digital game distribution muscled in on the former dominance of boxed releases long ago. But now the digital realm is fragmenting, as myriad new ways to consume games compete for user attention.
In step with that movement, the very definition of what counts as a 'game platform' is shifting, in no small part because of recent year's emphasis on live servicing of titles. In fact, the medium itself might someday soon brace itself for a flight from the very notion of 'platform' in the traditional sense.
With all that in mind, episode seven of the Playable Futures podcast turned its attention to the future of game consumption, and the shift in the dynamic between user, creator and platform.
The result was a wide-ranging, insightful conversation between two brilliant guests – Playco's chief administrative and legal officer Stephanie King and Midia Research's co-founder, senior analyst and VP of data Karol Severin. Both brought robust analysis and fascinating data – and a lot of vibrancy and infectious enthusiasm.
You can listen to the episode in the player below or download the file directly here – and scroll down for some of the episode's highlights.
As veterans of the industry, each of our guests has seen first-hand the changing face of game consumption. King's career has taken her from senior positions at Zynga and Twitter to instant gaming outfit Playco, while Karol has spent his career analysing and understanding the evolution of the gaming medium, its relationship with consumers and culture, and its place within the wider entertainment landscape.
As such, they take a long view on changing consumer behaviours across boxed, digital ownership, subscription and streaming services, gaming the likes of Tik Tok and Netflix, instant gaming, digital storefronts as first-party platforms, and more.
Through their conversation, what becomes clear is that today's gamers are bombarded with more choices than ever – and yet we all only have 24 hours in one day. The attention economy is a place of more movement than ever before. Publishers and developers will increasingly need to have agile tactics in order to take their games to players, rather than work to bring users to platforms.
Their conversation also covers themes that are commonly preoccupying the sector at the moment – saturation and discoverability, for example – but with a realistic and enthusiastic outlook on how things will develop in the future. King and Severin discuss games as collected shared experiences; games as identifiers for tribes; and escape versus connection.
Stephanie offered a straightforward but important proposition: "Games connect people. People want to play to feel a connection and escape. Games are part of entertainment and you are competing for entertainment time and budgets."
In that context, walled garden platforms can be seen as divisive, or even contrary to one of the medium's greatest strengths, in connecting people.
The episode explores the idea that we are in a period of increased choice, and increased breadth of available experiences across many mediums and different interpretations of what games and platforms can be. The conversation even looks at how games are increasingly establishing themselves as a new way of defining one's own identity. Could it even be that the notion of what is a platform starts to crossover with what has traditionally been seen as subculture - cultural tribes once framed by taste in fashion, music and worldview?
On the matter of what platforms will become – or what models will emerge and dominate, Severin offers: "Winning platforms will be the ones that do the best job of helping declutter, and being useful to the consumer. It's becoming less about more and more content."
The Playable Futures Podcast accompanies Playable Futures, a collection of insights, interviews and articles from global games leaders sharing their visions of where the industry and medium will go next. A series of ten articles so far have been published on GamesIndustry.biz, with more planned. Playable Futures is a collaborative project brought to you in partnership with GI.biz, UKIE and Diva.
The GamesIndustry.biz Podcast is available via Spotify, iTunes, Google Play, Stitcher, Overcast, Player FM, TuneIn and other widely-used podcast platforms, or you can subscribe via our RSS feed.
Title music by Thomas Marchant. Episode produced by Keira Freeman.
Sign up for the GI Daily here to get the biggest news straight to your inbox