Target Australia removes GTA V from sale following petition
Sex-worker led protest cites first-person violence against women UPDATE: Kmart follows Target's lead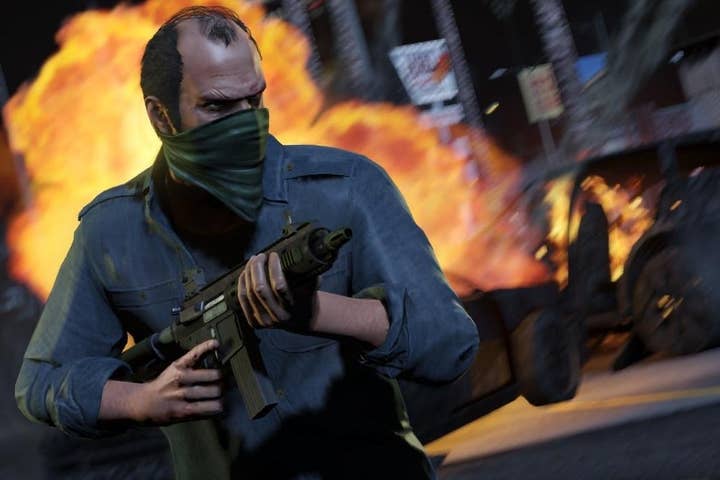 Update
Kmart Australia has also removed GTA V from its stores, citing the same reasons as those given by Target yesterday.
In a statement issued to Kotaku Australia, the retailer claimed it had undertaken a "significant review" of the game's content, ultimately concluding that it shouldn't be sold in Kmart Australia's stores.
"Kmart apologises for not being closer to the content of this game."
Update
Take-Two's Strauss Zelnick has responded to the removal of GTA V from Target Australia's shelves, issuing the following statement.
"We are disappointed that an Australian retailer has chosen no longer to sell Grand Theft Auto V - a title that has won extraordinary critical acclaim and has been enjoyed by tens of millions of consumers around the world. Grand Theft Auto V explores mature themes and content similar to those found in many other popular and groundbreaking entertainment properties. Interactive entertainment is today's most compelling art form and shares the same creative freedom as books, television, and movies. I stand behind our products, the people who create them, and the consumers who play them."
Original Story
The Australian arm of retail giant Target has decided to stop selling GTA V following a petition signed by thousands of customers which protested against the game's depictions of violence against women.
"We've been speaking to many customers over recent days about the game, and there is a significant level of concern about the game's content," said the company's general manager of corporate affairs Jim Cooper, who also acknowledged that there had also been public support for the game.
"We've also had customer feedback in support of us selling the game, and we respect their perspective on the issue. However, we feel the decision to stop selling GTA5 is in line with the majority view of our customers."
The petition at the heart of the decision was started by a group of sex workers who believe that the game incentivises sexualised violence against women, something they felt was illustrated particularly starkly by the first-person perspective which is offered in the new-generation versions of the game.
Key to this argument was the emergent gameplay quirk of being able to sleep with a prostitute before killing her and taking the money back - something which has been a part of the series for some time but which has never been actively promoted in-game. Many of those opposed to the ban have pointed out that this isn't an integral part of gameplay, whilst many other forms of incentivised violence actually are, but a spokesperson for the campaigners says that this misses the point she's making.
"This is the argument we hear every time violence against women is mentioned," she said, when asked about the game's predominantly male on male violence. "Even on White Ribbon Day, there are cries of 'But it happens to men, too'.
"In this case, the male gamers are saying they don't mind violence against themselves in this game. Implicit in this is the recognition that if men don't mind, then women have to put up with it. This is hardly a gender-neutral argument. Implicit in it is the very misogyny we are rallying against."
The campaigner, operating under the pseudonym 'Nicole' for fear of reprisals, said that age-ratings were not a sufficient preventative measure, despite GTA being listed under Australia's most punitive rating of R.
"It is promoting this horrific violence against women," she said to News.com. "The players are rewarded for buying sex and then brutally killing. It doesn't matter if you are 17 or 80, it's still a horrific thing."
Cooper also issued a rebuttal to the argument on ratings, stating that whilst the company generally felt that they were sufficient, they did not in this particular instance.
"While these products often contain imagery that some customers find offensive, in the vast majority of cases, we believe they are appropriate products for us to sell to adult customers. However, in the case of GTA5, we have listened to the strong feedback from customers that this is not a product they want us to sell."