Take-Two financials show GTA V hangover
Revenue down almost 90% year-over-year, but publisher beats expectations and raises outlook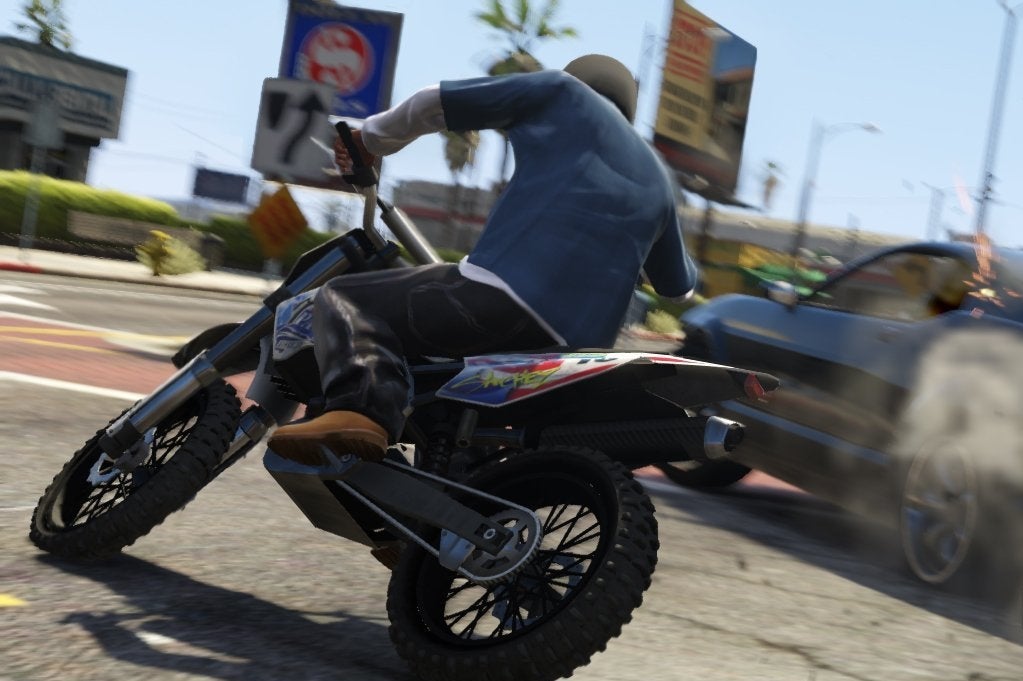 One of the few downsides for publishers that have a mammoth hit is that it makes for a difficult act to follow. Take-Two Interactive today released its quarterly results for the three months ended September 30, and the results paled in comparison to the year-ago period, when it launched Grand Theft Auto V.
This year's second fiscal quarter saw Take-Two post non-GAAP revenues of $135.4 million, down almost 90 percent from Grand Theft Auto V's launch quarter, when it posted sales of $1.27 billion. The GAAP numbers look better, as they don't include the impact of Grand Theft Auto V's launch. (Because the game's online component launched in Take-Two's fiscal third quarter, that's when the game's sales were registered under generally accepted accounting principles). On a GAAP basis, Take-Two posted revenues of $126.3 million for the quarter, down 15 percent year-over-year.
Similarly, Take-Two's bottom line performance looks better or worse depending on whether it's compared to the numbers that include Grand Theft Auto V. On a non-GAAP basis, Take-Two posted a net loss of $35.4 million, compared to a profit of $325.6 million in last year's second quarter. On a GAAP basis, (without Grand Theft Auto V in last year's figures), Take-Two's net loss of $41.4 million is an improvement on the previous year's second quarter net loss of $124.1 million.
The biggest contributors to the recently completed quarter were sales of catalog titles like Grand Theft Auto V, NBA 2K14, Borderlands 2, and WWE 2K14. Digital sales also look to be making up a bigger part of the publisher's business--on a non-GAAP basis, revenues from downloadable content were $89.8 million, thanks to Grand Theft Auto and NBA 2K games, as well as Borderlands 2 and Civilization V. That stacks up respectably on a year-over-year basis even against the numbers that include Grand Theft Auto V's launch, as the year-ago period saw Take-Two's non-GAAP digital revenues reach $105.5 million. Customers are also increasingly accepting of virtual currency and downloadable content; Take-Two reported such "recurrent consumer spending" grew 45 percent year-over-year and made up 58 percent of non-GAAP digital revenues.
"Our second quarter results exceeded expectations, driven by strong catalog sales and continued growth in digitally-delivered revenue from recurrent consumer spending," Take-Two chairman and CEO Strauss Zelnick said. "With the successful launches of NBA 2K15, Borderlands: The Pre-Sequel, Sid Meier's Civilization: Beyond Earth and WWE 2K15, our third quarter and holiday season is off to a great start, and there is tremendous anticipation for our upcoming releases, including Grand Theft Auto V for PlayStation 4, Xbox One and PC, as well as Evolve - the only title in history to win Game of Show honors at both E3 and Gamescom in the same year."
To reflect that, Take-Two raised its full-year revenue guidance. Previously, the company had projected full-year non-GAAP revenues of $1.35 billion to $1.45 billion. That has been notched upwards to $1.4 billion to $1.5 billion. It has also upgraded its forecast for net profits, and is now targeting per-share gains of $1.05 to $1.30 for the year, compared to previous expectations of $0.80 to $1.05.
The publisher also reported a $22 million cash payment as a result of its investment in Twitch. Amazon purchased the video streaming service in August for $970 million.