Switch in seven days: How Sumo Digital readied Snake Pass for Nintendo's launch
The studio's Ian Richardson tells us how its indie-style hit went from concept to a Switch best-seller in just over a year
The Nintendo Switch was a closely guarded secret for years before it was finally unveiled last year - so guarded, in fact, that some developers weren't even shown the tech until a few weeks before the worldwide unveiling back in January. And yet despite the time constraints, one UK studio managed to get their game in shape for the console's launch line-up in just four months.
Sumo Digital's Snake Pass is already central to a tale of rapid development and a highly adaptive team. A little over a year ago, the physics-based platformer was nothing more than a prototype, a concept demo developed after an internal game jam. With only two people working on it, a playable version was brought to EGX Rezzed 2016.
"We realised we had a very playable game - just from the reaction of the gamers"
"There was no Sumo branding, nothing like that," Sumo's business development director Ian Richardson told GamesIndustry.biz during GDC 2017. "The real reason we wanted to show it was because we had, unbeknownst to the gamers at that event, two different control methods. Every person that played it, we asked them a series of questions afterwards and captured all that data. One of the questions was which control method they preferred. We fed all that data back into the team at Sumo HQ, and from that we realised we had a very playable game - just from the reaction of the gamers.
"Another thing that came out of it was the amount of press coverage that we got. It was listed in The Guardian's most wanted games. The Rezzed organisers themselves do their own survey and out of 177 games, it was voted 12th most wanted - and that's a game that, to be honest, had only been in development for eight weeks.
"We were so proud of the game when we showed it, but if you look at the version we showed 12 months ago and compare it to how it is now, it's evolved so much. From all that positive feedback we got at EGX Rezzed, a decision was quickly made at Sumo that it would go into full production. A development director was assigned to it, an executive producer, a series of designers - it ramped up to a team of about 23 people at its peak."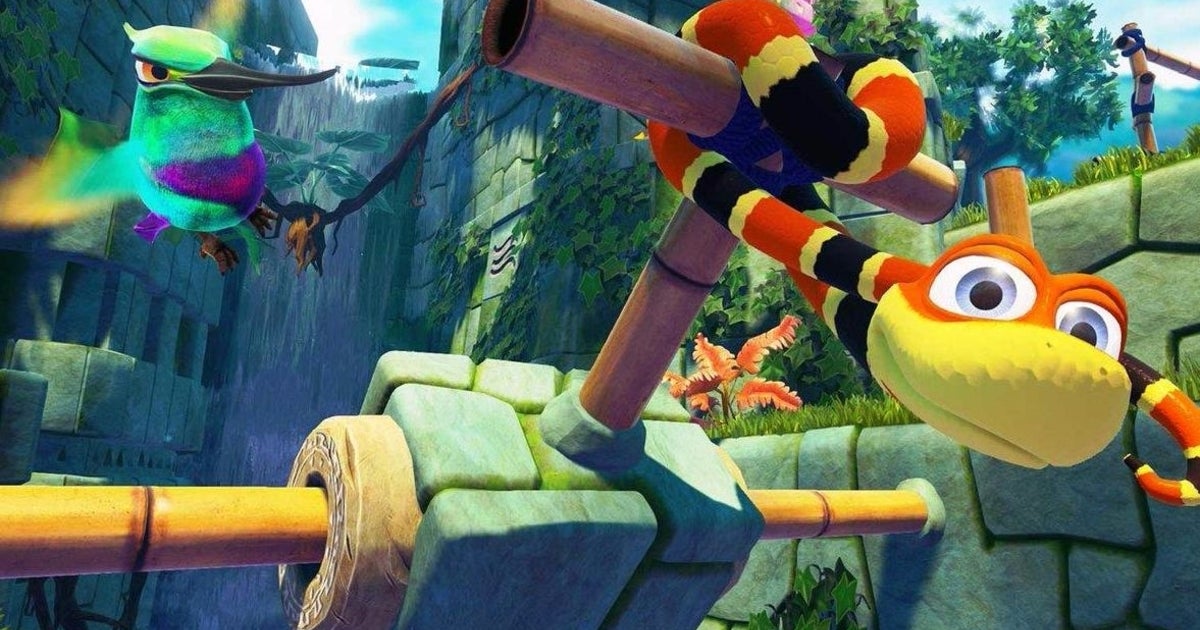 This larger team began working on ports of Snake Pass for PS4, Xbox One and PC. Sumo was, much like the rest of the world, aware that Nintendo was working on a new console but with no information on form, functionality or release date, there was no way to prepare its serpentine outing for this additional machine.
Nintendo finally invited Sumo Digital to see the Switch in December 2016, just a few weeks before its January unveiling. The UK developer dispatched teams to Nintendo of Europe in Frankfurt and Nintendo of America in Redmond; immediately impressed with the technology, Sumo ordered dev kits that arrived five days later.
2017 loomed, with Nintendo quietly planning to release the Switch on March 3rd. With access to the hardware now secured, Sumo believed it would be possible to not only port Snake Pass to the new console, but also have it ready for the launch window.
It would be no easy task, but Sumo had support from a trio of crucial partners. The Snake Pass team was already being assisted by the team behind Unreal Engine, which powers the platformer, while the studio already had a "good relationship" with Nvidia, whose technology forms the basis for the Switch. Having the platform holder on board as well proved to be invaluable.
"There were some slight issues at first," Richardson recalls. "Partly because Nintendo was still working on the back end. But we worked very closely with them in terms of what we needed. They gave us a kind of roadmap so we understood when certain things would be put in place.
"We had a grasp of what the technology was, but the big unknown was how quickly we could actually port the game"
"We had a grasp of what the technology was, but the big unknown was how quickly we could actually port the game. Turns out we could do that very quickly. It has come with its challenges, but we're a very experienced development company and we've got a hell of a lot of talent internally. We put our best guys on it to make sure we had it converted very quickly.
"We got the code across onto Switch - or at least certain parts of it - in a matter of hours, so we started becoming more confident that we could achieve what we wanted and within the timescales we were looking at. Within seven days, we had it fully playable."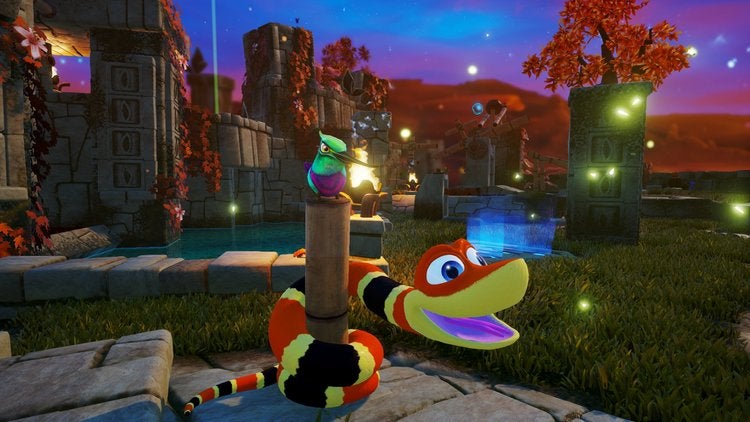 With Snake Pass successfully ported to Switch, Sumo Digital had a couple of months to fine-tune the game for the console's launch. Richardson says the team spent at least seven weeks improving the framerate, the visuals and making sure the game was fully optimised for Nintendo's latest device.
"Up until the day that we flew out to GDC, we were still working on the Switch version to optimise the code," he says. "Nintendo are really happy with it, and we're extremely happy with it.
"Without the support of Nintendo, Unreal and Nvidia, our job would have been a lot more difficult"
"But without the support of Nintendo, Unreal and Nvidia, our job would have been a lot more difficult. They were key - particularly Nintendo, who were keen to have it as a launch title - and we're extremely happy we can launch all versions on the same day."
Sumo's experience with the Unreal engine proved to be particularly important. The studio is already well-versed with the toolset - its current projects Crackdown 3 and Dead Island 2 are also based on Unreal - and Richardson says there's a reason for that: "It's a bloody good engine." Nintendo seems to agree, with Mario creator Shigeru Miyamoto revealing earlier this year that Nintendo's developers have already "mastered the Unreal engine." Richardson adds: "I'm not surprised Nintendo are using it, not at all."
Snake Pass has already proven to be a hit on Switch, claiming No.1 in the console's eShop charts - even beating Zelda: Breath of the Wild, although this is potentially down to consumers preferring the retail version of Link's outing to the hefty 13GB download that takes up much of the Switch's onboard memory.
Nintendo has been working to get more developers on board, with over 100 titles in production and multiple indies telling GamesIndustry.biz how well the platform holder is treating them.
Richardson also encourages studios to consider creating games for Switch: "The biggest thing they should do is reach out to Nintendo and talk to them about the ideas they have - even if they don't have a demo. Talk to them at an early stage, just try to gain their interest. Nintendo have shown a real appetite for supporting indie developers and publishers, and I think they're very approachable."