SuperData study shows US digital market growing by 11% YoY
December estimate of $1.2bn just shy of NPD's $1.25bn valuation of retail sales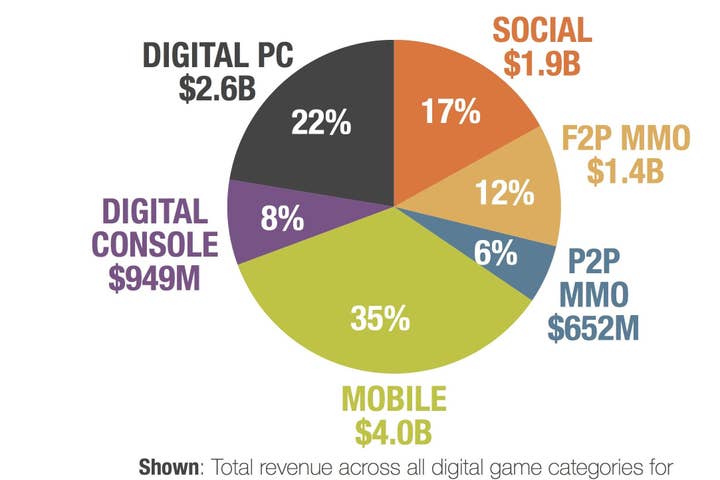 SuperData has released its report on the US digital games market for December, revealing an 11 per cent year on year growth in the sector which resulted in a total market cap of $1.2 billion for the month. Key drivers for that growth were a 17 per cent jump in mobile digital revenues and a ten per cent increase for console digital sales. Those gains are offset somewhat by a ten per cent shrinkage in social revenues.
Compare that total digital market figure to that estimated by the NPD Group. Those numbers, which cover retail only, but include some digital figures thanks to shops selling download codes for online services like PSN and Xbox Live, put December's software spend at $1.25 billion, a year on year shrinkage of two per cent which puts digital and retail markets at something very like level pegging.
Digital trends seem to be following the seasonal patterns established by more traditional retail methods, with digital sales on Xbox One and PS4 spiking by 1200 per cent each in December thanks to price reductions and new machines hitting the homes of customers. The knock on effect of that discounting was a reduction in average spend, with the PS4's dropping to $11 from $20 and the One's from $21 to $7. December's console digital market topped out at $110 million. Over on Steam, the average transaction dropped to an incredible $2 in December from November's $8.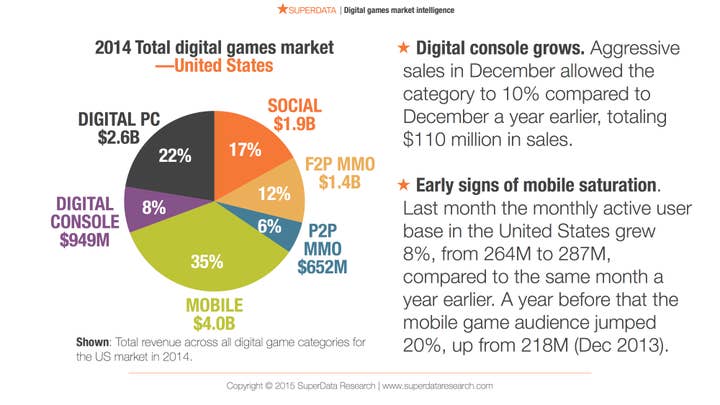 SuperData's figures also show a slowing of mobile growth as the market approaches saturation. Whilst the mobile audience rocketed by 20 per cent between December 2012 and December 2013, that growth had slowed to eight per cent between 2013 and 2014, reaching a total of 287 million. Nonetheless, mobile spending reached record highs, establishing an average spend of $1.41 per user in December. Napkin maths extrapolates that to a total spend of $404,670000 on mobile in December.