PS4, Xbox One drive US industry to $13.1 billion in 2014 - NPD
Call of Duty, Madden and Destiny were the biggest winners in software at retail [UPDATE: Wii U has biggest month yet]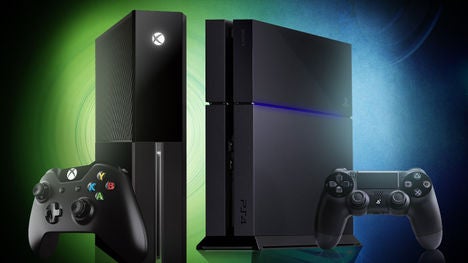 Update: While PS4 and Xbox One have grabbed the spotlight, Nintendo did also announce that Wii U enjoyed its best month so far in December. "Wii U established new benchmarks for hardware and software sales in a single month in December. This helped total hardware and software sales in 2014 increase by more than 29 percent and more than 75 percent, respectively, over sales in 2013," the company said, without issuing any units data.
Additionally, Nintendo said that 3DS had its largest month ever for first-party software sales, driven by Super Smash Bros. (over 2 million combined physical and digital units sold in a little more than three months) and Pokémon Omega Ruby and Pokémon Alpha Sapphire, which have sold over 2.6 million physical and digital units in their first six weeks.
Original story:
The NPD Group has released its December 2014 and full-year summary today, revealing a retail picture that was essentially flat with 2013. Thanks to a 20 percent jump in hardware to $5.07 billion, the industry racked up total sales in 2014 of $13.1 billion (up just one percent). Software was actually down 13 percent to $5.3 billion, while accessories climbed 5 percent to $2.73 billion.
December specifically was down one percent overall to $3.25 billion, while hardware dropped 4 percent to $1.31 billion and software declined 2 percent to $1.25 billion. Accessories was the only category to see gains, rising 8 percent to $681.2 million. As you can see from the charts below, the top selling software in both December and the full year were quite similar, with Activision's Call of Duty: Advanced Warfare taking the top spot, along with Madden, GTA V, and Destiny also having a big impact.
"Keep in mind that the results for December and 2014 as a whole show the console space is going through a period of two transitions: One being a generational transition from seventh generation to eighth generation consoles and second, a format transition as console gamers become more comfortable with downloading games and what is being offered digitally," NPD analyst Liam Callahan commented (NPD is ramping up behind the scenes to report on digital sales in the future).
Callahan also provided some more clarity into how strong hardware was for the industry in 2014. "After 14 months on the market, cumulative sales of PS4 and Xbox One exceed the Xbox 360 and PS3 cumulative 14 month total by 65 percent," he said. "Bundles were a major driver of hardware sales this December compared to last with 71 percent of hardware unit sales stemming from Bundles including software, which compares to 32 percent of hardware sales last December."
"While hardware sales decreased by 4 percent in December 2014 versus the year prior, eighth generation sales improved by 13 percent. This is remarkable considering the comparison to the best launch in U.S. history of any console with the PS4 and second best launch with the Xbox One."
And while software took a hit for the year, Callahan's perspective is that the news isn't all that dire. "With the growth in install bases across eighth generation consoles, software this December versus last December grew by 70 percent with each console posting strong double digit growth. Across 2014, eighth generation console software sales rose by $1.7 billion," he said.
"In contrast, seventh generation software sales declined by 33 percent in December with portable sales also decreasing 16 percent. These combined to total a $2.5 billion decrease in sales in 2014 versus 2013," he continued explaining. "While overall software sales dipped by 2 percent in December, top 10 represented the same percentage of unit sales as last December at 36 percent of all units sold in the month with only 1 percent fewer units. Part of the 13 percent decline in entertainment software sales can be explained by 10 percent fewer new SKUs that were launched in 2014 compared to 2013."