Starfield debuts at No.1 | UK Boxed Charts
Three new titles have joined the charts this week, including NBA 2K24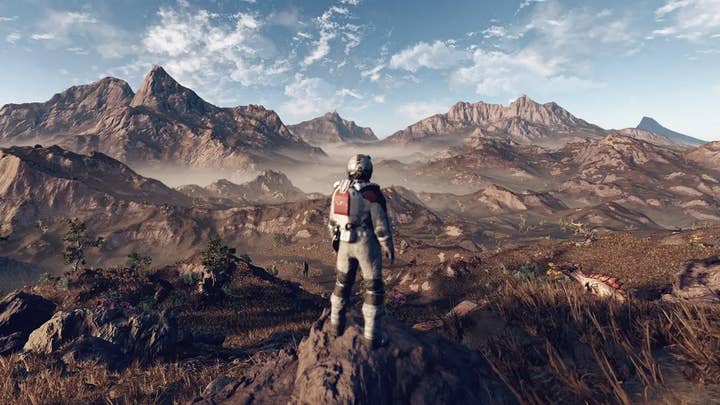 Starfield has topped the UK physical charts this week.
GfK's report showed that the space-action RPG sold more physical copies on Xbox than it did on PC.
Starfield's premium upgrade (a box with a code that provided early access to the digital version) has fallen to No.34 after debuting at No.7 last week. This version experienced a 71% decrease in sales due to the game's wider release on September 6.
The Xbox exclusive reached over six million players in two days, making it Bethesda's biggest launch of all time.
Three more new titles released alongside Starfield this week. NBA 2K24 and Fae Farm debuted in the Top Ten at No.7 and No.9 respectively. Crime Boss: Rockay City entered the charts at No.22.
Armored Core 6: Fires of Rubicon fell from No.5 to No.20 following a 63% drop in sales. The Bandai Namco title debuted at No.1 for the week ending August 26, 2023.
Elsewhere, Hogwarts Legacy is at No.2 following its 228% spike in sales last week. The Warner Bros. title is still experiencing a price promotion, with sales increasing by 4% week-on-week.
Mario Kart 8 Deluxe is sitting at No.3 despite sales down 24% week-on-week. Mortal Kombat 11 Ultimate moved one place up to No.5 after an 8% rise in sales due to a price reduction on PS5.
Zelda: Tears of the Kingdom fell out of the Top Five for the first time, and is now at No.6 following a 23% drop in sales.
Meanwhile, FIFA 23 dropped out of the Top Ten, and is now at No.11 after a 12% sales drop. But the game saw an increase on PS5 and Xbox Series X|S due to retailer discounts. This year's EA Sports FC 24, the first in the series to drop the FIFA brand, will debut on September 29.
Pikmin 4 fell further from No.16 to No.18 following a 27% decrease in sales, while The Witcher 3: Wild Hunt Game of the Year edition rose to No.15 after being at No.37 last week. The CD Projekt Red title saw a rise of 38% in sales due to a deal on PS4.
Two titles also re-entered the charts this week. The Dark Souls Trilogy came back at No.31 following a 19% increase in sales due to discounts on PS4, while Cyberpunk 2077 is at No.32 following a 41% increase in sales week-on-week thanks to another PC price promotion.
Here is the GfK Boxed Top Ten for this week ending September 9, 2023:
| Last Week | This Week | Title |
| --- | --- | --- |
| New Entry | 1 | Starfield |
| 1 | 2 | Hogwarts Legacy |
| 3 | 3 | Mario Kart 8 Deluxe |
| 2 | 4 | Lego Star Wars: The Skywalker Saga |
| 6 | 5 | Mortal Kombat 11 Ultimate |
| 4 | 6 | The Legend of Zelda: Tears of the Kingdom |
| New Entry | 7 | NBA 2K24 |
| 8 | 8 | Grand Theft Auto V |
| New Entry | 9 | Fae Farm |
| 9 | 10 | Minecraft (Nintendo Switch) |
Sign up for the GI Daily here to get the biggest news straight to your inbox