EA rolls out EA Sports FC 24 details
Keynote revealed that women will join Ultimate Team and introduced esports platform FC Pro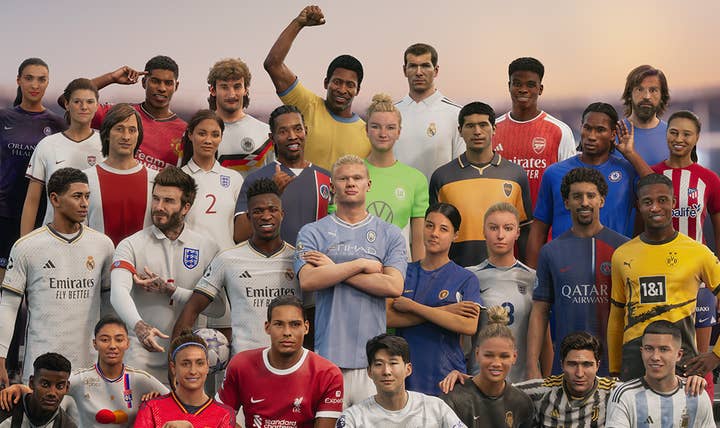 Sign up for the GI Daily here to get the biggest news straight to your inbox
Today, in a keynote, EA provided details for EA Sports FC 24, its new rebranded football title.
The show kicked off with CEO Andrew Wilson sharing a story of his youth as a football fan, culminating in the executive sharing that the firm eventually aims to connect with one billion football fans.
Among the series of announcements during the presentation, EA Sports president Cam Weber revealed that the company also plans to invest $10 million into community-level football "on a global scale." It intends to partner with organizations and partners to inspire young football players, said Weber.
The keynote also featured a number of appearances by former and current professional women's and men's footballers.
Alex Scott, the 2007 Women's UEFA Champions League winner and EA Sports ambassador, shared that EA Sports FC 24 will be adding Google Pixel Frauen-Bundesliga, Germany's highest women's competition association. Also, Liga F, the top league of women's football in Spain, will join.
Notably, women's football will be finally coming to Ultimate Team. Scott added that EA Sports FC has signed an exclusive multi-year agreement to represent every club and stadium across the FC portfolio.
Nick Wlodkya, senior vice president and general manager of EA Sports FC, also revealed a number of new features and reveals.
One of the newest is FC Pro, an esports platform intending to pit players together in a competition leading to the FC Pro championship. The mobile game FC Tactical, described as a turn-based version of the sports title, was also announced.
While the name FIFA was not mentioned during the show, Wlodkya said among the directives established for the new game, "Innovation number one is to create an experience that was previously never before possible. And number two, build from our 30-year foundation of innovative gameplay to bring you closer to the world's game."
Towards the end of the show, the cover athlete of EA Sports FC 24 was revealed to be Erling Haaland, a player on the Norway national team and Premier League club Manchester City.
EA Sports 24 is slated to release on September 29.
The EA Sports FC rollout comes more than a year after EA and FIFA ended their nearly 30-year partnership.
News that EA might rebrand FIFA began in October of 2021; shortly before it emerged, FIFA reportedly wanted to double the cost of its license to more than $1 billion for each four-year World Cup cycle.
At the time, EA said, "...Alongside our 300+ license partners across the sport, we're ready to take global football experiences to new heights on behalf of all football fans around the world".
Sign up for the GI Daily here to get the biggest news straight to your inbox